The JLL IC400 Pro is a good-looking bike model by the JLL brand. It is a smart machine with a powerful flywheel and a magnetic resistance mechanism. Moreover, it comes with adjustable handlebars and a seat for better performance. 
However, like any other fitness machine, the JLL IC400 Pro also has its shortcomings. If you want to know about them before choosing this bike for your home gym, dig into this review. We have tried to cover everything related to this bike model below.
Features
As mentioned above, this spin bike comes with a variety of excellent features. For instance, the 22kg flywheel is quite enormous and appropriate to produce enough resistance for beginners and professional trainers. 
Besides, the onboard computer and built-in pulse sensors are impressive too.
Feature Highlight
Below we have highlighted some of the main features:
Magnetic resistance
22kg bi-directional flywheel
Adjustable seats, handlebars, and foot straps
SPD pedals
Bluetooth connectivity
Gel seat cover
7-function Monitor
Built-in transport wheels
3-piece crank
150kg maximum weight capacity
CE & EN957 Standard Safety Compliant
12-month warranty
Resistance
Cycling is an excellent workout to add some cardio to your fitness plan. It helps burn many calories and is a great way to stay fit. Moreover, when done with the right bike that offers appropriate resistance, cycling becomes incredibly beneficial.
The JLL IC400 Pro is not a perfect machine, but it comes with a quiet and smooth magnetic resistance that many of you may love. This mechanism allows you to push against boundaries and experience a high-quality workout. Besides, magnetic resistance doesn't require much maintenance or frequent replacements of brake pads to work properly.
Another good feature of this bike model is its belt-driven system. It means that this bike has a solid rubber belt that helps shift the power from the pedals to the unit's flywheel.
A belt-driven mechanism is relatively smooth and reliable. Moreover, unlike the chain-drive system, it doesn't require frequent lubing to stay perfect.
When talking about resistance, it is imperative to mention the JLL IC400 Pro's enormous flywheel. This unit has a 22kg flywheel which is one of the heaviest metal plates available in the sports market.
The benefit of such a powerful flywheel is that it provides a range of resistance levels. So, there is always a challenging workout option for professionals, and at the same time, this unit allows beginners to experience a smooth ride.
Comfort
Comfort is an imperative factor to consider when buying a bike model. Mainly, if you are a beginner with no experience of using any fitness equipment, an easy set-up and operations help you to get started.
While the JLL IC400 Pro comes disassembled, it doesn't take long or much effort to set it up. The simple instructions in the manual card guide you throughout the assembling process.
When assembled, the unit weighs almost 53kg. High weight enhances overall stability and also makes the machine relatively safer at extreme speeds. However, a heavy bike is also challenging to move, so make sure you assemble this machine next to its rightful spot.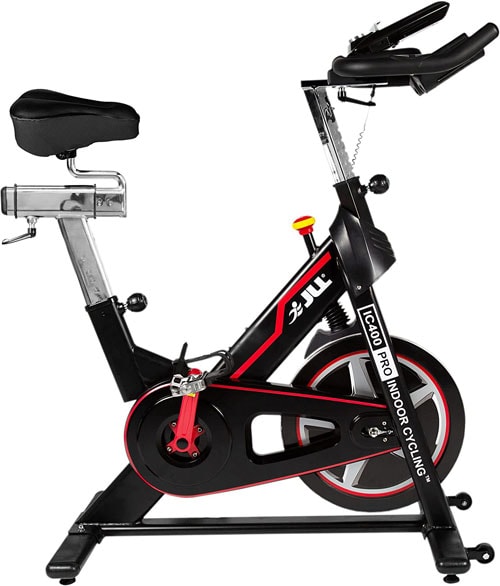 This bike does have transport wheels. However, moving the machine from one floor to another through stairs might get difficult with these wheels too.
Another comfortable feature that deserves mention is the excellent adjustability. This bike model has adjustable handlebars, a seat, and pedals. You can conveniently adjust the handlebars for six positions. 
Moreover, you can also move the seat up and down to attain the right height. This is because the ten vertical seat adjustments offer so many height options for most of you.
Besides, the seat comes with a gel cover which many of you may find easy to maintain. However, according to a few customers, the gel cover seat does feel much harder and firmer than the padded one.
This machine features SPD pedals with adjustable foot straps. You can easily adjust your feet in them and reduce any chance of slippage. Foot straps keep your feet in one position, so you do not lose control while pedalling.
However, again a few customers didn't like the anti-slip bumps on the pedals. According to them, these bumps are sharp, which means that you can't ride this bike barefoot or with socks only.
On the upside, these pedals are replaceable. So, this benefit makes the above issue quite minor. 
These pedals also feature a 3-piece crank system. This mechanism helps with the smooth motion of pedals and enhances their overall durability.
There are a few 'extras' that make this unit quite comfortable and safe to use. For instance, the emergency stop button stops this machine and its components as soon as you press it. Moreover, the unit comes with a bottle holder and even a bottle to keep yourself hydrated during your training.
Design
The dimensions of this bike model are as follow:
130(L)x 54(W) x 145(H) cm
Most of you may love this machine for its large footprint. The broad base means that this unit can accommodate users of any size and shape.
However, those of you with limited space may find it hard to adjust this machine comfortably. So, in that case, having a small unit will most probably work for you.
That being said, we can't ignore the solid and robust structure of the IC400 Pro. It has a sleek profile but exhibits a promising durable frame.
Moreover, according to the manufacturer, every component is made of high-quality material, which means that you may find this bike model useful for long-distance running.
Aesthetically, the red and black colour combination looks pretty impressive. The unit looks more like a high-tech gym bike rather than an indoor unit.
Additionally, the IC400 Pro has an excellent maximum weight capacity. It can easily carry a weight of 150kg, which is a reasonable limit.
It means that many of you may find this unit suitable for most of your family members and friends. This factor may then help you utilise this bike's full potential.
Console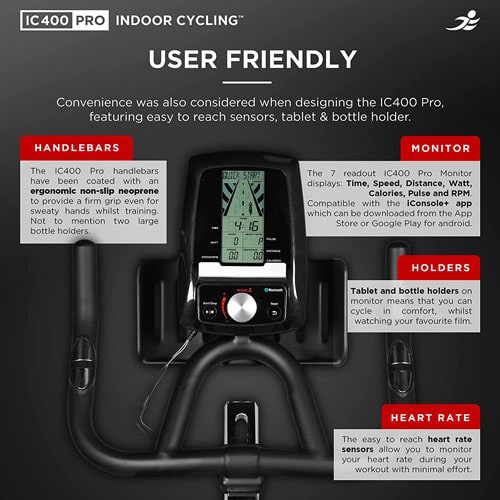 Built into this bike model, the onboard computer with seven functions is an excellent feature highlight. First, the console displays all the relevant data and stats such as time, speed, distance, and calories. This information then helps you analyse your performance and make changes where required. 
In addition, the bike also has built-in pulse sensors on the handlebars. This feature tracks your performance and keeps your heartbeat in line with your pedalling speed. Besides, the handlebars act as great support for a comfortable arm position.
Bluetooth connectivity is one of the most uncommon features in indoor bikes. But the IC400 Pro bike is an exception.
You can download the iConsole app and connect the bike with your tablet. This action will help you get more stats regarding your performance, including workout intensity and rest time.
But, as per a few customer complaints, the app crashes quite often and requires lots of improvement.
Moreover, since this bike doesn't have a tablet holder, you will have to adjust your gadget somewhere comfortable for a better view.
Warranty
JLL provides a 12-months warranty on the JLL IC400 Pro bike. However, according to a few customers and us too, the warranty period should have been a little longer. And like most other brands, there should have been separate warranties for the parts and the frame.
However, the brand compensates for this shortcoming through a 30-days money-back guarantee on all its products. This guarantee allows you to return the machine within 30 days from the date of its delivery.
Pros and Cons
Below is the list of some prominent pros and cons of the JLL IC400 Pro bike. If you still haven't found a verdict for this unit, the points below might help you with the process.
Pros
This bike model has magnetic resistance that is relatively smooth and noiseless.
Magnetic resistance also doesn't demand much maintenance or regular replacements.
The 22kg flywheel is one of the heaviest available and provides a range of resistance options.
This bike's belt-driven system provides a smooth ride and is also low-maintenance.
The adjustable handlebars, seat and foot straps make this unit comfortable for most of you.
The SPD pedals prevent unnecessary slippage and keep your foot position stable throughout the workout.
This unit has transport wheels so you can quickly move the machine anywhere you want.
The bottle holder and emergency stop button work as essential extras to make your riding experience comfortable.
This unit has a large footprint that can easily accommodate most of you with different shapes and sizes.
The maximum weight capacity is 150kg which is more than enough.
According to many customers, the bike model has a beautiful design and a sleek profile that looks quite attractive.
The console has a neat display that shows seven different stats.
You can also connect the bike with the iConsole app via a Bluetooth connection and enjoy more stats on your display.
The 30-days money-back guarantee is pretty satisfactory.
Cons
Moving this 53Kg bike on steps might be a challenging task even with transport wheels.
The seat might feel firm to most of you, so getting a replacement would be a better option.
The pedals have sharp bumps that may irritate people who like to cycle barefoot or with socks only.
This unit has a large footprint, so most of you with limited space might find it hard to arrange a comfortable spot.
The iConsole app crashes more than often.
There is no tablet holder.
We didn't find the 12-month warranty period satisfactory.
JLL IC400 Pro Vs JLL IC400 ELITE
The JLL IC400 Pro is a great bike model, but it has some tough competition. As part of the JLL IC400 family, the IC400 ELITE bike is pretty reasonable too. Here are a few ways in which both these models are different and similar.
Average Price
The average price of the IC400 Pro is £589.99. We think that the price is reasonable. But if you are looking for a budget-friendly model for an occasional workout, this bike is a little expensive.
On the other hand, the JLL IC400 ELITE is worth £419.99.
The price difference is almost £170, which is pretty substantial. It is why the JLL IC400 ELITE makes an affordable unit for beginners with tight budgets.
Resistance and Flywheel
The price difference is mostly because of the resistance and flywheel that each unit provides.
The IC400 Pro is more expensive than IC400 ELITE because the former has a 22kg flywheel and runs on magnetic resistance.
On the other hand, the latter has a 20kg flywheel only and offers friction resistance.
Display
Both units come with pulse sensors.
However, IC400 Pro's monitor shows seven readouts while the IC400 ELITE has six.
Moreover, unlike the former, the latter doesn't provide Bluetooth connectivity.
So, it is safe to say that the price of the JLL IC400 Pro is justified. Moreover, it is a much more well-equipped unit than ELITE and offers many more features than the latter.
However, since both have the maximum weight capacity of 150kg, you can choose either of the two if you fall within the weight limit.
Final Verdict
So, how did you find the IC400 Pro bike model? Is it worth your money and meets all your requirements? Or are you looking for a model much cheaper than this one?
Despite your requirements, we think the IC400 Pro bike model is an excellent unit for most of you. It comes with an impressive weight capacity, a powerful flywheel, and smooth resistance.
The bike does have a few shortcomings, like sharp pedals and a hard seat. But if you can replace them, the bike will convert to a suitable unit.
However, the final choice is yours. So, here's hoping that our critical viewpoints and customer feedback in this article will help you make a sound decision.