Are you interested in a budget-friendly bike model for your newly built home gym? If yes, you might want to consider the Ultrasport F-bike as a good option. Why?
Firstly, this unit is quite reasonably priced for beginners with limited funds and space. Besides, it has some basic operations that do not require much experience to use. Even if you are a new trainer, the console and resistance mechanism are relatively easy to understand.
However, this bike model isn't ideal for professionals. So, if you are one, we recommend you go for a high-tech and much more advanced unit.
There's more to this bike than meets the eye. So, if you want to know all the good and bad features, read the review below. The details here cover everything that might help you make a suitable decision.
Features
Regardless of its low price, the Ultrasport F-bike has a sturdy structure and many user-friendly features. It also comes with eight resistance levels, so you can grow with every option and experience a challenging cardio session.
Here are some of the most prominent features:
Foldable design
Eight resistance levels
Battery-operated LCD
Adjustable saddle
Gel saddle
100kg maximum user capacity
Pedal straps
Available in different colours
2-year warranty
Resistance
This bike model comes with eight different adjustable resistance levels. The different options of resistance allow you to mix your workout and make it less or more challenging.
However, as per experts, the maximum resistance level is still slightly low compared to high-performing units available in the market. But since this bike is designed for light workouts, the low resistance is acceptable.
If you want to experience stiff resistance, get a studio bike instead. For instance, the JLL IC300 bike is a better alternative. 
You can control the resistance using the black dial under the handlebars. In addition, the Ultrasport F-bike offers step-less resistance, which means that you won't feel any jolts while moving the pedals up and down.
Comfort
The Ultrasport F-bike comes 90% pre-assembled. It means that you do not have to do any hard work to set up this unit. All you are required to do is attach the seat, pedals and handlebars with the main body.
While attaching the pedals, make sure to screw them in the opposite direction. For instance, screw the left pedal in an anti-clockwise direction and the right pedal clockwise.
The assembling process is quite comfortable and takes a maximum of 30 minutes only. If you want to start riding the unit right away, make sure you have batteries available for the console. Unfortunately, the brand doesn't provide these batteries, so you will have to arrange them yourself.
Another comfortable feature of this compact bike model is its adjustable seat. There is a dial under the seat that you can use to adjust the height.
The Ultrasport F-bike's seat can accommodate most heights. However, if you are above 6'4 or below 5'2, the riding experience on this bike might not be smooth.
Moreover, this seat doesn't come with a cover or a backrest. If you want to use this machine frequently, buying a new seat or a saddle cover will make a lot of difference in your training output.
This unit has supportive handlebars, but unlike most bikes, they are not adjustable. Adjustability increases the value of a fitness machine and also makes it worthwhile for more than one user.
However, these handlebars have pulse sensors that record your heart rate and display it on the screen.
The pedals are made of high-quality material. In addition, they come with straps that secure your feet in one position. This feature helps during high resistance levels or maximum speed as it reduces the chance of unnecessary slippage.
Since the Ultrasport F-bike is foldable, you can fold and store it comfortably when not in use. The fuss-free folding mechanism doesn't take much time to fold and unfold this unit. In addition, this attribute helps save floor space and makes more room for other fitness equipment.
We would have loved a bottle or tablet holder on this unit. But there is not much space near the console for such features, and that is quite understandable.
Design
Here are the basic dimensions of this bike model:
Folded: 45 cm x 47cm x 132.5cm
Unfolded: 50.5cm x 43.5cm x 112cm
As stated above, the Ultrasport F-bike is a compact unit with a very sleek profile. In addition, it has a small footprint which means you can place it anywhere you want without occupying a lot of floor space.
Moreover, this unit is pretty lightweight. It weighs only 17kg, so it is fairly easy to move it around your house. That's why there are no transport wheels for additional support.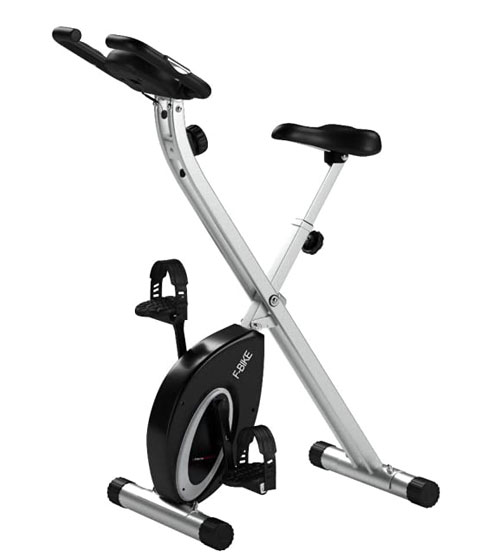 The maximum user capacity of this unit is 100kg. Unfortunately, this weight capacity is quite limited, and many of you with a weight above a specific limit might experience a shaky ride on this bike. So, to avoid that, it is better to invest in a much more solid and sturdy unit.
According to the manufacturer, the steel structure of this unit serves its purpose, and each part is made of high-quality material. But some customers have a different story to tell.
Most of them experienced a broken belt within six months of using this bike. Moreover, some customers found the pedals cheap, while others complained of a broken dial.
So, if you want to invest your hard-earned money in this bike model, make sure to discuss these issues with the manufacturer before bringing the bike home.
The good thing is that this bike model is available in different colours. For instance, you can get a unit in green and white or pink and white. Moreover, the most sold colour combination is black and grey.
So, depending on your colour preference, there are many options available for most of you.
Console
This bike model has a very small and basic console. The display shows data such as distance travelled, speed, time, calories burned and heart rate.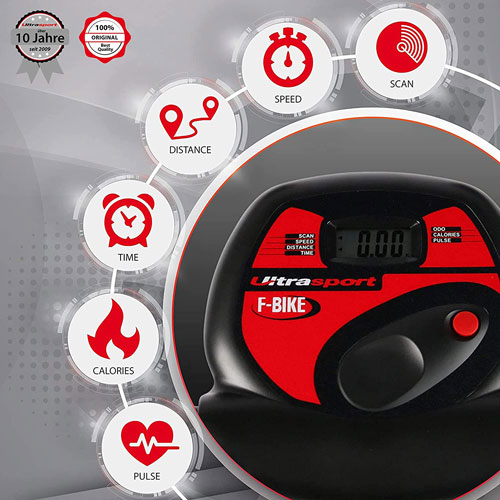 The size of this console is pretty reasonable when compared to this unit's price. However, it doesn't save your last stats and only shows the current performance. This design loophole creates issues while tracking your overall progress.
While you can't change the console, you can always download an app on your tablet to record your performance after every ride. This way, you will have all the data to make any comparisons and improvements.
Warranty
Ultrasport provides a 2-year warranty on all its products, including this bike model. We think the warranty period is pretty enough for a bike as small and compact as this one. But still, we would have loved to have separate warranties for parts and the frame.
If the warranty expires, you can easily purchase separate parts from the brand's online shop.
One of the best things about Ultrasport is its highly responsive staff. Many customers have mentioned how the customer support service is quick and professional. So, this point works well for the issues that you might face after purchasing this unit.
Pros and Cons
The Ultrasport F-bike is a simple fitness machine with all the basic features that many of you may like. However, if you still do not agree, here are this unit's most prominent pros and cons.
Pros
This bike model is relatively lightweight and is easy to carry from one place to another.
It has a foldable design which means you can store the unit under your bed when not in use.
The set-up is simple as it comes 90% pre-assembled.
Moreover, the seat of the unit is adjustable that many of you would like.
You can also easily adjust the resistance level of this bike according to your comfort and skill level.
This bike offers step-less resistance and so is ideal for a low impact workout.
The bike's small footprint makes it a perfect investment for small rooms.
This unit has supportive handlebars that you can use as support and measure your pulse rate.
The pedals of the bike model come with foot straps to keep your feet locked in one place.
This bike is available in different colours, which means that most of you may find a suitable design for your gym.
The Ultrasport F-bike has a primary console that most of you might find easy to operate.
This brand is famous for its excellent customer support service.
Cons
The resistance levels are not designed for professionals as they do not offer many challenges.
Unlike the seat, the handlebars are not adjustable.
The seat doesn't adjust for people with a height below 5'2 or above 6'4.
Moreover, this seat is pretty hard without any backrest. You might have to invest in a cover or a new saddle if you feel uncomfortable.
There is no tablet or bottle holder.
The console doesn't record previous riding stats, which makes it difficult to track the progress.
This unit has a limited weight capacity of 100kg. If you are a heavier individual, you may like to look elsewhere.
A few customers experienced broken belts and noise issues within six months of using this bike model.
The unit doesn't come with batteries, so you will have to buy them on your own.
We would have loved separate warranties for parts and the frame.
Ultrasport F-bike Vs Roger Black Folding Exercise Bike
The Ultrasport F-bike is a good unit for most new trainers and occasional users like you, but it is not the only one. This bike model faces tough competition from the Roger Black Folding exercise bike.
Here are some ways in which these two are similar and different.
Average Price
The average price of this bike is £125. The price keeps on changing, so make sure to check frequently for the best deal.
On the other hand, the Roger Black Folding bike is available for £159.
The difference is not too much but is the latter better than the former?
Weight and Weight Capacity
The Roger Black folding bike is four times heavier than the Ultrasport F-bike.
This difference means that the former is more reliable and sturdy.
But despite a much more robust structure, the Roger Black Folding bike has a similar weight capacity of 100kg.
Resistance
Both these bike models have eight levels of resistance.
But when asked, we like the layout of Ultrasport F-bikes the most.
So, despite the £30 difference, the Roger Black folding bike doesn't offer anything more special other than a heavier structure. If that's an important thing for you, you can select this bike. But if you consider this factor not much imperative, the Ultrasport F-bike may work for you.
Final Verdict
Finally, we have reached the end of this article. So, what do you think? Does the Ultrasport F-bike meet your requirements, or are you better off with an alternative?
While this bike model is not for professionals, it can serve occasional trainers and beginners quite effortlessly. With a basic mechanism, quick set-up, and good customer service, the bike may help you stay fit and grow with eight levels of resistance.
Moreover, since it's pretty inexpensive, you don't have to worry about harming your monthly bank balance. So, if you want to stay healthy or embark on your first fitness journey, starting with a low-priced and basic model might be a wise decision.