A folding treadmill model like the Opti Folding treadmill would probably appeal to any beginner looking for a simple workout machine. Unlike most units available in the market, this treadmill doesn't come with scary or complicated features. Instead, it works as an entry-level machine that has a basic console and functions that would fulfil all your requirements. 
However, does the above introduction mean that this unit is perfect for new trainers? This machine has a few flaws, too, which don't make it everyone's cup of tea. However, let's not make assumptions without reading the review.
So, if you are interested in the Opti Folding treadmill, dig into this article. The plethora of information below will help you make a decision on this machine.
Features
The Opti folding treadmill is a sturdy unit with many high-quality features. Moreover, it is also an inexpensive unit that can be a favourite of a majority of potential customers. Below are some of the most prominent features of this unit.
Feature Highlights
0.8HP continuous motor
Maximum speed 12kph
Variable three incline levels
100kg user capacity
Simple console
Ten user programmes
Foldable design
Hand grips with pulse sensors
Manual incline
Five display functions
Auto-stop safety
Transportation wheels
Dimensions and Assembly
Below are the dimensions of this treadmill model:
Folded: L77.5xW28xH57 inches
Unfolded: L62xW28xH50 inches
It is safe to say that the dimensions of this unit are pretty appropriate for your small apartment. Besides, since it weighs 42kg only, you don't need to make an extra effort to place it on its spot. However, we would still recommend you to take some help while doing so.
The treadmill comes with transport wheels. So, once unpacked, you can use these wheels to move the folded treadmill to your gym area. And then start its assembling.
Delivery and Set-up
Unlike most treadmills, this one does require some assembling. However, don't panic as the assembling procedure is quick and simple. But, make sure you have the right tools at home to install all the parts.
You can also take help from a readable manual or a YouTube video. The Opti folding treadmill is a pretty famous model, so that you will find a variety of relatable and reliable resources on the internet.
Console and Data Tracking
If you haven't used a piece of fitness equipment before, the Opti Folding treadmill would be a great tool to kickstart your journey. It comes with a simple console with sizeable buttons to make every operation easy for you. Besides, the console has a bright display that even a person with poor eyesight can figure out the written numbers.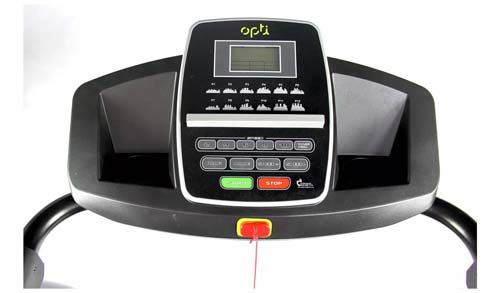 Moreover, this console delivers excellent feedback. For instance, it shows your speed, time, distance covered, calories burned, and heart rate while you strive to improve your performance. In addition, the handlebars are pretty reachable and have start/stop, pulse sensors, and speed buttons to move the machine with ease.
The console displays ten pre-set programmes that can help you build speed and stamina with time. Some programmes are designed for weight loss while others help to increase your endurance.
This console also features an iPad holder so you can watch your favourite Netflix series while burning some calories. There is also a bottle holder on each side of the unit to help you stay hydrated.
Unfortunately, this treadmill doesn't have speakers or a Bluetooth connectivity feature. Hence, you will have to use your headphones to listen to your favourite beats.
Also, there is no mention of a cooling fan as well. While most of the cheap treadmills do not have this feature, its existence makes a difference in the overall performance.
Speed and Incline
This treadmill model is a motorised unit that features three incline levels. You can utilise the manual inclines to enhance your workout challenges.
The Opti Folding treadmill works on a 0.8HP motor. This is not one of the most powerful motors available, but it works fine for a compact unit. You can achieve a maximum speed of 12kph, which is perfect for power walking and light jogging.
However, if you are a professional runner, this budget-friendly unit may do you no good. Unfortunately, you will have to look elsewhere to meet your workout requirements.
Design and Folding Mechanism
The good news is that the Opto Folding treadmill is a good-looking machine. It has a solid structure that won't disturb you as long as you have installed every part carefully.
This treadmill model has a maximum user capacity of 100kg. The weight limit may suit most of you, but many overweight individuals might face disappointment. So, if you are heavier than 100kg, look for a more durable and solid unit or experience a shaky workout.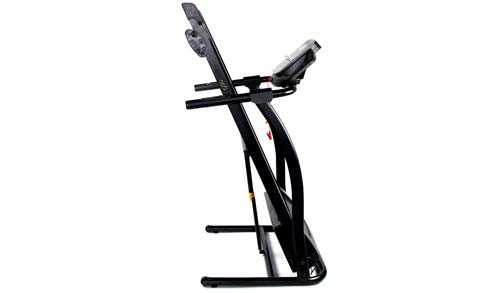 The Opti folding treadmill doesn't have a large surface. However, if you have a small gym area with other equipment, you might want to fold this treadmill as soon as you are done using it.
So, considering this primary requirement of most people, this treadmill has a foldable feature. You only have to wrap the unit using a basic technique mentioned in the manual, and it becomes ready to store. You can then place it under your stairs or in the corner of your gym.
Running Deck
The running deck dimensions are: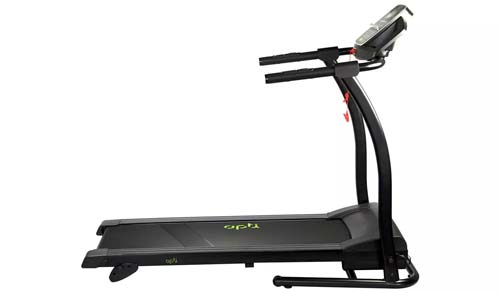 This running deck isn't suitable for tall users with long strides, but it suits most women and short-heightened men. Moreover, since there is no cushioning, you may find the machine uncomfortable for long-distance walking.
Similarly, people with arthritis or weak knees may feel a high impact from this unit, worsening their condition.
But despite these shortcomings, the belt is sturdy and well-made. It doesn't disturb your motion and offers a solid grip on your feet. But before you hop on this machine, wear knee pads to absorb extra shock and start with a slow speed to get used to the belt's pace.
Noise
Fortunately, there have been no complaints about the noise levels of this treadmill model. The motor works perfectly and doesn't annoy your neighbours.
However, since this machine doesn't have a cushioning system, you may hear some sounds as your feet hit the belt. Besides, at high speed, the unit might create a "thudding" noise. But that is pretty expected with all similar models, so it isn't right to create unusual expectations.
Safety Features
This treadmill is equipped with three major safety features. First, it comes with an auto-stop feature that stops the belt as soon as you fall or drift apart. This feature involves the use of a clip that you wear to help the treadmill track your movement.
The second safety feature is the handrails that give you support when you need them. For instance, you may lose your balance at high speeds, so these handlebars may help you regain it.
Besides, the handrails have buttons to manage your speed and incline levels. This property saves you from bending over the console for a change in your incline level or speed.
Warranty
You should always consider the warranty period before purchasing a workout machine. This tenure signifies the durability of the unit and also reflects the manufacturer's trust in its creation.
The Opti Folding treadmill comes with a one-year manufacturer's guarantee. But, unfortunately, there is no mention of the warranties on the motor or parts. That's quite unfortunate because most other brands have clear warranty periods on even the frames of their treadmills.
However, despite this policy loophole, the brand offers a 30-day return policy. So, for instance, if you have faced an issue with the unit's performance or have received a broken part, you can return or replace the unit easily.
Pros and Cons
Does the Opti folding treadmill meet your requirements, or are you still looking for something special? In either case, go through the pros and cons section below before you make an investment.
Pros
This budget-friendly treadmill is perfect for first-time users or occasional trainers.
It is a lightweight unit and comes with transport wheels for convenient mobility.
It has a compact yet durable structure, so you can easily keep it in your small apartment.
The folding feature helps to store this treadmill model when it's not under your use.
This machine offers a basic console with visible functions so that you can operate all features with ease.
Moreover, the treadmill features ten pre-set programmes to add variety to your boring workouts.
The iPad holder keeps your gadget safe while you burn some calories.
This treadmill model provides three incline levels to add some challenge to your workout.
The quiet function of the treadmill makes it worthy of shared houses or closed neighbourhoods.
Despite its basic belt, your feet get a solid grip to move comfortably on the treadmill.
The safety features help prevent unnecessary accidents and give you the confidence to challenge your potential.
This unit comes with a 30-day return policy which is quite a plus point.
Cons
Unfortunately, you will have to perform some basic assembling to bring this machine to its operational state.
It has a very small motor and doesn't offer many incline levels.
The maximum speed only works for a few people.
There are no built-in speakers, and you will have to wear your headphones to listen to your playlist.
It also doesn't come with a cooling fan to keep you cool during strenuous training.
The lack of a cushioning system increases the risk of knee injury and affects the nose produced during workouts.
Sadly, the warranty period isn't too appealing. The brand doesn't offer any warranty on frames or parts.
Opti Folding Treadmill VS Reebok One GT30
While the Opti Folding treadmill is a budget-friendly option, many competitors give it a tough time. One of them is the Reebok One GT30 treadmill.
This is quite a famous machine that many people go for but does it match the good specifications of the Opti Folding treadmill? Let's find out!
Average Price
The average price of the Opti Folding treadmill is £349.99.
Similarly, the GT30 treadmill model by Reebok is also worth £350.
While the prices fluctuate with seasons, it is safe to conclude that these two models fall within the same price range.
So, what makes them different?
Motor/Speed/Incline
As stated above, the Opti Folding treadmill has a 0.8HP motor and offers only three incline levels.
On the other hand, the Reebok GT30 has a 1.5HP motor and provides 12 incline levels to its users.
That's quite a big difference in specifications and clearly shows that the latter is more powerful than the former.
Similarly, the GT30 treadmill provides a maximum speed of 16kph, while the Opti Folding unit only offers 12kph.
Other Features
The maximum weight capacity of GT30 is 110kg as opposed to 100kg of Opti treadmill
There are built-in speakers in the former but none in the latter.
Moreover, in contrast to ten user programmes in the Opti treadmill, GT30 provides 16.
In a nutshell, there are many differences between these two models, but their average prices are quite the same. So, if the manufacturers of the Opti Folding treadmill want it to excel and beat its competitors, they will have to make a lot of changes to make it stand out.
Final Verdict
According to this review, the Opti Folding treadmill is worth your money. If you are an occasional trainer who only wants to stay active by walking on a treadmill an hour every day, this option will suit you the best. It is pretty lightweight and has all the essential features to make you move.
However, at the same price, you can also get the GT30 treadmill model. It is not the simplest machine available but comes with a high maximum speed, a better console, and an effective motor.
So, the final decision lies with you. We have our vote for the Opti Folding treadmill, but you are free to choose yours.