The ZR10 is a well-made and sturdy treadmill model. It comes with gym-quality features that help operate this machine quietly, smoothly, and comfortably.
Besides, with excellent MP3 connectivity, great maximum speed, and an impressive number of incline levels, the Reebok ZR10 treadmill is a much better option than many budgeted or cheaper models.
But despite these good points, is this machine worth your money? Does this treadmill model cater to your specific needs and can become a valuable asset for your gym?
If you have these burning questions in your mind, we are here with their answers. So dig into this review to find everything essential about this treadmill model. From great specs to a few design flaws, this writing covers all the aspects.
Features
The ZR10 is one of the first few machines from Reebok's running treadmill range. So, it does lack a few advanced features that most new models have.
However, that doesn't mean that this machine deserves to be ignored. On the contrary, it comes with excellent build quality and performance at a reasonable price. Moreover, its features are pretty user-friendly and require low maintenance.
Here is a summary of some significant features:
Feature Highlights
2HP Motor
Maximum speed of 18kph
15 incline levels
Built-in speakers
MP3 connection
120kg maximum user capacity
Transport wheels
32 pre-set programmes
Auto-stop safety feature
Lifetime warranty on frame
Dimensions and Assembly
Here are the dimensions of this model:
The treadmill model measures: H56xW33XD69 inches
When folded, it measures: H59XW33xD43 inches
As per a few customers, the treadmill's size is pretty accurate for small apartments or spaces. Besides, since it folds easily, thanks to the soft drop mechanism, you can adjust it in a corner or under stairs when not in use. But this feature does feel like a gimmick considering the unit's size and weight.
Delivery and Setup
One of the best things about Reebok is that it is pretty swift with its delivery process. There are no delays involved, and you get the treadmill within a few days of placing an order.
However, this machine with the package weighs 85kg. That's a lot of weight for one person to handle. So, either make sure you have help or request the delivery man to place the machine inside the house.
Like most Reebok treadmills, the ZR10 also requires some self-assembling. But since most of the work is already done, you will only have to tighten a few screws and bolts and make adjustments to the console to make this unit ready to operate.
The whole assembling process takes about half an hour. This duration is pretty less for a treadmill as huge and heavy as this one.
Console and Data Tracking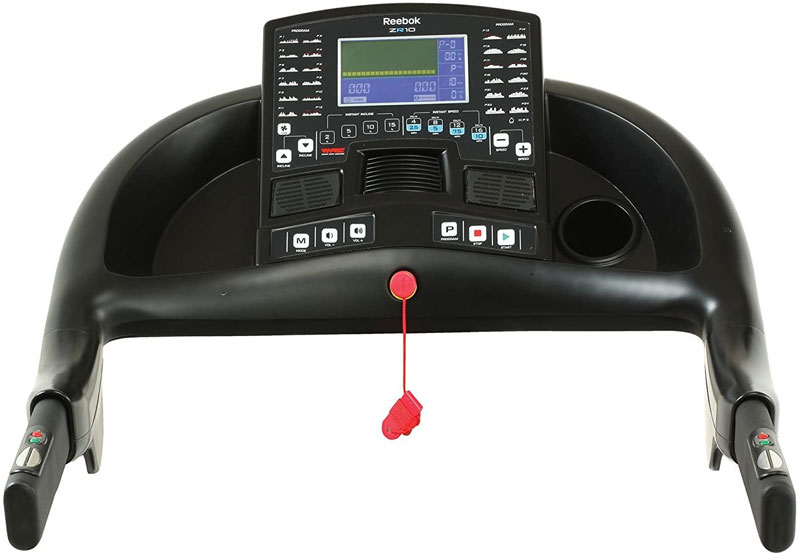 The first thing that you will notice on this treadmill is its 7 inches backlit LCD screen. The display is bright and nice, making it easy for you to see your workout progress and learn about different program settings. The console also has a variety of buttons to adjust incline levels, speed and other settings.
One of the other prominent things about this treadmill is the pretty visible MP3 input. This feature allows you to use an aux cable to connect your phone or any other MP3 device with this treadmill model. You can then listen to your favourite songs through the built-in speakers but don't expect much from the sound quality.
However, even though the MP3 connection works fine for most users, the absence of Bluetooth connectivity may disappoint a few. Besides, you can't hook the unit with other interesting training apps, limiting the number of available programmes.
There is a cooling fan on one side of the console to give you fresh air while you burn some sweat. While this feature is quite essential, it doesn't work well in our opinion. The quality of the fan is pretty low, which is quite a bummer.
Secondly, the unit does contain a bottle holder, but there is no place to keep a pad or phone safely. Again, this isn't a major flaw, but having their gadgets nearby plays a significant role in achieving their fitness goals for some users.
Speed and Incline
Do you know what makes a treadmill better than its competitors? While many factors play a role here, speed and incline are two of the major ones.
The ZR10 treadmill doesn't have the speed of most high-end models, but 18kph is ideal for running and jogging. Besides, since the speed is adjustable, you can also perform interval training on this machine.
But most professional trainers might not achieve a maximum heart rate with a 2HP motor. This factor may create issues for HIIT training, and you might have to look for more expensive and advanced treadmills.
This treadmill has electronic adjustments for incline levels. You can get 15 levels to workout with, which helps make your training quite challenging.
Noise
According to experts and some customers, the ZR10 is a reasonably quiet machine. This advantage works positively for people living in shared properties. You can work out on this machine at any given time without worrying about your sleeping flatmates or elderly neighbours.
Running Deck
The ZR10 treadmill has a sleek runway and frame. This quality does make this unit stand out from its predecessors.
The deck of this machine has a length of 52 inches and a width of 18 inches. As far as an average user is concerned, these dimensions are pretty ideal for a comfortable workout. However, for intense workouts or tall runners, the deck might feel insufficient.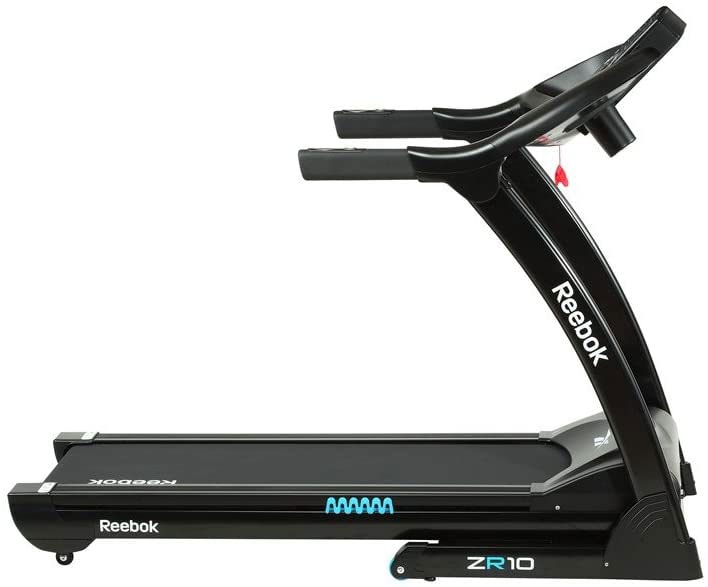 But what makes this running deck better than most available in the market is the ZigTech Cushioning system. This technology absorbs shocks and reduces stress on the feet to enable a comfortable run. The ZigTech system primarily benefits long-distance runners or those with weak joints.
The cushioning system has quite a science behind it, but the results are usually smooth and comfortable.
This running deck is made of high-quality materials and is a true reflection of the overall build of ZR10. The machine can easily hold a weight of 120kg at a time. But if you weigh more than this limit, you might want to shift to a much more solid machine.
Safety Features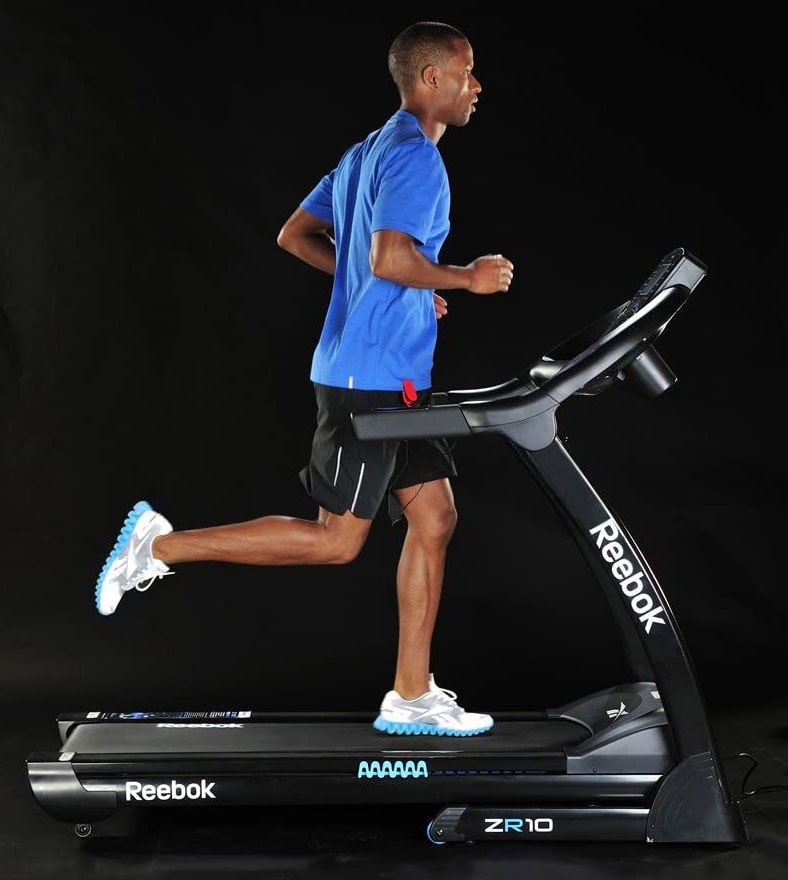 The auto-stop safety system in this unit is quite a blessing. It is present in almost all treadmills which reflects its importance.
This feature saves you from falling on the machine while the belt is still moving. By fixing the magnetic clip on your wristband, you can make the machine stop if you drift apart or fall off while running. The emergency stop helps prevent any serious injuries.
The sturdy structure of this machine is a great safety feature in itself. The secure surface with top-quality parts gives you the liberty to work out at a comfortable pace without worrying about an accident.
Warranty
We can't help but applaud Reebok for its exceptional warranty policies. The brand offers a lifetime warranty on ZR10's frame and a 10-year warranty on its motor. Besides, there is a 2-year warranty on all parts and labour.
These tenures clearly show the quality and performance of this treadmill.
Moreover, Reebok's return policies are pretty user-friendly too. The brand understands the needs and rights of its customers and offers a 30-day return policy on all its treadmills. However, before you send the machine back to its warehouse, make sure that it hasn't changed much since the day of its arrival.
Pros and Cons
Did you find the ZR10 treadmill worth your money? If you are still indecisive, you need to go through the section below for a summary of all pros and cons.
Pros
This machine features a soft folding mechanism which is quite crucial for its heavyweight structure.
The ZR10 treadmill doesn't require much assembling and is ready to operate within 30 minutes.
This machine comes with 32 pre-set programmes and an intuitive console to support your workout goals.
The presence of built-in speakers and MP3 connectivity helps users connect to their favourite music while working out.
Regardless of the unit's simple functions, the unit has a powerful motor to support a maximum speed of 18kph.
You can run at a comfortable pace without feeling tired because of the ZigTech cushion technology.
The unit exhibits a solid and sturdy body which reflects its high quality.
This is a daily noiseless unit so that you won't have issues working out late at night.
The warranty periods are excellent and enhance customer satisfaction.
Cons
An absence of a Bluetooth connection does make this treadmill useless for many people.
This is a heavy unit that may disappoint some people.
It does have a good weight capacity of 120kg, but if you are a heavier individual, you might want to go for something else.
The cooling fan doesn't work correctly. Some customers have also complained of a slow and useless airflow.
You can't connect this treadmill to any training apps. This limits the sources of entertainment for you.
It may not work effectively for workouts like HIIT and sprinting.
There is no holder for keeping a pad while running.
Reebok ZR10 Treadmill Vs. Competitors
The average price of ZR10 is £700, which might be a little expensive for some people. However, according to us, the unit's functions and structure completely justifies its cost.
If you are still unsure about this unit, look at some similar machines below to have a fair comparison.
Average Price
The Reebok ZR10 treadmill is quite similar to the Reebok ZR9 and Jet 300. While the ZR9 is worth £630, the jet 300 is a little more expensive and is worth £850.
However, the prices of these units do fluctuate, and on sales, they become a lot cheaper.
But to give you an idea, the ZR9 is almost £70 cheaper than the ZR10. This difference might be a lot for many people, and they may go for the former.
However, that doesn't mean that the ZR10 shouldn't get your attention. There are many things other than the price that makes it much better than its competitor.
Similarly, Jet 300 is almost £150 more expensive than ZR10. Jet 300 is a very famous treadmill from Reebok's Jet series, but this price difference may play a role in making it less attractive.
Motor/Incline/Speed
Both ZR10 and ZR9 have a 2HP motor. But since Jet 300 is a much-advanced model, it comes with a 2.5HP motor.
Similarly, Jet 300 and ZR10 offer 15 incline levels, but there are only 12 in ZR9.
You can reach a maximum speed of 20kph on Jet 300. However, with ZR10 and ZR9, the maximum speeds attained are 18kph and 16kph, respectively.
Weight Capacity
The maximum user weight capacity of both ZR9 and ZR10 is 120kg. But that's not the case with Jet 300, as its maximum weight capacity is 140kg. This clearly shows that Jet 300 is much more equipped and stable to hold a greater weight than ZR10 and ZR9.
While choosing a treadmill, it is vital to consider all these factors. Obviously, your budget is the most vital thing to consider before anything.
But speed, weight capacity and other extra features also help make an accurate final decision.
Final Verdict
We have finally reached the end of this review. So, how did you find the Reebok ZR10 treadmill model? Did it meet your expectations, or do you want to reconsider your choice?
When compared to its competitors, ZR10 is not very different. It has an efficient motor that provides excellent maximum speed and incline levels. Besides, it has an adequate weight capacity and a high-functioning running deck to help achieve your goals.
Moreover, it comes with excellent safety features and a solid build that you can trust. While this unit may not be appropriate for HIIT, it is perfect for running and interval training.
The final decision lies with you. If you loved the ZR10 treadmill, wait no further. Instead, bring this machine home and witness increased stamina and improved physical and mental health.