It is safe to say that the JLL T450 treadmill model is an advanced unit with unique features to offer. You will love it for its user-friendly interface, durable structure, and variety of settings. Moreover, it comes with a great price tag as well.
But does this machine have any flaws? Moreover, does it deliver a compatible and competitive performance? Finally, and most importantly, do customers and experts recommend this machine?
Getting answers to these questions is vital before you invest your hard-earned money on the JLL T450 treadmill. So, please sit back and read our review below that covers all the aspects in detail.
Features
Like most other efficient treadmills available in the market, the JLL T450 has a powerful motor that produces excellent speed. Besides, it comes with a straightforward console that even a beginner can operate.
Here is a summary of all the major features available on this unit:
Feature Highlights
2.5 HP motor
Maximum speed 18kph
20 levels of incline
120kg of maximum user capacity
Intuitive 5 inches console
20 user programmes
Built-in speakers
MP3 and Bluetooth connectivity
Handrails come with a heart monitor
5-year warranty on motor, 2-year warranty on parts
Dimensions and Assembly
These are the dimensions of the JLL T450 treadmill:
The unit weighs 64 kg which is quite heavy. So, please make sure to pay extra for the help required to settle the unit in your home. Moreover, if possible, arrange a place on the first floor of your house, so you don't have to move the treadmill again.
Delivery and Setup
According to some customers, they have faced long delays regarding the delivery of this unit. While JLL Fitness has excellent standards, don't be hesitant to file a complaint if you face such issues.
When it comes to assembling this machine, you will find this task relatively easy. While this unit is heavy, it comes 90% assembled, so you won't have to do much work. However, you will have to fix a few bolts and adjust some parts before the machine is ready to work.
You can use the manual for some instructions. But we think that YouTube videos would be more helpful. It is because the manual has some basic graphics which many people won't be able to comprehend.
Console and Data Tracking
Once the treadmill is fully assembled, the first thing that you will notice is its 5-inch LCD console. This display has a fantastic interface and user-friendly functions. You will find the operations easy to control and reachable.
However, according to some experts and a few customers, the buttons on the console are very sensitive. There are very few physical buttons which means that unnecessary speed changes may happen with a simple wrong touch.
The console displays all the relevant data you require to improve your performance. For instance, you can find your speed, distance covered, time is taken and average heart rate while training.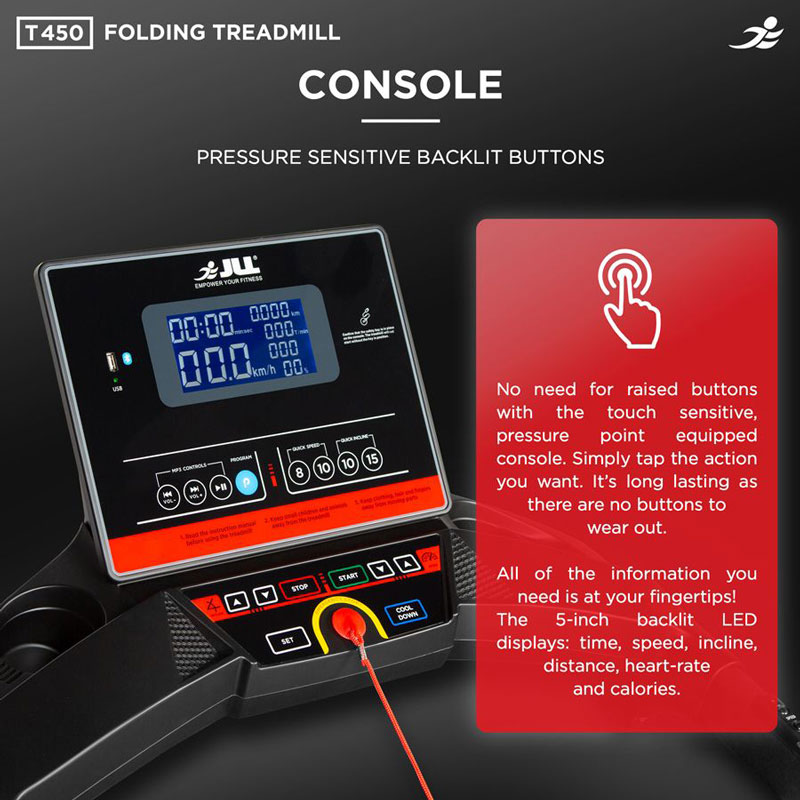 Besides, you can utilise all the 20 user programmes on this console to make your workout more entertaining. Some of these programmes are designed for beginners while others cater to skilled trainers. Thus, the plans allow you to train at your comfortable pace and achieve your goals.
Right below the console are the two top-quality speakers. These built-in speakers produce a great sound that helps make your workout enjoyable. In addition, you can connect your MP3 player or mobile with the treadmill using an aux cable or a Bluetooth connection.
Interestingly, this treadmill also has a charging port. So, if you want to charge your phone during a workout, do so without any hesitation. However, there is no phone holder on this unit, so you will have to settle your phone somewhere safe before charging it.
The console has two bottle holders on its right and left sides. While these holders are pretty helpful, you will find their depth insufficient to keep the bottles securely. You might have to adjust your bottle every now and then, so it doesn't fall from the treadmill.
Speed and Incline
As you might have already seen in the feature highlight section, this treadmill model has a 2.5 HP motor. This is a powerful horsepower, but this motor can produce a maximum of 4.5 horsepower at its peak performance. Now that's an impressive feature!
If that wasn't enough, the JLL T450 treadmill could produce a range of speeds with a maximum speed of 18kph. Suppose you are an intermediate trainer or even a beginner, for that matter. In that case, this impressive speed range will give you a chance to experiment with your workout and build stamina gradually.
Besides, the option of 20 incline levels will help you burn as many calories as you want. Remember, walking on an inclined surface is always beneficial than running on a smooth one.
But that being said, it is imperative to mention that the 18kph speed may not work well for most professionals. Besides, it is also not a good pace for sprinting or a HIIT workout. So, if you are a pro or an athlete, this treadmill model may seem too basic for your skill levels.
Design and Folding Mechanism
There is no doubt about the quality standards followed by the JLL Fitness brand. This company only delivers high quality, which is quite visible in their products.
The JLL T450 treadmill has a solid and durable structure. Made with alloy steel, this unit exhibits a robust build with excellent sturdiness and longevity. This is the reason why this unit is quite heavy but isn't it worth it?
If you weigh 120kg or below, this treadmill model can perfectly handle your weight. However, if you weigh more, you might need to search for a much more solid unit.
A heavy unit might be a headache at times, but this treadmill's folding mechanism helps solve all your problems.
The unit features a hydraulic arm that makes it convenient to unfold and fold this machine. Besides, this feature helps to lock the unit in a safe place.
The soft drop folding mechanism is a blessing. It makes sure that you do not hurt your fingers while folding this treadmill.
A secure folding mechanism has two advantages. Firstly, it allows you to store a heavy treadmill and increase your floor space. Besides, it also makes sure that there is enough space for the rest of your workout units and fitness gear.
So, even if you have to pay more, buy a folding treadmill only.
Running Deck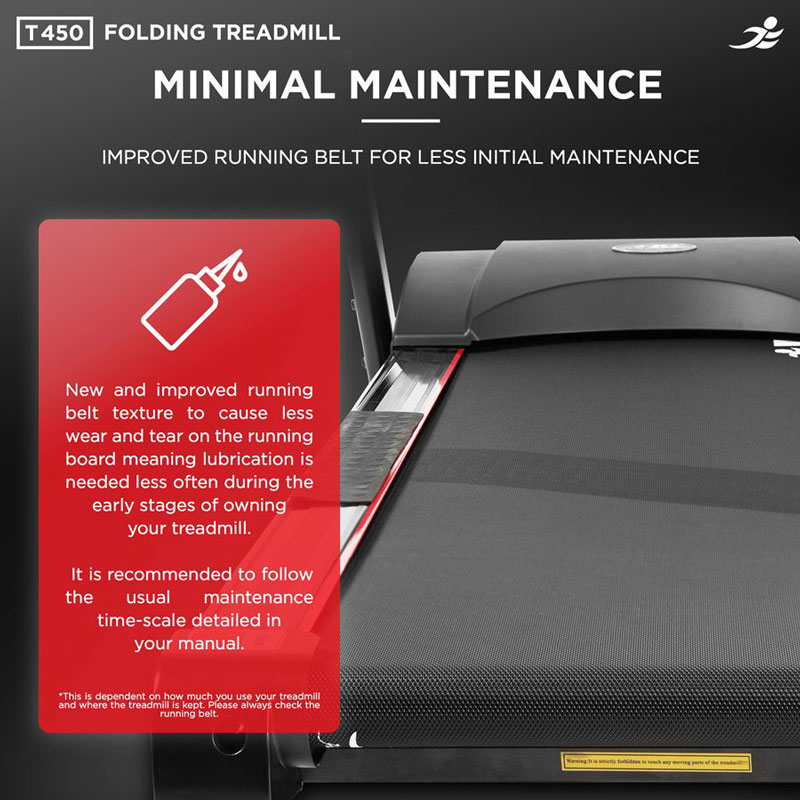 The running deck of the JLL T450 treadmill has the following dimensions:
Length 50 inches and Width 16 inches
This running area is sufficient for most beginners and intermediate users. But according to some users, a more expansive deck should have made quite a difference.
However, as expected, a majority of users love the premium quality of the belt. It is made of long-lasting material and exhibits a tough surface. Moreover, this belt has a high endurance level and can easily tolerate all kinds of running and walking styles.
Under the belt, there is an advanced 16-point cushioning system. You will find this feature in almost all high-end treadmills as it helps to reduce impact and pressure on the user's joints and knees. The cushioning mechanism also supports your feet so you can comfortably run at your desired pace.
Noise
While discussing the benefits of the cushioning system, it is imperative to mention that this mechanism also reduces noise. It ensures that the belt moves smoothly, thus limiting all distracting sounds.
Besides, the system also reduces noise with every foot strike. So, even if you plan to run fast, your feet will not produce annoying sounds to ruin your focus.
So, since the JLL T450 is a noiseless unit, you can use it whenever and however you like. Even if you live in a shared property, you can hop on this machine and work out at an odd hour without creating any disturbance.
Safety Features
There are two main safety features present on this treadmill button. Firstly, the emergency STOP button can help pause your workout during an emergency. Then, if you want to restart your workout, you can continue right from where you stopped.
The STOP button is easily reachable and works pretty quickly.
This treadmill also comes with handrails that have heart rate sensors. These sensors record your heartbeat and adjust the speed accordingly. However, there have been complaints about the wrong reading, so make sure to double-check this feature before trusting it.
Moreover, you can use the handrails to adjust the incline level and speed. This feature is far more approachable than bending down to adjust the speed on the console.
Warranty
The brand offers a lifetime warranty on the treadmill's frame. That's quite incredible and shows the trust this brand has in the quality of this piece of equipment.
There is also a 2-year warranty on the treadmill's parts and labour and a 5-year warranty on its motor. These tenures exhibit the high performance of this unit's features and allow you to trust this treadmill for your home workouts.
Pros and Cons
So, as you might already have analysed, the JLL T450 treadmill has a mix of good and bad features. But since nothing in this world is perfect, you can expect this from any machine.
Here is a list of all pros and cons:
Pros
This treadmill model has a robust body and structure.
It can carry a maximum weight of 120kg at a time.
The treadmill features a stylish console with accessible features.
You can adjust your speed, incline, and program preference using the intuitive display.
The built-in speakers produce excellent sound and can be easily connected to your phone via a Bluetooth connection or an aux cable.
This treadmill has a powerful motor that can produce incredible horsepower at peak.
The sizeable deck works great for beginners and intermediate trainers. Moreover, the cushioning system reduces impact and pressure on the knees.
This is a noiseless unit that helps the user to use this treadmill at any odd hour.
The emergency stop button helps stop the machine before you fall or drift away from the belt.
JLL's excellent warranty period makes this treadmill an attractive investment.
Cons
Unfortunately, this treadmill doesn't come with a user-friendly manual.
This is a heavy unit, so moving it from one place to another might be cumbersome every time.
Despite its great weight capacity, the treadmill cannot hold more than 120kg.
According to some customers, JLL doesn't have an efficient customer service department.
The console doesn't have a phone holder, nor does it have well-built bottle holders.
JLL T450 VS JLL S400
The JLL T450 treadmill is an excellent model, but it has a few competitors. For instance, the JLL S400 is its biggest enemy and does give the former a tough time. Here's how both of them vary from each other:
Average Price
The average price of the JLL T450 is £699.99, but the JLL S400 is worth £619.
That's not a big difference but is the high price of JLL T450 justified? To find an answer, let's look at some other factors.
Speed/Incline/Motor
Both the units have a 2.5 HP motor and offer the same 20 incline levels.
However, the JLL T450 produces a maximum speed of 18kph while the JLL S400 produces only 16kph.
It means that the former is more powerful and fast when it comes to training.
Deck Size
Interestingly, the S400 treadmill model has a wider (18 inches) deck than the T450's (16 inches).
But despite this distance, the latter is cheaper than the former.
Final Verdict
Overall, the JLL T450 treadmill model is an excellent piece of equipment with almost everything designed for the user's convenience. However, compared to its competitor, the high price of the treadmill does raise a few questions.
While this unit offers a higher speed, its deck is relatively smaller than its competitor. So, make sure you know your priorities and requirements before you invest in this unit. After all, you will be using it for a long time, so make a decision wisely.