Have you ever thought of investing in an affordable bike model with features similar to an expensive unit? We know that such a combination is rarely available, but there are always some exceptions. The Body Power SP.IC14 indoor studio cycle is one of them.
This bike has a powerful flywheel and comes with a solid frame. Moreover, it has an excellent design that most of you may like.
On paper, this machine ticks all the right boxes for most of us. But does it deliver a good performance, and most importantly, is it a perfect candidate to support your fitness journey?
To find an answer to all these burning questions, dig in. We have reviewed this bike model in this article and would like you to have a read.
Features
The Body Power SP.IC14 may not have an attractive name, but this bike has a great style and design that may make you a fan. Moreover, its main features may help you achieve your fitness goals. The only problem is that we don't like the LCD much, but we will discuss that later in this article.
Feature Highlights
Below is a list of primary features that you will find in this bike:
Friction pad
14kg flywheel
LCD
Adjustable seat and handlebars
3-piece crank
100kg maximum weight capacity
Tablet holder
Bottle holder with a complimentary bottle
Transport wheels
1-year warranty on parts
Resistance
As mentioned above, this bike model comes with a 14kg flywheel. While it is not one of the most powerful flywheels in the market, the weight is ideal for producing a range of resistance for beginners and intermediate trainers.
Moreover, this unit runs on friction resistance. A quick-release adjuster below the console helps you fluctuate the resistance tension and workout intensity according to your requirements.
Friction resistance is quite satisfactory for most users. But if you do not want to spend extra on brake replacements and belt maintenance, we wouldn't recommend this type of resistance.
Instead, it is better to invest in a bike that runs on magnetic resistance in that case. For instance, the JLL IC300 Pro bike model may work for you.
Comfort
One of the comfiest things about this unit is its assembling process. Unlike most spin bikes, this bike only takes about 20 minutes to assemble. The unit comes 95% assembled, so you are only supposed to fix a few parts and secure the bolts to make this unit safe for use.
As soon as the bike is assembled, you will notice its solid structure, rigid frame and great design. Moreover, you will also eventually explore its adjustable seat and handlebars.
This unit has an adjustable seat that can move vertically and horizontally according to your ease. It means that anyone with tall or short height can integrate this bike model into their fitness gear.
Besides, the seat is entirely padded, so you do not feel soreness within a few minutes of riding. However, if you do, you can always cover the saddle with a gel covering and prevent this from happening.
You can also move the handlebars vertically. We would have loved to move them horizontally as well, but that's missing here. These handlebars offer a firm grip for your hands and also prevent any slippage.
In addition, the pedals are also adjustable. The foot straps keep your feet in one place and prevent unnecessary slippage. Besides, the 3-piece crank system enables a smooth environment for your pedals which helps them move without any hiccups.
There are a few more features on this bike model that might be a source of comfort for you. For instance, this unit has two transport wheels that make it easy to move the unit from one place to another.
Additionally, the SP. IC14 indoor bike comes with a tablet holder and a bottle holder with a free bottle. These additional accessories are hardly found in budget-friendly models, but this bike is a beautiful exception.
You can place your tablet over the console and play your favourite music while working out. Or, if you are into training programmes, the tablet can help you connect with one and make your exercise more entertaining.
Design
The SP.IC14 indoor bike exhibits a beautiful design and solid structure. The striking combination of black and red looks pretty impressive. There are bold red circles and lines throughout the structure, which blends quite well with a black steel frame.
This unit has a base with an I shape, which makes it sit atop. The smart structure makes the unit occupy less floor space which works well for most small spaces.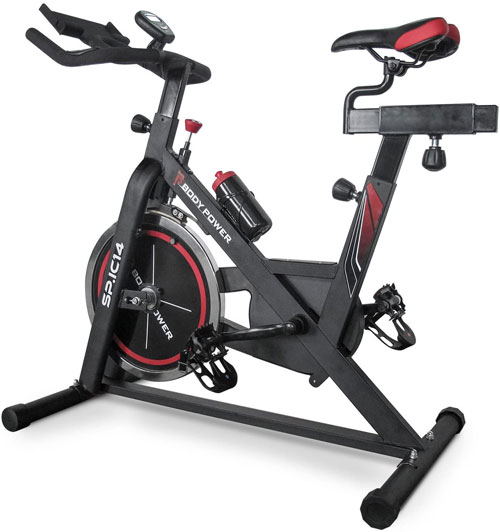 The SP.IC14 bike is a relatively compact bike model with the following dimensions:
Length 99cm x Width 56cm x Height 115cm
This means that this unit has an adequate footprint that might settle well in some small apartments. However, despite the unit's reliable structure, the maximum user capacity is not enough.
The SP.IC14 bike model can only hold a weight of 100kg at a time. Most bikes have a higher weight capacity which allows many people to utilise the unit's full potential. But in this case, only those with a weight of 100kg and low might be able to use this bike properly.
In addition, according to some users, this bike stays stable at low speeds. But when used to experience high-intensity workouts, the unit shakes a little. If that happens, either spread a rug under the bike or consult the support department for any guidance.
Unfortunately, this bike isn't foldable. But thanks to the wheels and its compact structure, you can store the unit discreetly. As a result, it doesn't require much space and can easily adjust under your stairs or a small corner of a room.
Console
One of the significant drawbacks of this bike model is its LCD. The monitor is pretty basic. However, it performs well and shows all the vital stats required to measure your progress.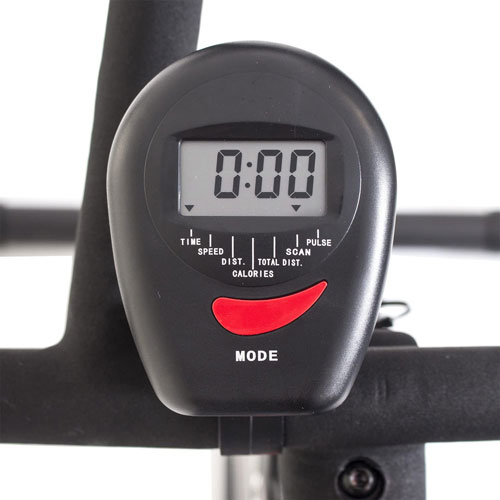 The position of the console is quite appropriate. It sits between the two handlebars and gives you a clear view of all the essential data. While the operations are basic, this console displays stats like speed, time, distance, pulse rate and calories burned.
In addition, the console also has a scan feature that flips with every new stat. We would have loved to have some pre-set programmes on this console to make a workout more enjoyable. But the tablet holder makes up for that by allowing you to play your workouts on your phone or tablet.
Warranty
Body Power is a well-known brand, but its warranty policies might not attract you much. The brand offers only a 1-year warranty and that too for just parts. There is no warranty on the frame or labour.
In addition, there is no commercial warranty. You can only use this warranty if you want to utilise this machine domestically.
However, the good thing is that service callouts regarding this bike model are pretty rare. And probably that is why the brand has complete trust in its creation.
Pros and Cons
We hope that the above information has helped you analyse the Body Power SP.IC14 bike in a good way. If you are still doubtful about this machine, the list of pros and cons may help you further.
Pros
This bike model comes with a 14kg flywheel which is quite powerful.
The adjustable friction resistance makes it easy for you to control the intensity of your workouts and make the training more challenging.
This unit doesn't take long to assemble.
Its solid structure and frame give an impression of a sturdy riding experience.
The adjustable handlebars and seats may work for most of you as you adjust these components according to your comfort.
The padded seat and the ergonomic handlebars support your body during long-distance running.
There are bottle and tablet holders close to the console that increase the value and use of this unit.
This bike model has two transport wheels that make its movement convenient.
The SP. IC14 is a compact unit that doesn't take much floor space.
It has a black and red design that many of you might like.
The console displays all the relevant data that you might need to track progress.
Additionally, its position helps you read every stat.
Service callouts for this model are pretty rare.
Cons
Brake pads with friction resistance can cause noise and often require regular maintenance.
The handlebars of this unit do not adjust horizontally.
This bike model doesn't have a folding design.
The console is too basic and doesn't complement the rest of the features.
Despite its sturdy structure, the maximum user capacity is only 100kg. This limitation decreases the number of people who can use this unit.
According to some users, the bike shakes on high-intensity workouts.
The warranty period on parts is relatively short.
Besides, there is no warranty on labour or frame.
The warranty is only available for domestic use.
Body Power SP.IC14 Indoor Bike Vs BH Fitness SB1.8 Indoor Cycle
When it comes to listing the best and affordable indoor bikes, many brand names come forward. Two of these brands are Body Power and BH Fitness. Both these companies produce excellent bikes which are more or less similar.
Below are some significant differences and similarities between Body Power SP.IC14 and BH Fitness SB1.8.
Average Price
The average prices may vary throughout the year, but the Body Power SP.IC4 indoor bike is currently available for £219.00.
Similarly, there is no fixed price for BH Fitness SB1.8, but currently, it is worth £329.00.
The price difference between the two is just £110 but does the higher price of the latter make it much more powerful than the former?
Resistance and Flywheel
According to the product descriptions of each, the SP.IC14 bike has a 14kg flywheel, but the SB1.8 bike model has a 20kg.
This means that the latter is far more powerful when it comes to performance.
Both bikes run on friction resistance, so there are no differences here.
Weight Capacity
Despite the high price of the BH Fitness SB1.8 bike model, the machine has a maximum capacity of just 115kg.
It means that it is only capable of holding 15kgs more weight than the SP.IC14 bike.
So, in a nutshell, the price difference is mainly because of the flywheel. It is quite understandable because the heavier the flywheel, the smoother the bike's performance.
Final Verdict
Did the above information convince you to choose the Body Power SP.IC14 for your at-home gym space? Or are you considering spending some extra pounds and purchasing its competitor instead?
While the final choice is yours, we would recommend the SP.IC14 bike model, if you are a beginner who wants to grow and become fit. It has a good flywheel and resistance that can help you achieve your fitness goals. Moreover, it comes with unique features such as a tablet and bottle holders that even the most expensive units fail to provide.
However, if you are a pro, there is no harm in choosing a heavier and more professional unit. Any bike that can accommodate your high-intensity workouts should be your first choice.