Are you considering investing in a cross trainer machine to enjoy a full-body home workout? Also known as the elliptical machine, a cross trainer is a wonderful invention that gives you a low impact training without hurting your joints.
You may have seen people queuing in front of this equipment in gyms and waiting for their turn. Ever wondered why? It is because there is no better machine than a cross trainer to enhance your aerobic fitness and muscle strength through solid training.
So, thumbs up for finally making this decision.
However, how will you make sure your chosen unit is worth every pound? No clue? Don't worry, this guide is here to help.
After long research, we have selected ten top-quality cross trainers as recommendations for you.
You can either choose any item from the list or go through the buying guide to learn more before picking the best cross trainer.
So, if you are ready, let's begin.
What Is a Cross Trainer?
A cross trainer machine wasn't always the soul of the party. Before it was invented, treadmills and training bikes were quite popular, and they still are.
However, in the 1990s, a fitness company, Precor, thought to combine the motion of a treadmill with the joint-friendly benefits of a bike.
This idea became a reality when the first cross trainer machine hit the markets.
An elliptical unit has two massive platforms and grip handles to start with. This arrangement allows you to walk or jog at your own pace. The rolling movement of your feet feels as if you are running in a park.
However, this motion doesn't let your feet leave the machine's pedals. As a result, your joints and knees do not experience any pressure. If you are recovering from an injury or suffer from mild arthritis, this machine is a godsend unit.
Moreover, it has a flywheel and a drive system to enable smooth motion.
There are many other untold benefits of using a cross trainer machine. If you are excited to know about them, jump to the section below.
Benefits of Using a Cross Trainer
Here are a few reasons why we think a cross trainer is great for you :
Boosts Cardio Capacity and Stamina
Do you know that for a balanced exercise routine, cardio training or aerobics is quite essential?
Aerobics increases the transfer of oxygen in your body by allowing your lungs to expand to their maximum capacity. Moreover, this form of training regulates a healthy blood flow that is essential for all the parts of your body.
An elliptical unit supports your aerobic moves and strengthens your lungs, heart and muscles. A strong body has excellent endurance and stamina. But most importantly, it is healthy enough to handle any illness.
You can use the best cross trainer to enjoy both high-intensity training and steady cardio workouts. The choice is ultimately yours, as either way, you can enjoy many benefits.
Burns Calories and Fats
Jump on a cross trainer to crush all the fats and calories. Yes, you read it right. Depending on your current weight, this cardio machine can quickly burn a maximum of 400 calories in only 30 minutes.
You can also burn fats by working out your arm and leg muscles. However, the intensity of burn-out depends on your consistency and speed. If you aim for considerable weight loss, cross-training with high speed and extended hours can help you achieve your goals.
You can also include interval training as part of your exercise routine. It involves working out at high intensity and then taking a short recovery break before restarting again. An interval training on an elliptical machine helps burn fats faster than any other fitness equipment.
Doesn't Put Pressure on Joints
It is pretty hard to find exercise machines that don't leave an impact on your knees and joints. However, a cross trainer is a beautiful exception.
Most impact exercises can cause wear and tear in muscles and are not suitable for people with arthritis. However, a cross trainer reduces significant weight-bearing without compromising on your workout intensity.
If you have recently recovered from an injury, hop over this equipment and rejoice in its performance.
Great For Full Body Workout
A cross trainer machine comes with handles and pedals. To achieve a significant change on your arms, move them as fast as you can. Similarly, on a leg day, don't compromise on the movement of your lower body parts.
You may require a trainer's help to understand the correct technique for quick results. However, you can also watch thousands of videos on the internet to learn some impactful moves.
The proper method can help you tone down your chest, back, biceps, triceps, and hamstrings in a short time.
This benefit may be news for many people.
Develops Better Balance
A cross trainer unit can help improve your balance while you pedal to build your core muscles. However, make sure that both incline and resistance are adjusted on a practicable level so you can use the machine without even utilising the handles.
Safe to Use
Have you ever experienced an injury on the first day of using an exercise machine? Unfortunately, it is a prevalent scenario, and most of us go through this most of the time.
However, when trying out a cross trainer for the first time, you may not encounter any such incidents. Why, you ask?
This fitness equipment has a very intuitive design that allows quick learning. Besides, the foam rollers on the trainer prevent injuries. So, there is very little chance of you falling while pedalling on an elliptical machine.
Offers a Variety of Exercises
A fun variety is always good when you are exercising on any fitness equipment. Similarly, some cross trainer machines come with some fantastic pre-set programme routines to keep you busy and entertained while shedding some sweat.
From hill climbing to internal training, an elliptical allows you to customise your workout according to your goals. Moreover, since it's excellent for both adults and seniors, you can use this machine as family workout equipment.
Ideal for Stress Reduction
We have all grown up listening to the benefits of exercise to tackle stress. Like any other training equipment, an elliptical also offers this facility.
Only 30 minutes of exercising on a cross trainer can kick out all kinds of stress hormones from your body. Moreover, a session before bedtime makes you sleep better, which indirectly reduces stress.
Also, when you pedal to achieve your weight goals, you automatically feel happy and satisfied. Exercise helps to improve your thinking ability and establish balance in your cognitive behaviour.
Fit for Your At-home Gym
A majority of cross trainers are inexpensive and easy to adjust in any space. Moreover, they offer a variety in their design, height and functions so you can easily find one that meets your requirements.
Most people choose treadmills over cross trainers. However, they fail to understand the added advantages the latter has over the former.
But since you opened this guide to know the truth, don't make that mistake. With an elliptical machine under your roof, all your fitness goals are just a few pedals away.
The Best Cross Trainers to Buy This Year
Have you saved money to buy a compatible exercise machine? If yes, it's about time you spend your savings on the best cross trainer unit.
Below is the list of the top 10 cross trainers in the UK. We think they are worthy of your investment and deserve a place in your home.
To agree with us, take a look.
The JLL CT300 is a silver cross trainer machine with a sleek body and modern look. Moreover, it is a compact unit and is quite ideal for most homes in the UK.
This machine doesn't have a large flywheel, so don't expect challenging resistance. However, if you are a first time user or a senior athlete, you may find many specifications worth your money.
The JLL CT300 offers eight magnetic resistance levels and a belt-driven system for a smooth and noiseless experience. Moreover, it comes with comfortable and non-slip footplates for your security.
This trainer also has flexible handlebars with a soft foam grip. A feature like this is essential for senior users who aim to regain their balance and fitness. The handlebars also have pulse rate sensors to measure your heartbeat while you work out.
The JLL CT300 comes with an LCD monitor that has eight functions. It is an easy-to-use display that shows time, speed, pulse, calories and many other statistics. Overall, novice users will find this machine pretty comfortable to begin their fitness journey.
However, there are a few problems with the structure of this equipment. Some users believe that its sturdiness isn't worth the price it is available for. The unit feels a little flimsy at times.
Moreover, it isn't foldable, so most of you may not find it portable enough.
Pros
Compact structure
Smooth operations
Non-slip pedals and handlebars with a safe grip
Easy-to-use monitor
Great for beginners and senior users
Cons
Doesn't fold
Not for professional users
Flimsy structure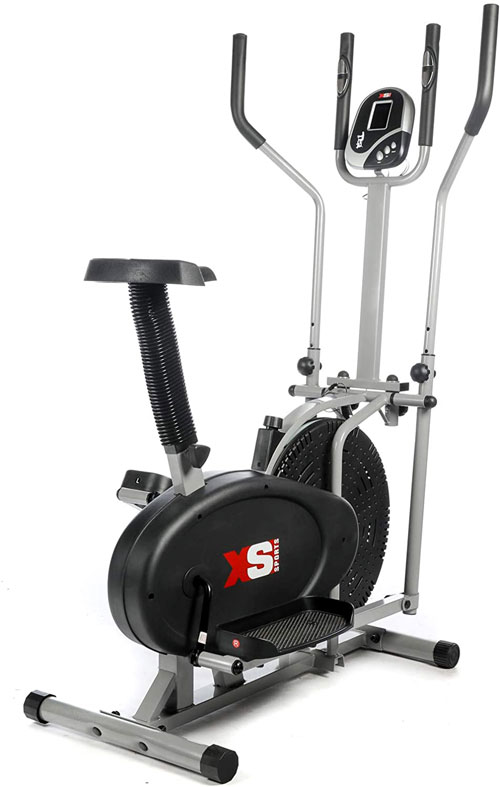 As one of the best elliptical machines available, the XS Sports Luna Pro is a beautiful combination of the two most well-received fitness equipment. Moreover, this is a budget-friendly unit that works perfectly for different kinds of users.
The XS Sports Luna Pro comes with a front flywheel for exceptional stability. Moreover, it features adjustable resistance for both low and high-intensity workouts. However, it isn't an appropriate unit for trained gym-goers.
This elliptical machine also has a sturdy steel body. Besides, the giant foot platforms and adjustable seat allows a stable experience. You can move the seat below and use this machine as a trainer bike.
The XS Sports 2-in-1 Luna has an intuitive LCD. However, it is pretty basic and doesn't offer any programs. But with an affordable price tag, one shouldn't expect so many features anyway.
Overall, the XS Sports is a reasonable purchase for first-time users or occasional trainers. Moreover, buying a 2-in-1 elliptical machine means you get two pieces of equipment for the price of one. That's the kind of offer no one can resist.
Pros
2-in-1 machine
Budget-friendly
Sturdy steel body
Intuitive LCD
Stable handlebars and pedals
Cons
Basic LCD functions
Not for professionals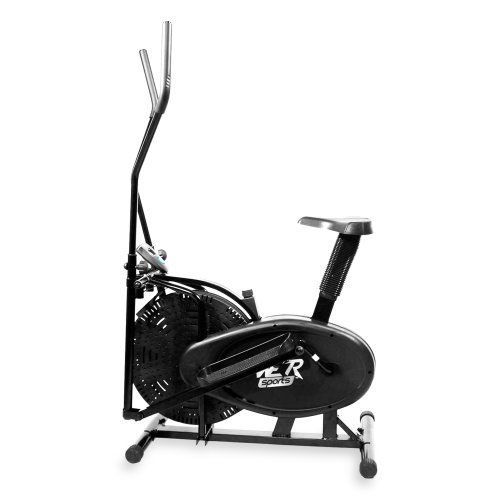 An efficient elliptical machine is a smart purchase. But when it is combined with an exercise bike, the overall value increases tenfold.
The We R Sports 2-in-1 is a best cross trainer with an affordable price tag and many good features. For instance, this unit has a shape quite familiar to many expensive elliptical machines you find in gyms. Moreover, it offers a variety of workouts without harming your bank balance.
This elliptical unit operates on manual resistance and offers eight levels. You can adjust the workout intensity according to your comfort with ease. Moreover, the motion of handlebars and pedals are good enough for beginners and offer low-impact cardio without hurting your knees.
The LCD monitor is also quite simple to use. However, it displays only four types of statistics that are relatively less than what most other elliptical machines show.
The We R Sports cross trainer has a weight capacity of 100kgs. Moreover, it can help burn calories five times faster than regular jogging and walking.
Pros
2-in-1 machine offers exercise variety
Great shape
Manual resistance for adjustable intensity
Simple LCD
Sufficient weight capacity of 100kgs
Cons
Displays only four stats
Too essential for regular gym-goers
Noisy at times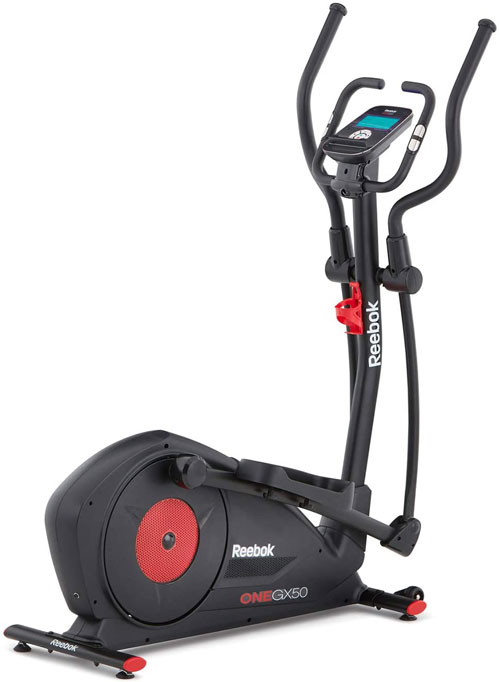 The Reebok cross trainer is a pretty basic elliptical when it comes to its design. However, this machine is an excellent investment for home workouts with a long-lasting build and sufficient feature settings.
If you are a beginner who is starting his/her fitness journey, we recommend you to begin with this cross-trainer. Why? This machine is simple to use, offers a low-impact workout and affects your whole body in a good way.
Moreover, the Reebok cross trainer has a 9kg flywheel and 32 electronic resistance levels to serve different users. Furthermore, it comes with an intuitive LCD with 20 in-built programs to uplift your performance.
The cushioned pedals are adjustable according to your stride length. Besides, the handlebars are made with a sweat-resistant and soft material so you can focus on training.
This Reebok GX50unit has a weight capacity of 120kg, which is sufficient. Moreover, this budget-friendly unit has transport wheels which makes it quite portable.
Pros
Affordable elliptical
Offers great resistance
Comes with in-built programmes
Sturdy build
Portable
Cons
Not ideal for users above 120kgs
Simple design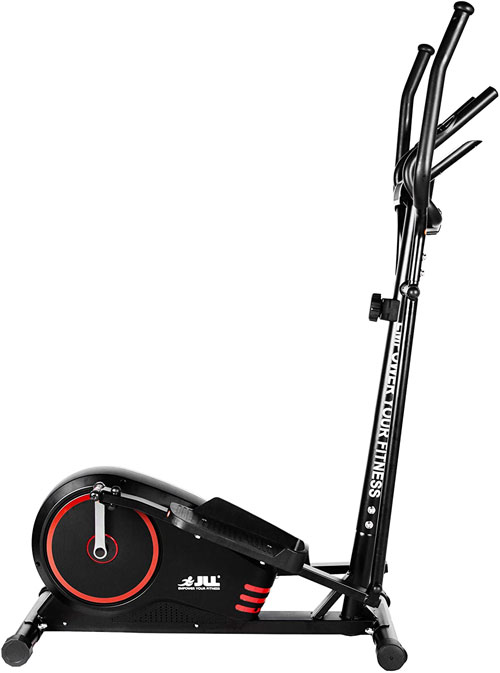 When selecting the best elliptical machine for your home gym, it all comes down to satisfactory performance and the sturdy build of the unit. While budget also plays a significant role, you shouldn't compromise on quality at any cost.
The JLL CT200 is a super-efficient cross trainer machine for both beginners and senior users. With eight resistance levels and a robust flywheel, you don't have to worry about staying fit during your quarantine days. Besides, it is an affordable unit for people with tight budgets.
Moreover, it is a lightweight unit with transport wheels. You can place it in a new spot every day.
The JLL CT200 has a simple LCD to display basic statistics like heart rate, speed and time. Moreover, it also has a tablet holder to hold your gadgets while you are training.
The only drawback of this machine is that it takes pretty long to assemble. It might not be an issue for some, but this factor is essential to consider if you live a busy lifestyle.
Pros
Sturdy Body
Offers eight resistance levels with solid flywheel
Portable and lightweight
Simple LCD
Cons
Takes a long to assemble
Light flywheel may not work well with professionals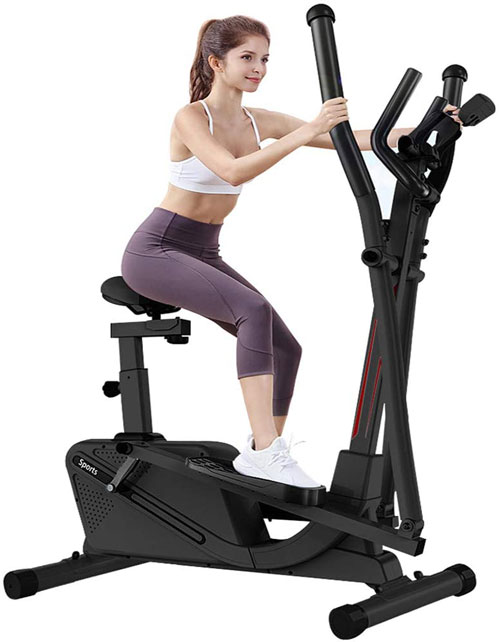 Another fantastic and affordable 2-in-1 elliptical machine, the Dripex cross trainer, has been in good demand since its arrival. This is primarily because of its user-friendly features that every fitness enthusiast craves.
The Dripex cross trainer has a compact body and transportation wheels which makes it pretty portable and lightweight. Moreover, it is a noiseless machine that works well in tiny homes.
This unit features a belt-driven resistance with a two-way flywheel that ensures smooth motion. Moreover, the anti-slip foot platforms and adjustable stride length contributes to a fluid training experience. The sweat-resistant handles are super soft and reduce slippage so you can focus properly.
The machine also has an LCD monitor to track your performance. However, there are a few drawbacks that are worth mentioning here. For instance, the Dripex unit isn't appropriate for professionals or people looking for a challenging workout.
Moreover, it isn't foldable and may not appeal to those with limited storage space.
Pros
Compact structure
Noiseless resistance
Lightweight
Adjustable features
Intuitive LCD
Cons
Not ideal for challenging workout
Doesn't fold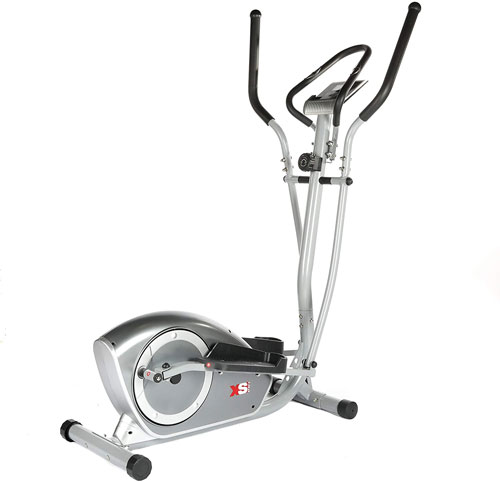 Elliptical machines that are as reliable and budget-friendly as the CT700 are always destined to succeed. While CT700 doesn't offer high-end specifications, it is still quite a good product, thanks to its satisfactory performance.
The XS Sports CT700 has a robust body with a two-way flywheel and sufficient resistance. However, there have been complaints of a shaky structure and a need to place a mat under this unit.
If you are a beginner, you will find all the essential features in this elliptical unit. From magnetic resistance and quiet belt to safe handlebars and secure pedals, the CT700 offers a good user experience. Moreover, there is a small LCD monitor to track your performance and stay updated.
However, this machine isn't reliable for tall users. Its compact structure lacks leg space for people above six feet tall.
Moreover, the CT700's weight capacity is only 110kg. Therefore, anyone above this weight limit may not be able to enjoy this trainer.
Pros
Offers sufficient resistance
Great for beginners
Safe handlebars and pedals
Simple LCD
Affordable
Cons
Flimsy for people above 110kgs
Not ideal for tall users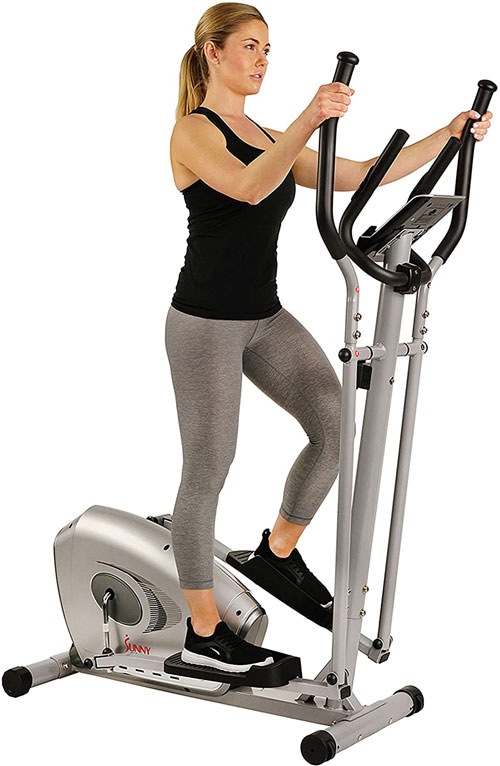 Staying fit has become more critical than it was two years back. With most of the year spent locked in quarantine, a home gym is a wonderful blessing in disguise. Moreover, if you have an efficient elliptical in your safe space, you can stay healthy at your own pace.
The SF-E3607 is a great home gym equipment that ticks all the right boxes. With a compact design, sufficient resistance and a noiseless performance, you can easily enjoy a workout without any hindrances.
This machine also features anti-slip pedals and sweat-resistant handlebars for your smooth training. Also, with an LCD monitor, you can learn all about the essential stats and feel motivated to do better.
However, a few design flaws should be mentioned before you invest your money in this product. This machine offers a short stride as pedals are close to the front bars. Moreover, the tablet holder is quite close to the console, and the tablet may block your view.
Other than these points, the SF-E3607 is an affordable unit and perfect for beginners.
Pros
Compact design
Noiseless and Smooth performance
Simple LCD
Sweat-resistant handlebars and pedals
Cons
Offer short stride
Tablet may block the monitor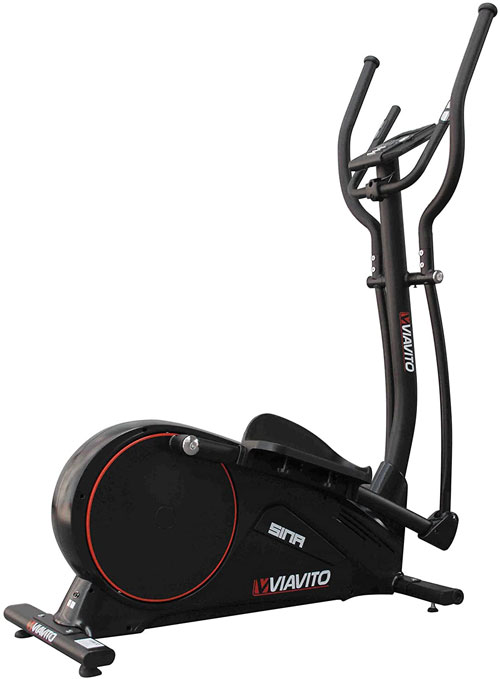 The Viavito Sina Elliptical machine offers a familiar performance and standard features that most users look for in fitness equipment. Moreover, It has some typical components that beginners find convenient to understand and utilize.
This unit serves as a sufficient first-time investment with 32 levels of magnetic resistance and a 9kg flywheel to enhance fluid motion. Moreover, it features a good stride length to target a majority of users.
The Viavito Sina Elliptical comes with large and comfortable foot pedals. Moreover, it has both fixed and motion handlebars to support your workout. The fixed handlebars also have sensors to record your pulse rate.
The LCD monitor is large enough for a good view. Also, the display offers an option to create four user profiles so different members of your family can benefit from this machine.
In short, the Viavito Sina elliptical offers a customised user experience. However, this machine isn't easy to assemble. You may require some help and time to sort out this unit.
Besides, it does feel a little wobbly at high speeds. But that's a rare scenario.
Pros
32 of resistance and a lightweight flywheel
Comes with comfortable pedals and handlebars
Simple LCD with four user profiles
Affordable
Cons
Hard to assemble
May feel wobbly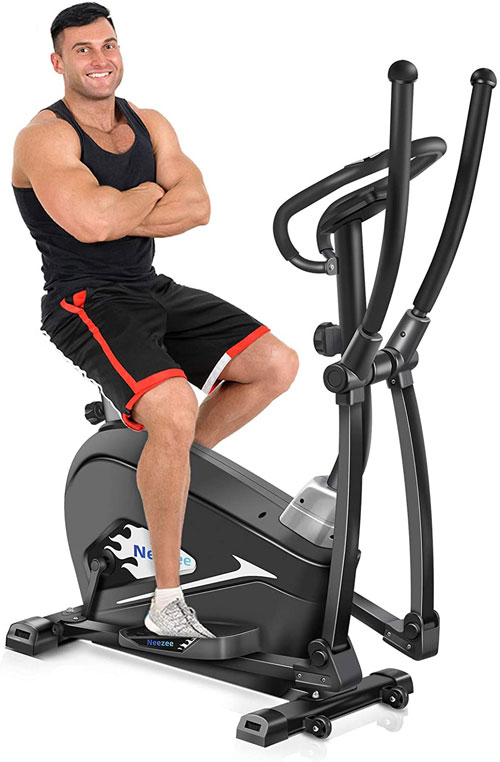 Taking the last spot on the best cross trainers' list, the Neezee elliptical trainer is an impressive unit. With a classic design and advanced technology, this unit offers pretty much all the features that you need in a piece of commendable home equipment.
This machine has a two-way flywheel and belt-driven system for a noiseless and smooth motion at any speed. Moreover, the sturdy frame and well-designed pedals and handlebars ensure your safety at all times. An adjustable seat and eight resistance levels make this cross trainer entirely appropriate for all genders and ages.
The Neezee trainer also features a user-friendly yet straightforward LCD. This monitor shows your pulse rate and records your performance for the next session.
Besides, this unit is relatively lightweight and portable. It has transport wheels that allow easy movement around your house. However, it has a weight capacity of only 126kgs. If you are above that limit, you may want to check an alternative.
Pros
Solid-body
Well-designed pedals and handlebars
Adjustable resistance and seat
User-friendly LCD
Portable
Cons
Cannot hold more than 120kgs
May take a long to assemble
Factors to Consider Before Choosing a Cross Trainer in the UK
With all the fantastic options mentioned in the above list, choosing only one elliptical machine may get tricky. However, you can consider the following factors to make your decision process straightforward.
Types
There are many types of elliptical machines, and each one of them serves a unique user.
Manual and Electric Cross Trainers
A manual unit works from your movement. It is why it has no buttons to fluctuate your resistance levels. However, a manual cross trainer has a dial to adjust motions.
Since they have basic features and functions, most manual ellipticals are inexpensive.
On the other hand, electric cross trainers are far more modern with displays and advanced features to control motion.
Moreover, electrical ellipticals are ideal for regular use, while manual cross trainers are made for occasional training.
Rear-drive Elliptical Machines
All rear-drive elliptical machines are bulky and costly than other types. Moreover, they have their flywheel adjusted at the back of the pedals.
However, these units give you the liberty to position your stride length according to your ease. Also, they are great for people who miss outdoor walking and jogging.
Front-drive Elliptical Units
As the name suggests, this machine has its flywheel at the front of the pedals. Moreover, front-drive units are pretty compact and inexpensive, making them a perfect option for home gyms.
Besides, the weight of the machine and the console are in line. It makes these ellipticals far more comfortable to balance than read-drive units.
2-in-1 Elliptical Machine/ Exercise Bike
This type of elliptical trainer is perfect for people who love an exercise bike as well. By simply lowering the seat, this unit becomes an exercise bike within seconds.
Moreover, it offers various unique exercises and is a cheaper option than buying two machines separately.
Resistance Mechanisms
Best cross trainers offer electromagnetic resistance. It is the most appropriate form of resistance that is noiseless and super effective. However, machines that run on electromagnetic resistance can be a little costly.
On the other hand, some elliptical models perform on belt resistance. Belt resistance can be loud and may interrupt your flow. However, if you have a limited budget, this option may serve you best.
Adjustable Stride Lengths
If you want the best cross trainer for different family members, make sure it offers the feature of adjustable stride lengths. It is essential for the safety and performance of all adults, seniors and teenagers.
Moreover, an adjustable stride length gives you the liberty to perform various exercises in one go.
Dimensions
Do you have enough floor space to accommodate your chosen cross trainer machine? You shouldn't spend thousands of pounds on a unit that won't even pass through your door.
So, before you buy this fitness equipment, measure your available space. Then get the dimensions of the machine and analyse all the possibilities.
Portability and Durability
While buying an elliptical unit, don't compromise on the material of the body. A sturdy and robust machine will last many years and will even keep your next generations fit.
Most flimsy units are usually cheap. However, they break easily and fail to support your weight. No one likes to take their elliptical machine to a repair shop now and then.
Moreover, if you are buying a buky unit, make sure it has transportation wheels. Exercising at home is fun and motivating by a change of scenery every day. Moreover, some machines are also foldable, making them super convenient to store anywhere.
If you own a small apartment, a folding trainer can easily become your perfect companion.
Supportive Handlebars
Almost all best cross trainers have safety and motion handlebars. Safety handles offer stability on aggressive speeds by staying stagnant. They also have sensors to record your pulse rate and display it on the monitor.
The motion handlebars support your movement and move at the same speed as the pedals. These handles are best for arm workouts.
Before buying a trainer machine, make sure both the handlebars are solid. Moreover, adjustability is critical when it comes to motion handlebars, so consider that factor as well.
Console Quality
If you fancy a bigger LCD monitor, you may have to spend a few more pounds to buy an expensive elliptical. However, if you are happy with the standard size, you will have many options to buy from your limited budget.
Whichever elliptical machine you go for, make sure its monitor displays all the crucial data to improve your performance. For instance, heart rate, distance covered, and speed are some basic information required by any user.
Some machines also have pre-set programmes in their systems as an added feature. Such training sessions are great to uplift your spirits and enhance your knowledge on using a cross trainer.
Price
Elliptical trainers are available at a range of prices. There are both cheap units and high-end machines. Moreover, there are cross trainers obtainable at a mid-range price as well.
However, they vary in features, functions and performance. So, if you are making a one-time investment, make sure it is worth it. Spend according to your comfort but don't compromise on essential components.
Tips to Use an Elliptical
After finally selecting the best elliptical for yourself, follow the tips below to make it do wonders for your body:
Use a Mixed Approach
To gain lean legs, pedal fast and learn forward more often. However, for toned arms, use motion handles while standing upright.
For every muscle of the body, use a different technique for better results.
Pedal in Reverse
To focus on your thigh muscle, pedal backwards. However, choose a comfortable pace to prevent any accidents.
Always Choose the Correct Resistance Level
It is very important for effective results. For instance, if your resistance level is low but your pedal speed is fast, you may never get much from your workout. Moreover, a very high resistance level is also not good and may harm your muscles.
FAQ
A cross trainer unit is a common piece of home equipment and has a huge fan base. So, before you bring a machine home, go through the questions below that most users ask us regularly.