The Reebok One GT30 is not only a budget-friendly treadmill model but is also quite stylish and compact. In addition, it comes with a robust and long-lasting body which is a great plus point for both beginners and intermediate-level trainers.
However, it is crucial to mention that this machine also has some apparent flaws. While they are pretty small, it is only fair to highlight the bad side with the good to draw a clear picture.
So, without further ado, let's dive into this article and explore everything about the Reebok One GT30 treadmill.
Does this machine have the potential to become a part of your workout space? Let's find out!
Features
The Reebok One GT30 treadmill model comes with simple and user-friendly features. They might not be too advanced, but this treadmill will work perfectly for you if you are a beginner with no knowledge about technology.
Here is a list of some highlighted features:
Feature Highlights
1.5HP motor that comes with a speed range of 1 to 16kph
12 incline levels
16 User programmes
Maximum weight capacity of 110kg
Foldable structure
Heart rate monitor with hand grip
Running surface L51 inches x W16 inches
Auto-stop feature
Lifetime warranty on frame and 2-years warranty on parts
Built-in speakers
Dimensions and Assembly
The GT30 treadmill comes fully packed in a large box. The machine's dimensions are L 70 inches, W 28 inches, and H 46 inches. But since this unit comes as folded, it has a length of 39 inches and a height of 55 inches.
The treadmill weighs almost 55Kg, and the weight rises with the box. So, even if you have to pay more, arrange a delivery van to transfer this unit from the warehouse to your home.
This treadmill model comes almost 95% assembled, which is a great thing. However, you will have to set it up a little to make it ready for a run.
Delivery and Setup
The delivery of this unit is prompt and quick. In addition, the setting up process doesn't take much time.
You only have to perform a 10-minutes mini assembly using the manual instructions. The process includes shifting the frame to fix any bolts and unscrewing the safety pin to start.
Console and Data Tracking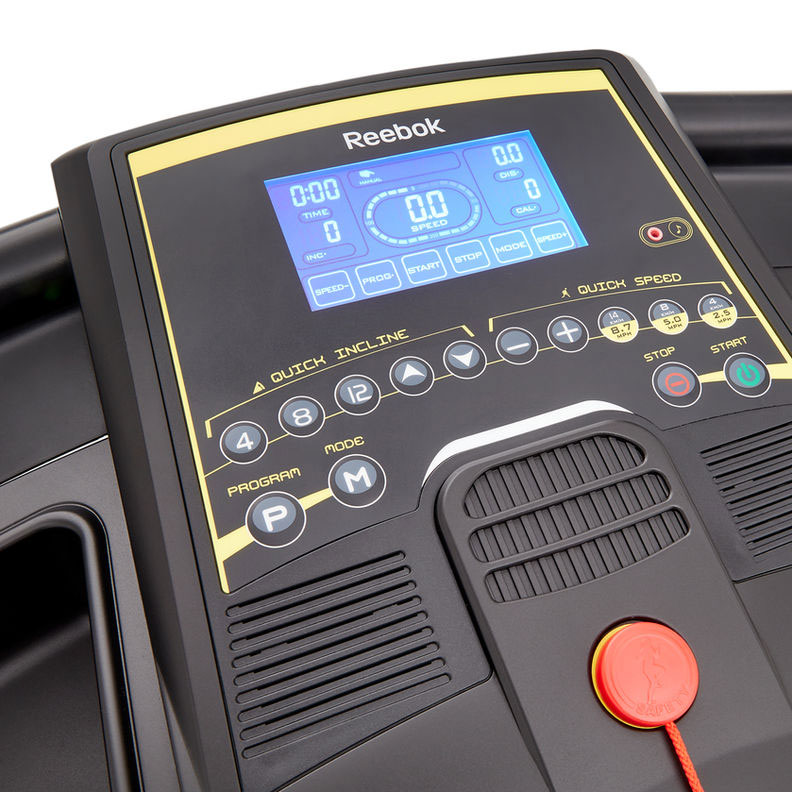 Once you have unfolded the unit and plugged the power, the first thing you will see is a beautiful and lit console. The LED display is white and blue and looks quite interactive.
This console is a few inches smaller than what you will find in other similar treadmills. However, it looks pretty easy to operate and not too cluttered. The intuitive display shows clear data, so you won't find it hard to track your performance even if you have poor eyesight.
The LED screen displays essential parameters like heart rate, speed, distance covered, and calories burnt. Besides, it comes with 16 user programmes, out of which 12 are pre-set. That's quite a fantastic feature for users who rely on such plans to initiate their workouts every day.
This console is located in the middle of the unit, which makes it a perfect position. It means that you don't have to bend or turn to track the data while running.
Audio
The GT30 treadmill also comes with built-in speakers right below the console. This means that you can hear your favourite songs while burning the sweat and those nasty calories. However, don't expect much from the sound quality of these speakers.
Moreover, the GT30 treadmill doesn't provide any Bluetooth integration. The absence of this feature may not tick everyone's boxes because most people prefer Bluetooth integration everywhere. Also, the lack of this feature means that you may fail to play your favourite movie or music with ease.
Speed and Incline
The Reebok One GT30 treadmill model runs on a 1.5HP motor. While experts call it quite reliable, the motor's size is relatively small when compared to competitors.
Besides, the maximum speed of this machine is 16kph. This limit is also not great for people who want to run fast or are professionals. However, if you are a beginner or an occasional runner, you may find the speed and motor horsepower reasonably sufficient.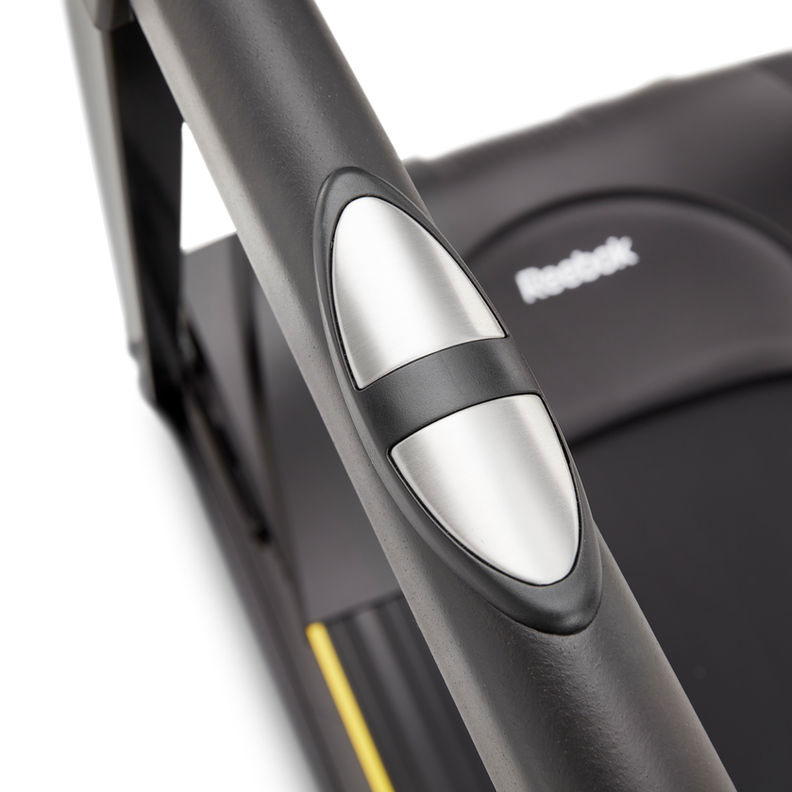 Apart from these functional loopholes, it is pretty easy to increase and decrease the speed and incline levels using the properly marked buttons on the console. The manufacturer has paid good attention to the user interface, making it easy to shift between the 12 incline levels.
Noise
While it may not give you a competitive maximum speed, the Reebok One GT30 treadmill is pretty quiet regarding noise levels. It doesn't make annoying sounds even if you plan to run fast. This factor helps you to focus on your running rather than feel disturbed by the cringe sound effects.
In addition, this treadmill can make an excellent choice for those who live in small shared apartments or a closed neighbourhood. You can work out at an odd hour without disturbing your neighbours.
Running Deck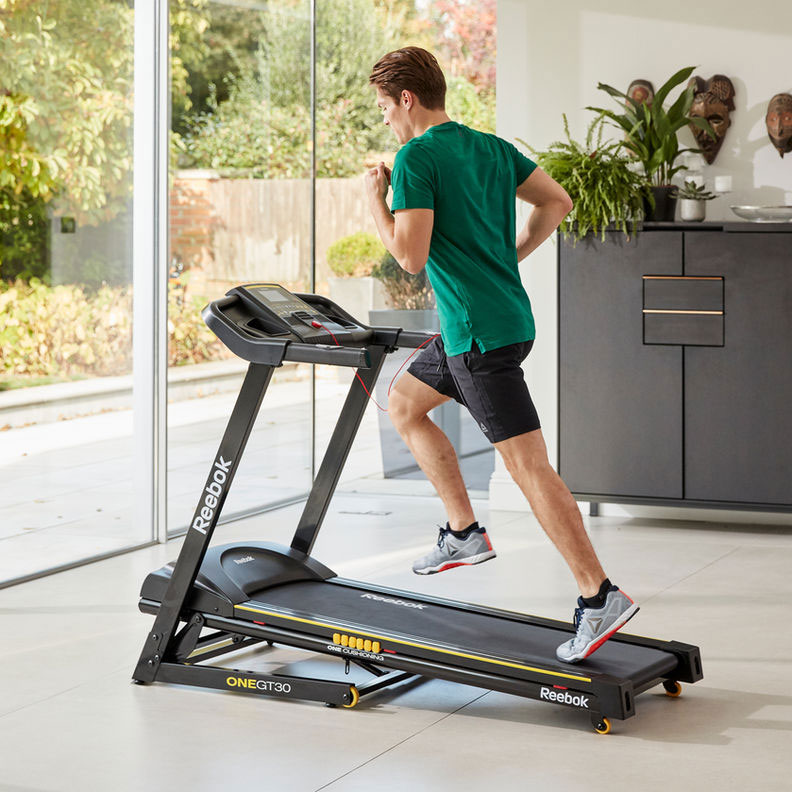 The size of the GT30's running deck is L51 inches x W16 inches. These are pretty reasonable dimensions for anyone with limited space. Moreover, the adequate width allows the runner to perform at a chosen pace without falling off the machine.
Another good quality of the deck is its comfortable cushion system. The below-the-belt cushioning reduces the impact on joints and works great for people with arthritis or poor mobility. In addition, the cushion system also helps to control the incline levels electronically, which works as beneficial support during your workout.
This running deck also has some shock absorption plates. These additions also play a significant role in reducing impact and saving your body from an unexpected jerk.
The running deck is quite durable and is a well-designed part of this unit's overall structure. It can easily hold a maximum weight of 110kg at a time.
However, if you weigh above this weight limit, you might want to try another unit because running on GT30 will only give you a shaky and unbalanced experience.
Safety Features
If you are buying a treadmill model, you need to ensure that it has all the safety features to secure your running experience. The Reebok One GT30 treadmill has many such specifications that make it worthy of your money.
For instance, it comes with an auto-stop safety feature. If you have tried many treadmills before, you should have seen a magnet pin attached to the front of the treadmill. You can clip the pin to your shirt and run at whatever pace you like.
This feature helps to stop the treadmill if you drift back or fall from the unit. So, even if you are running at a slow speed, the auto-stop feature is a necessity.
Not exactly a safety feature, but this treadmill model comes with hand grips to give you support when required. Besides, the grips have a built-in heart meter to monitor your heart rate and then display the results on the LED.
Other Features
Unfortunately, there are a few essential things that this treadmill's console area lacks. For instance, it doesn't come with a bottle holder. That's quite a bummer because this feature is present primarily in all treadmills and is essential to keep you hydrated during training.
Lastly, unlike most other Reebok treadmills, the GT30 model doesn't have a cooling fan which is usually present with the console. This feature is essential to maintain the flow of air and prevent sweat while you focus on your running. Besides, a cooling fan works as a blessing if you live in a closed space with no windows, so its absence is an imperative design flaw.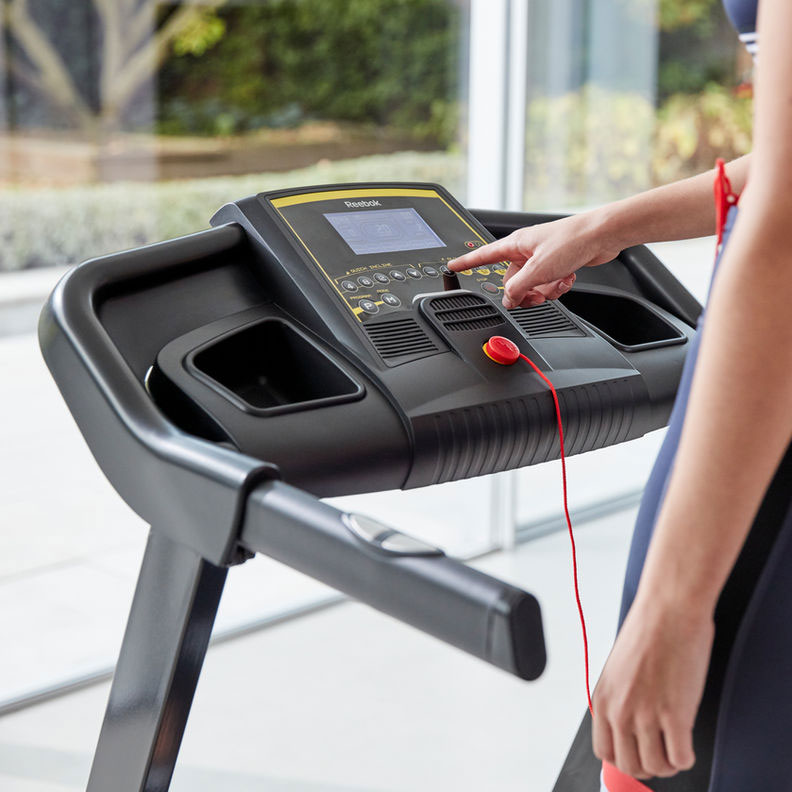 Warranty
In our opinion, the Reebok One GT30 treadmill offers an excellent warranty. It is because the manufacturer offers a lifetime warranty on the treadmill's frame. This clearly indicates the quality of the machine and the performance of its different features.
In addition, Reebok offers a 2-year warranty on parts and labour. Also, the motor has a 10-year warranty.
If after buying this treadmill model, you experience any performance or feature flaws, you can return your Reebok GT30 treadmill within 30 days from delivery.
A representative will come to analyse the unit to make sure it is in its original form. If it isn't, the brand may reject your complaint.
GT30's Pros and Cons
Here is a summary of all the good and bad points we found in the Reebok One GT30 treadmill. Take a look and analyse if the pros outweigh the cons for you.
Pros
The average price of this treadmill is £350, which makes it relatively affordable for most households.
This treadmill has a robust body with excellent features.
It is compact, which makes it pretty appropriate for tiny homes.
The foldable design is a huge advantage.
It is equipped with many safety features such as auto-stop.
The built-in speakers increase the treadmill's value and make running entertaining.
Reebok offers an impressive warranty on this machine which increases customer satisfaction.
The running deck's cushioning reduces impacts and prevents injuries.
Cons
Unfortunately, you won't find any Bluetooth integration on this treadmill.
The maximum speed the motor can reach is only 16kph. That's relatively low for professionals who run at a high pace.
GT30 doesn't come with a cooling fan which is present in almost all other Reebok models.
The absence of a bottle holder is quite a discouraging point for many.
Reebok One GT30 Treadmill Vs. Competitors (Reebok Jet 100 and Jet 200)
According to the above review, the Reebok One GT30 treadmill model makes a wonderful unit in many ways. However, it is vital to compare its main features with its upgraded version and most prominent competitor to analyse it properly.
The Reebok GT40S is an upgrade of GT30 and has a few differences.
Average Price
The average price of GT30 is £350, as also mentioned above. However, GT40S is worth £599.99, The price tags clearly show that GT30 is far cheaper than its upgraded version making it an obvious choice for people on a tight budget.
Speed/Motor/Incline
Secondly, when it comes to speed, motor and incline levels, the GT40S is much more powerful than GT30. It has a 2HP motor with 12 incline levels and a maximum speed of 16kph.
However, GT30 has only a 1.5HP motor but offers the same levels of incline and maximum speed. So, it's quite clear that there is an upgrade of the motor only and no efforts have been made towards increasing speed or incline levels.
Weight Capacity
The third competitive factor is the weight capacity and the durability of the unit. Almost all the treadmills by Reebok exhibit exceptional quality when it comes to their frame, deck and console. But, the weight capacity of most differs.
However, regardless of an upgrade involved, the weight capacity of both GT40S and GT30 is 110kg. So, this clearly implies that the former has the same structure as the latter. Besides, they are made with similar materials and do not differ in overall durability.
Other than these differences, the GT40S has a wider deck and much better cushioning system than the GT30. Also, unlike in GT40S, there are no bottle holders or trays present in GT30.
Verdict
The Reebok One GT30 is a well-designed treadmill model with many great qualities. It has an affordable price tag, a robust structure and an adequate weight capacity. Besides, it comes with some great safety features that help make your running experience secure.
However, it doesn't come with a bottle holder and fails to provide a Bluetooth connection. In addition, it also doesn't have a cooling fan.
While these factors are not too important, they might be crucial for many.
So, if you are a beginner or an intermediate trainer, we would surely recommend you the GT30 treadmill by Reebok One. It is also perfect for people who want to work out occasionally.
But, if you are a serious athlete or a professional, this treadmill might be too basic for you.