The Reebok Jet 200 is a treadmill model from the brand's famous Jet series. It comes with excellent features and specs that work pretty well for both intermediate trainers and beginners.
But there is more to this unit than meets the eye. So, if you are doubtful about investing in this treadmill model, we have a detailed review below to help you decide.
Read through all the sections to understand the good and bad points of Reebok Jet 200. Moreover, at the end of the article, compare the unit with its main competitor for an accurate analysis.
So, please sit back and relax while we take you through the world of the Reebok's Jet 200 treadmill.
Features
The Jet series is popular for its interesting features and user-friendly specifications. Besides, the brand has put in a lot of effort to make the performance of the treadmills worth every pound.
This is also true for the Jet 200 treadmill. Below we have highlighted the main features present in this unit:
Feature Highlights
2.25HP motor
Maximum speed 18kph
15 incline levels
24 user programmes
Built-in speakers
MP3 connectivity
120kg maximum user weight
Foldable design
Handrails with pulse sensors
Seven display functions
Auto-soft safety feature
Dimensions and Assembly
Here is a detail of the treadmill's dimensions:
Not Folded: H54xW31xD71
When Folded: H61xW31xD45
The treadmill comes in a large box that weighs more than 80kg. This machine itself weighs 78kg which is quite heavy.
So even if you have to pay some extra pounds, don't hesitate and get this unit delivered to your doorstep. Besides, request the delivery guy to place the treadmill in its rightful position. Believe us; you will find it hard to do it yourself if there is no help around.
Delivery and Setup
Reebok doesn't take long to deliver this unit. On its arrival, you will find that most of the treadmill comes as already assembled. Therefore, you will only have to follow a few procedures mentioned in the guide for the final touches.
The assembling process doesn't take more than an hour. You can easily unfold the treadmill, thanks to the soft drop hydraulics. The feature also allows you to store the unit in a corner or under the stairs without taking much space.
When unfolded, simply tighten all the screws and make sure to remove all the safety caps.
Besides, even if it takes longer, be careful when fitting the unit properly over any floor protector. This step requires patience as it will save you from unnecessary jerks and accidents while you are busy running on the treadmill.
Console and Data Tracking
Reebok is considered a king when it comes to putting both technology and comfort together. So, yes, there is no exaggeration in this sentence.
While the Jet 200 treadmill has a technologically advanced console, it has easy operations that even a non-technical user would find simple.
This LED console is almost 5 inches large and displays all kinds of data such as calories burnt, distance covered, time, pulse rate, and speed. This information helps you keep a check on your performance and then make changes to witness improvements. Also, the idea behind this feedback is to keep your motivation high and help you achieve all your fitness goals.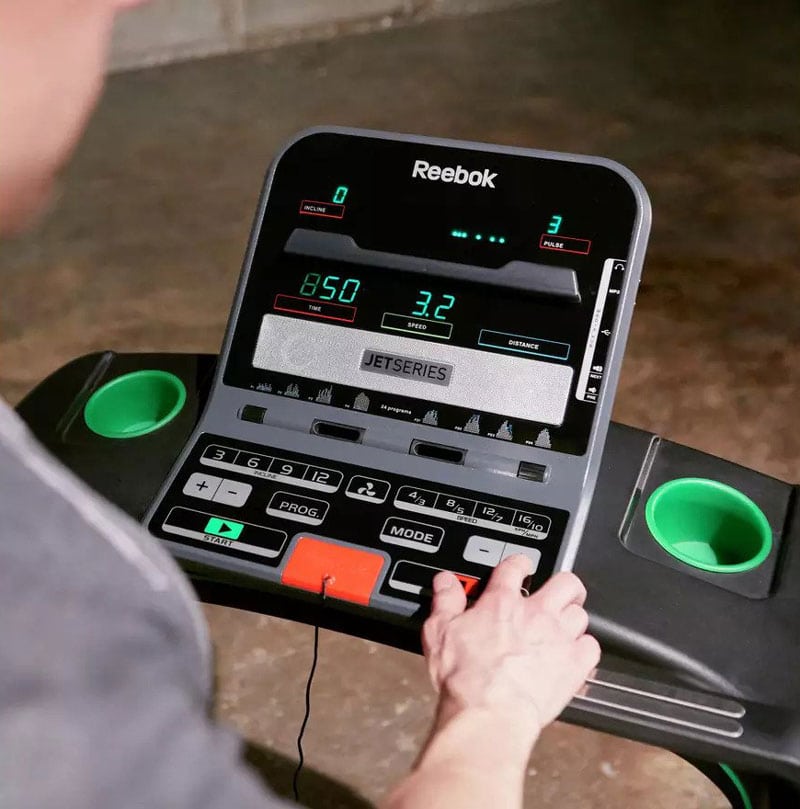 The console has speed and inclines shortcut buttons that come with emergency stop and quick start functional properties. These features help you manage your workout according to your comfort.
This console also comes with 24 pre-set programmes. In addition, these plans come with various modes that you can utilise to achieve your fitness targets.
Right below the console is the two built-in speakers. You can connect the speakers with an MP3 player and play your favourite music during workouts. However, while these speakers entertain you during training, don't expect much from their sound quality.
Unfortunately, the treadmill doesn't provide Bluetooth connectivity. If you find this technology relatively superior, you might have to invest in other brands, as most Reebok models have this flaw.
The Jet 200 treadmill also comes with bottle holders and a cooling fan adjusted next to the console. The holder helps keep your water bottle, so you stay hydrated throughout the training. Besides, this feature saves you the hassle of running to the kitchen to grab a glass of water after every other hour.
A cooling fan also helps with sweating and ventilation. But let us tell you beforehand that according to some customers, the fan doesn't work correctly. It is weak, so you might have to open a window for some fresh air.
Speed and Incline
With a 2.25HP motor, it is safe to say that this treadmill model can easily support your vigorous workouts. Moreover, it can help you reach a maximum speed of 18kph and offers 15 incline levels.
The maximum speed is quite impressive. However, many professionals run at a speed of above 20kph, so this might be a limitation for them.
But, you can always run at the maximum speed on the highest incline level to make your training more challenging.
Noise
If you have tried or worked out on Reebok treadmills before, you should have noticed how these units are pretty noiseless. Even at the highest speeds, they do not make annoying noises to distract the runner.
The same is true for Jet 200. This unit is perfect for people who live in closed neighbourhoods and small apartments.
You can hop on this unit even at night without the fear of scaring your flatmates with any sounds. Besides, the noiseless mechanism also helps you increase the speed and improve your attention towards the final goal.
Running Deck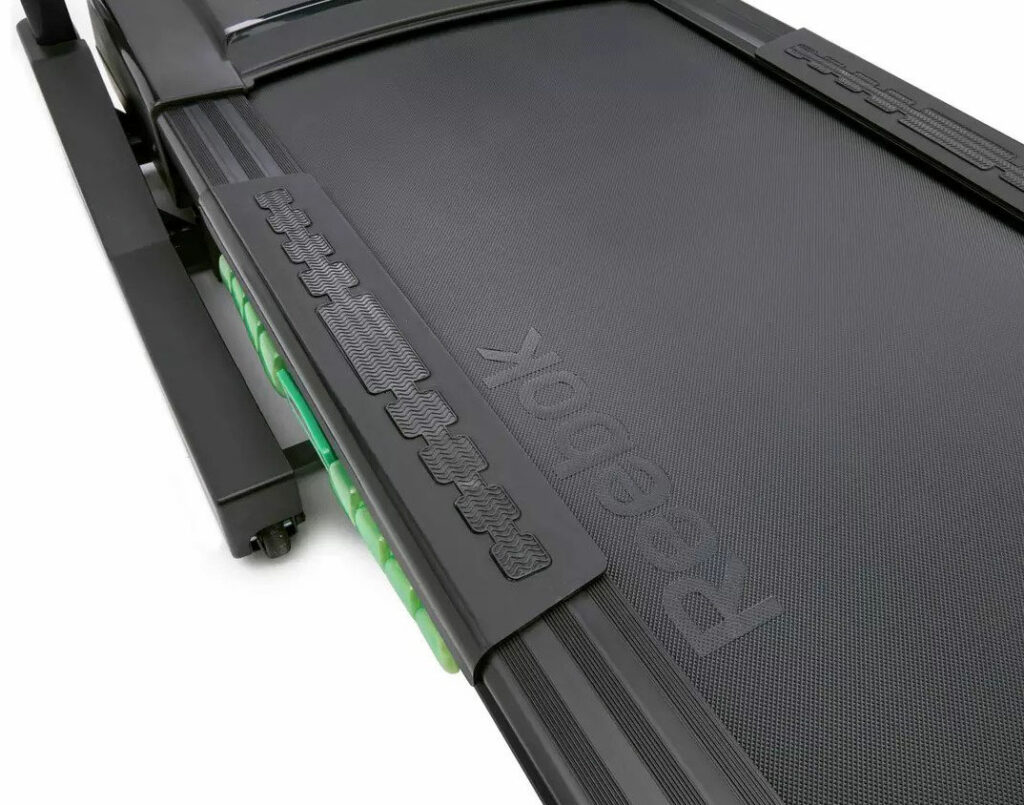 The Jet 200 has an excellent, well-built, and solid running deck. It has a length of 55 inches and a width of 18 inches. Thus, the size of the running surface is quite adequate to perform continuous running without falling.
However, what makes this deck quite user-friendly is the excellent "Air Motion Technology". This system contains air pods that help transfer air through the deck and meet the runner's foot strikes. As a result, the user experiences a reduced impact and reaction force from the ground.
The cushioning helps to keep your knees safe from jerks so that you do not experience any injuries. This feature makes the Jet 200 treadmill ideal for people with weak knees or arthritis issues. So, if you have an old member in your house, the unit can be a great piece of equipment to enhance their mobility.
Moreover, the running deck is made of solid materials, reflecting this treadmill's overall quality and structure. The deck can easily hold a weight of 120kg at a time which is pretty great. However, if you weigh more than this weight, you might want to look somewhere else to reduce any chance of unbalanced and shaky running experience.
Safety Features
Have you ever tried a treadmill but faced an injury that led you to stay away from this invention forever? Of course, we understand that any user-friendly machinery should have all the safety features in place so that no one suffers from its glitches. But some treadmills even lack the basics, so it is useless to expect anything from them.
However, the Jet 200 treadmill model is an exception. This unit is well-equipped with a great feature that ensures your safety throughout the running period.
You should have seen a safety clip attached to the treadmill's front through a magnet. When worn, this clip works as an auto-stop emergency pin that stops the machine as soon as you face an accident or drift away from the belt. This process reduces the risk of all injuries.
The Jet 200 treadmill also has handrails on its front. While these arms contain pulse sensors to record your heart rate, they also offer support for your body at high speeds.
Thirdly, the solid structure and durable parts of this treadmill are the most prominent safety features. It is safe to say that this treadmill model has a long-lasting body that won't break or lose its strength just after a few days of use.
Warranty
Reebok is quite famous for its significant warranty periods. The tenures are a true reflection of the quality this brand has to offer.
For instance, the brand provides a lifetime warranty on the treadmill's frame. Besides, there's a 10-year warranty on the motor and a 2-year warranty on all parts and labour.
In addition, Reebok's return policies are pretty user-friendly too. You can simply return the machine within 30 days from the date of delivery for any flaws in performance or features. However, while returning, make sure that the unit is in the same state as it was first bought, or otherwise, you may not get your money back.
Pros and Cons
We hope that the above review has helped you create an image for the Jet 200 treadmill. But if you are still in doubt, read the summary of pros and cons below to make a quick analysis.
Pros
This treadmill doesn't require much assembling or expertise to start.
The delivery is prompt, which saves time on unnecessary calls or follow-ups.
You will love the model for its easy-to-use console and intuitive display.
The 2.25HP motor is quite powerful to give a smooth running experience.
This treadmill model comes with bottle holders, a cooling fan, and inbuilt speakers.
For people with weak knees or poor mobility, the unit's cushioning works as a source of comfort.
This is a noiseless unit that gives you the liberty to use it at any odd hour.
The emergency stop feature reduces the risk of injuries.
It has a foldable design which makes it super convenient to store.
The unit comes with transport wheels.
According to Reebok's policies, the treadmill comes with a good warranty and a sufficient return period.
The treadmill is quite affordable for the excellent features and durable structure it offers.
Cons
Unfortunately, this treadmill model can't hold a weight of more than 120kg.
The model doesn't offer Bluetooth connectivity which may disappoint many users.
It does come with a cooling fan, but it hardly works.
The built-in speakers lack an excellent sound quality.
While the treadmill offers a good maximum speed, some professional runners might find it adequate for their workouts.
This machine is quite heavy, so it may become hard for one person to move it around the house regardless of the wheels.
Reebok Jet 200 Treadmill Vs. Jet 100
After reading the above review, you might already have made your decision on the Jet 200 treadmill. However, it is only fair to compare this unit with other similar machines before you head out for a purchase.
Is the Jet 200 treadmill a one-of-its-kind, or are there much cheaper or better options available in the market? Let's find out!
Average Price
The Jet 200 is the big brother or an upgraded version of Jet 100. It is safe to say that the former is much better in many ways than the latter. However, when it comes to average price, the Jet 200 is available for £699.99 while Jet 100 costs £599.99.
That's a £100 difference which might be a lot for many people. But that doesn't mean that the prices don't change. So, for example, you might find the Jet 200 treadmill at a cheaper rate during the holiday sale season.
Motor/Speed/Incline
While both these treadmills have pretty similar consoles and operations, they do vary in their performance. For example, the Jet 100 treadmill has a 2HP motor, but the Jet 200 has a slightly bigger one. Similarly, you can only reach a speed of 16kph on Jet 100, but with Jet 200, the maximum speed is 18kph.
Also, the former offers only 12 incline levels while the latter gives its users 15 levels. These differences do justify the high price and better performance of the Jet 200 treadmill mode.
Verdict
Now that you are finally ready to invest in a treadmill, don't delay the idea any further. The Jet 200 treadmill model is an excellent purchase for people looking for a unit with simple technology yet high performance.
Moreover, since it is an upgraded version of the Jet 100, you will love it for its high weight capacity, better horsepower, and excellent structure.
So, for the sake of your unaccomplished fitness goals, bring this unit home and start exercising. You will love the difference this treadmill model will make to your body.