The DKN AM-E exercise bike may look like any other average bike model, but this machine's extensive features tell a different story. With an 8kg flywheel, smart console, 32 resistance levels, and tough pulse grips, this unit may serve most of you just right.
Moreover, this is a budget-friendly model that may work for most beginners. However, if you are a professional, it is better to look elsewhere for high-end models.
There's more to this story, and it isn't fair to cover everything in the introduction section only. So, without further ado, let's explore the DKN AM-E exercise bike in detail. The list of good and bad points will help you analyse this machine in a better way.
Features
DKN is a well-known brand in the UK, and this company has built a good reputation among many gym enthusiasts. The brand believes in creating high-quality equipment with excellent features. The DKN AM E-exercise bike is a relatively accurate reflection of the brand's high standards.
Feature Highlight
Below, we have highlighted some of the bike's main features:
Upright bike
8kg flywheel
32 levels of resistance
LCD display
12 pre-set programmes
Wireless receiver and grip sensors
140 maximum user capacity
Weight 34.5kg
Adjustable seat and handlebars
2-years warranty
Resistance
As per the product details, this bike has an 8kg flywheel with 32 levels of resistance. The vast number of options help the user grow and make their workout more challenging.
If you have some experience with exercise bikes, you know that an 8kg flywheel isn't very heavy. However, this bike model aims to provide a light workout, and the flywheel fulfils that purpose. Moreover, it offers decent challenge levels so you can grow and build your stamina gradually. 
Like most indoor bikes, this flywheel also runs on magnetic resistance. This mechanism is not only easy to manage but also ensures a quiet operation of the bike. So, if you line in a shared property or closed neighbourhood, you may find this bike model appropriate for frequent workouts.
Additionally, the AM-E exercise bike offers 32 levels of resistance. You can easily select a level from the display and then work it out at your preferred pace.
The resistance options satisfy most beginners and intermediate trainers. But if you are a pro, you might not find even the highest level challenging enough. In that case, an indoor bike such as JTX CYCLO-6 may tick all the right boxes for you. 
While choosing resistance levels, don't hesitate. This bike model runs on magnetic resistance, which means that the chances of any wear and tear with high friction are pretty low.
Comfort
Most of you will be happy to know that the AM-E exercise bike doesn't require a complicated assembling process. Setting up this unit is relatively straightforward. While the manual only has a few pictures, you can set the unit with its self-explanatory parts.
Most of the unit comes pre-assembled. You are only required to fix a few bolts and get the console with the unit's feet in its perfect place. The whole assembling process doesn't take more than 30 minutes.
As soon as the bike is assembled, you can use it right away.
Another comfortable thing about this bike model is its adjustable features. You can move both the seat and the handlebars to attain a perfect height for you.
You can move the seat horizontally and vertically to support your height. For example, the minimum seat height is 79 cm, while the maximum is 100cm.
This seat comes fully padded, and most customers find it comfortable. However, many users preferred having a gel cover over the seat because they experienced sore bottoms after extended training.
The unit also has ergonomic handlebars. You can adjust the handlebars' angles to support your riding style. Moreover, they are pretty comfortable and anti-slip, which means that you might not experience any slippage with even your sweaty hands.
These handlebars also come with built-in sensors to measure your pulse rate. In addition, the heart rate appears on the screen so that you can know of any workout improvements required.
Interestingly, the pedals on this bike model are also adjustable. Thus, you can adjust the foot straps according to your comfort and avoid slippage during a focused workout.
This bike model has a low frame. It means that getting on and off this machine is relatively easy.
Moreover, there are two transport wheels in the front of the bike. This feature helps to move this unit from one spot to another.
We would have loved a bottle holder on this bike for convenience and comfort. Easy access to water during a workout keeps you hydrated and focused. But that's a very small comfort feature against all the elements that are already present.
Design
As soon as you assemble this bike model, the first thing you will notice is its durable and sturdy structure. Made with high-quality steel, this machine can hold a maximum weight of 140kg at a time. This means that most of you may find the unit suitable for your use.
As per the manufacturer, each component, even the bolts, are made of good quality and durable material. And we think that it is pretty accurate because most customers also agree.
Moreover, the machine's dimensions are as follow:
Length 87cm Width 52cm Height 135cm
The length and width of the AM E-bike are pretty appropriate for small accommodations. But, simultaneously, the footprint is wide enough to accommodate both tall and short users.
Besides, the unit's 32kg weight is also not too much. Moreover, the transport wheels make it far easier to handle this unit within your house.
The DKN AM-E exercise bike is available in a combination of black and silver. Most of you might love this contrast as these colours easily get along with the rest of the equipment and furniture.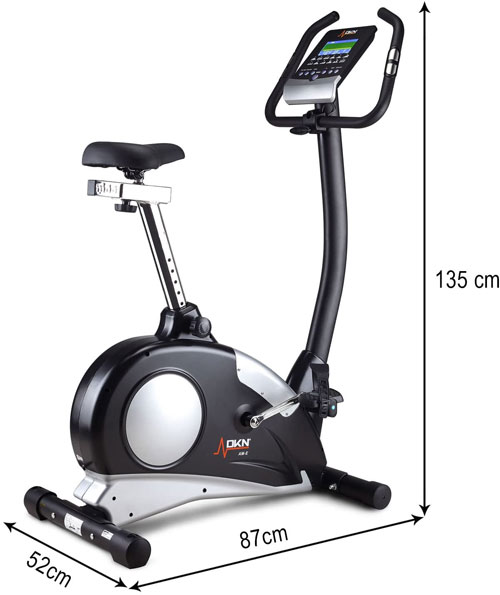 Console
The DKN AM-E exercise bike has a large console with all the data that you may require to track your progress. The console gives feedback on
Time
Speed
Distance
Calories
Recovery
Pulse
RPM
Watts
All these parameters are essential for your growth as a trainer. However, unfortunately, some customers complained of inaccurate readings regarding calories, speed, and distance. In that case, it is imperative to discuss this issue with the brand before spending your hard-earned money.
Besides the built-in sensors, this bike also has a polar wireless system that accurately measures your pulse rate. However, you will have to buy a compatible chest strap separately to connect your heart rate with the bike to utilise it.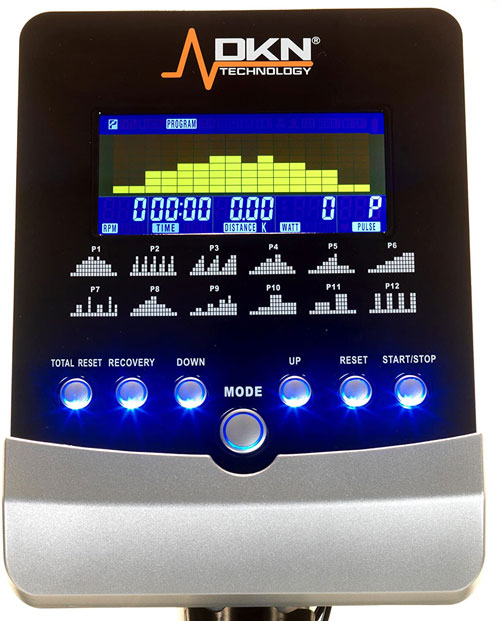 This bike model also comes with 12 pre-set programmes. Each program has an icon on the main display, and you can select your favourite by pressing the right button.
We won't say that these programmes are the best ones you will ever experience, but DKN has done an excellent job with this feature considering the price point. The programmes are more than sufficient for both beginners and intermediate trainers and offer helpful feedback.
Warranty
As per the brand's official website, the DKN AM-E exercise bike comes with a 2-year warranty period. We think that this is a sufficient tenure for an affordable bike like this one.
In addition, the brand offers a 10-days money-back guarantee. As opposed to some other similar sports brands, this period is relatively short. We would have loved it to be at least 20 days, but it is also a reflection of the brand's trust in its products.
The support service staff at DKN is pretty helpful. The website mentions details of thor email address and phone number so you can easily contact for help.
Pros and Cons
Like most exercise bikes available in the market, the DKN AM-E exercise bike has good and bad sides. But do its pros outweigh its cons? Read the list below to find out!
Pros
The machine runs on magnetic resistance that gives the bike its quiet and smooth operation.
Despite its small flywheel, this bike model serves most beginners and intermediate trainers.
The 32 levels of resistance help you to experiment with your workout and make it less or more challenging.
This bike comes 95% assembled, which saves you lots of time and effort.
The unit has a low frame, so it becomes quite comfortable to hop on and off from the unit.
This bike model has an adjustable seat and handles so you can prepare a set-up according to your comfort.
The handles are anti-slippery and offer a solid grip.
Moreover, the pedals are also adjustable and can reduce slippage through firm foot straps.
This bike has two transport wheels on its front to make it easy for you to move it.
The sturdy structure of the bike can hold a maximum weight of 140kg.
Moreover, its reasonable footprint makes it an excellent choice for both tall and short users.
It doesn't have a lot of weight when compared to similar bikes.
The silver and the black colour combination looks classy.
This unit's console is large and displays many parameters.
It also comes with 12 pre-set programmes that are sufficient for most beginners.
The bike model comes with a 2-year warranty period.
The customer service of the DKN brand is quite satisfactory.
Cons
Unfortunately, the resistance levels are insufficient for professional users.
The 8kg flywheel doesn't provide enough resistance for high-intensity workouts.
According to a few customers, the seat is too hard.
There is no bottle holder to keep your water bottle.
The calorie count doesn't show appropriate data.
You will have to spend extra to buy a chest strap and utilise the wireless receiver on this unit.
We didn't find the 10-days money-back guarantee enough.
DKN AM-E Exercise Bike Vs Reebok GB60 Exercise Bike
As reviewed above, the DKN AM-E exercise bike is an excellent unit with many different features. But, unfortunately, it is not the only one. This bike faces tough competition from the Reebok GB60 exercise bike.
Here are some of the differences and similarities that they share.
Average Price
The average price of a DKN AM-E exercise bike on the brand's official website is £439.00. You can find it much cheaper on other online platforms. 
On the other hand, the Reebok GB60 is worth £449.
The price difference is not too much but do they have varying features?
Resistance
Surprisingly, both units have 32 levels of resistance.
However, unlike the AM-E bike, Reebok GB60 has a 6kg flywheel.
The 2kg difference can affect the bike's performance by a great deal, so in this aspect, the AM-E exercise bike wins.
Weight and Weight Capacity
The weight of the GB60 bike is 32kg, while the DKN AM-E weighs 34kg.
This means that both have almost the same weight.
Similarly, the weight capacity of the former is 135kg, and the latter can carry a maximum user weight of 140kg.
The weight capacity difference is because of the weight of each machine and is quite imperative when selecting either of the two.
The GB60 exercise bike is a little more expensive than the DKN AM-E exercise bike, but it has more or less the same features except for the weight capacity. So, according to our analysis, the AM-E exercise bike is far more reasonable than its competitor.
That said, Reebok is a much more popular brand than DKN. So, if you are a loyal customer of the former, you might want to choose its product.
Final Verdict
An exercise bike is a great machine to enjoy a workout that can help you stay fit and healthy. So, if you want to embark on your fitness journey, we suggest you invest in the DKN AM-E exercise bike. It is an affordable unit with many resistance levels to help you grow.
However, it has a few issues and limitations too. If you can ignore them, this bike model may become your ideal workout companion. But if you can't, there are many other models available in the market.