Launched in 2016, the Reebok ZR9 is an excellent treadmill model with many excellent features. It is a reboot of the Z8 treadmill, which came in 2011.
From great features to functions, this treadmill doesn't fail to impress its users with its performance. But it has a few design flaws as well. After all, no machine is perfect.
So, if you have been contemplating buying the Reebok ZR9 treadmill for some time now, we suggest you read this review first. The write-up below covers everything, from basic to crucial information. We are pretty sure that these facts will help you make a sound decision quickly.
Features
It is fair to say that the ZR9 treadmill is equipped with tons of great features. Moreover, the quality of each part is gym-like, which makes it quite popular for personal workout spaces. Besides, this unit works great for both beginners and intermediate trainers.
Here is a summary of this Reebok's treadmill model's main features:
Feature Highlights
2HP motor
12 incline levels
Maximum speed of 16kph
LED display
16 user programmes
120 kg maximum weight capacity
Foldable mechanism
Built-in speakers
MP3 connection
Hand grips with pulse sensors
Auto-safety feature
Dimensions and Assembly
Here are the basic dimensions of this treadmill:
Complete size: H52xW34xD66 inches
Folded size: H59xW34xD41 inches
As much as we want to call this unit lightweight, unfortunately, the truth is different. This is a heavy unit, and it is impossible for one person to bring it from one spot to another. It does come with wheels, but they hardly make any difference.
So, if possible, pay extra on delivery and request the manufacturer to send two to three people to settle the unit in your place. That would be the best thing you would do for yourself that day.
Delivery and Setup
The delivery is prompt and doesn't take much time. One of the best things about Reebok is that the brand doesn't believe in delays.
As soon as the unit arrives, you will be amazed and may feel intimidated by the machine. But we assure you that this treadmill comes as 90% assembled.
You will only have to raise the unit's frame, unfold the arms and tighten a few screws. Thus, the whole process hardly takes 30 minutes. Moreover, you can also read the instructions manual to reduce this duration.
Since this unit has a smooth folding mechanism, you won't hurt your fingers while bringing it to its operational state. However, we would still suggest you take help to perform this task. Again, this is imperative because of the unit's heavyweight structure.
Console and Data Tracking
Once your unit is set up, switch on its power and witness the reality. The first thing that you will notice is its aesthetically designed LCD screen. This blue display comes with white numbers making everything look appealing and easy to read.
If you wear glasses, the bright and clear display will work perfectly for you. Interestingly, there are no fancy features on the console, which is quite a relief. While running, no one wants to get lost within tons of functions and lose track.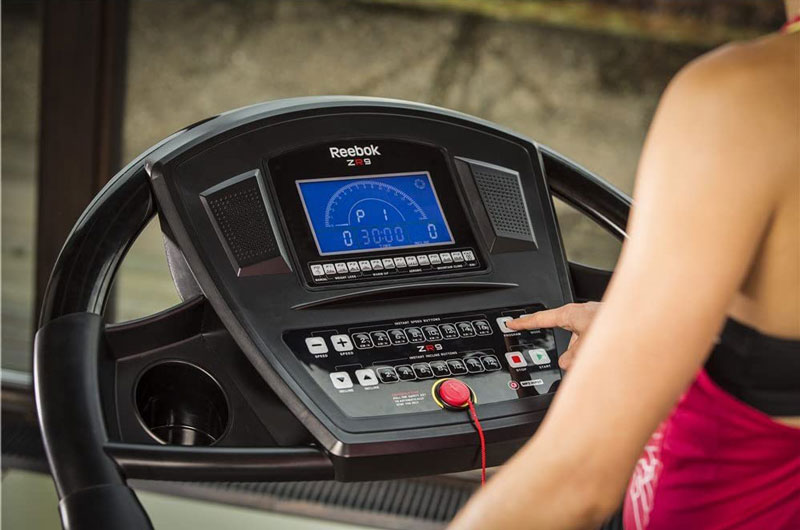 The buttons on the console help adjust speed and incline with ease. This unit has eight speed buttons and seven incline buttons which means that your preferred workout pace is just a press away.
This treadmill model has 16 user programmes designed solely for you. You can either choose from a weight loss program or opt for a mountain climbing challenge. The screen displays simple-to-comprehend diagrams which help explain your progress and also highlight the challenges that await you.
You can also check your calories burnt, speed, and distance covered during a particular time. The LCD also shows the pulse rate and helps you track your progress to create new goals.
On either side of the console are two built-in speakers. They do not offer a top-notch sound quality, but the speakers may help pump your heart rate and workout motivation with your favourite music.
You can also connect an MP3 player with this treadmill. There is an MP3 input on the bottom right of the console, which is pretty easy to work with.
Unfortunately, like most Reebok models, the ZR9 treadmill also doesn't come with Bluetooth connectivity. That's a significant feature missing, and it's about time that this brand takes this seriously.
One of the major features of this console is the bottle holders positioned perfectly on the left and right sides. These holders are pretty huge, and you can use one of them to hold your phone as well. While we would have loved a tray or ledge to keep a tab or phone safely, the holder does an adequate job too.
Lastly, the console also has pretty solid hand grips. You can use their built-in sensors to check your heart rate during a workout. Moreover, they also help to adjust the incline, which is a unique property.
Speed and Incline
As stated above, it is pretty easy to change the different speeds and incline levels on this unit. But does this machine provide enough horsepower and speed to operate smoothly? Let's find out!
The Reebok ZR9 treadmill model comes with a 2HP motor. But this motor can provide a 3HP out thus offering enough speed for your workouts. You can easily enjoy a maximum speed of 16kph while training on this unit.
But that may work for beginners and intermediate trainers only. Most professionals love training at a higher pace and so may find the ZR9 treadmill's performance a little inadequate.
You can easily make your workout challenging by working at the highest incline level at maximum speed. With 12 levels of incline, this machine gives you an open chance to experiment with both interval training and simple running.
Noise
According to experts, the ZR9 treadmill is a blissfully quiet machine. Unfortunately, this quality is rarely found in most affordable units, but the ZR9 is a beautiful exception.
There are two main benefits of having a noiseless treadmill model in your gym. Firstly, you can work out at any time without worrying about disturbing your family or neighbours. This quality works perfectly for people living in small and shared accommodations.
Secondly, you can clearly listen to your entertainment without any external noise and focus on your workout properly. As a result, you achieve your fitness goals without much struggle.
Running Deck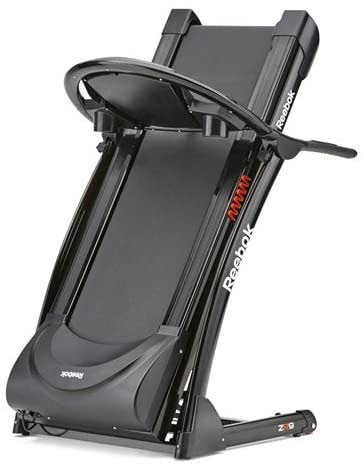 The Reebok ZR9 treadmill has a sufficient running deck with a length of 51 inches and a width of 17 inches. Therefore, the actual running area is almost 16 inches wide.
We think that is a respectable size for a treadmill designed for regular running. However, if you want to use this machine specifically for jogging or sprinting, you may not find the area adequate.
This running deck features a ZigTech cushioning that helps give you your required protection. The cushions absorb shock and reduce the impact on your knees. Besides, it helps make the running deck smooth, so you don't get any scratches or extreme injuries even if you fall.
The ZR9 treadmill's running deck can easily hold a maximum capacity of 120kg. This weight is quite enough for most trainers, but if you are a heavier individual, you may want to try a much more solid treadmill available in the market.
Safety Features
Like most other Reebok treadmills, the ZR9 unit also has an auto-stop safety feature. This function stops the unit in an emergency as soon as it detects an upcoming accident.
For instance, when you wear the magnetic clip on your wristband, you connect yourself with the treadmill. If you accidentally drift apart or fall, the clip removes itself and signals the machine to stop. As a result, you don't suffer any further injuries because of the moving belt.
When it comes to the user's safety, the structure of the treadmill plays a crucial role. If it is sturdy and solid enough, the chances of an accident decrease by a significant amount. The ZR9 has a great build and is quite durable, which is quite visible by its physical features and high weight.
Warranty
Reebok is an excellent and user-friendly brand when it comes to its warranty policies. It provides a satisfactory warranty period on all its products.
For instance, there is a lifetime warranty on the frame of ZR9, and there is a 10-year warranty on its motor. In addition, the parts and labour are available for a 2-year manufacturer's warranty.
Secondly, the brand offers a fantastic return policy. If you experience any performance or design flaw, you can send the treadmill within 30 days from the date of delivery. First, however, make sure that the unit's state is the same as it was when it first arrived at your place.
Pros and Cons
Has the above information convinced you to get the Reebok ZR9 treadmill for your workouts? If you are still indecisive, we have a summary of all the good and bad points for you. So take a look and make a decision.
Pros
This treadmill doesn't require much assembling and is ready to work within half an hour.
It features a folding mechanism that makes it easy to hold and settle in your place.
The Reebok ZR9 has a bright console with visible buttons to make all operations quick and easy.
This unit has a motor of 2HP that sometimes works as a 3HP unit.
You can enjoy a maximum speed of 16kph, which is excellent for running.
The unit comes with two bottle holders to keep your water.
This treadmill features two built-in speakers and an MP3 connection for music.
The well-cushioned running deck reduces impact and strain on your knees.
This treadmill model also comes with an auto-stop feature that helps stop the belt if you fall.
Reebok offers satisfactory warranty periods on its frame, motor, and parts.
This is a noiseless unit which makes it quite popular among people who live in small or shared properties.
Cons
This is a heavy unit, so don't get fooled by its sleek frame.
It can't hold a weight of more than 120 kg.
While this treadmill is ideal for running, its running deck isn't adequate for jogging or sprinting.
The maximum speed might be insufficient for professional trainers.
This unit doesn't provide Bluetooth integration.
You may have to compromise on the quality of the speakers.
According to some customers, the console should have been a little better and more detailed.
It doesn't come with a tray to keep a pad or phone safely.
Reebok ZR9 Vs. Reebok ZR10
It is safe to say that both Reebok ZR9 and ZR10 are two very close competitors. While the former is a little cheaper, it has almost the same qualities as the latter. Read below to find which one is better.
Average Price
The average price of ZR9 is £630, and of ZR10, it is £700. While these rates change with different seasons, it is pretty clear how ZR9 is a cheaper option.
However, there isn't much difference between their prices.
Motor/Incline/Speed
Both ZR9 and ZR10 have a 2HP motor. But unlike ZR9's maximum speed of 16kph, ZR10 delivers 18kph. This difference does impact many professional trainers who are on the lookout for high-speed units every time.
Similarly, ZR9 offers 12 incline levels, but ZR10 provides 15. This again shows that the latter might be the first choice for people who prefer challenges during their training.
Weight Capacity
Both the units have a maximum weight capacity of 120kg. So, if you are a heavier individual, you will probably choose a unit other than these two.
From the above comparisons, it is clearly visible that the high price of ZR10 reflects its high maximum speed and more incline levels. However, other than these two factors, the unit is quite similar to the Reebok ZR9 treadmill.
Final Verdict
So, after reading the above review, how did you find the Reebok ZR9 treadmill? Is it worth your money or do you want to buy something much more advanced?
According to us, this unit has all the qualities of a basic and entry-level treadmill. It comes with a powerful motor and is equipped with all essential features.
However, it isn't ideal for professional trainers. So, if you are one, we would suggest you look elsewhere.
But if you are a beginner or a part-time gym enthusiast, we can't recommend this unit enough. So please give it a try and let it become a part of your gym. We hope you will love it for its praise-worthy quality and performance.