A weight lifting belt is an essential accessory for both men and women lifters alike. It can help protect your lower back while you mistakenly perform lifting with poor form or unnecessary heavier weights.
Moreover, the best weight lifting belt also adds stability to your lifting moves and prevents any injury to the spinal cord.
There's so much more to this simple accessory and if you are a wise buyer, you should learn about all the details first before spending your money on a belt.
So, without further ado, let's dig into this article to know everything you would want to know about a weight lifting belt. Besides, go through a buying guide and our eight well-researched recommendations to bring your best belt.
What is a Weight Lifting Belt?
Have you ever seen a weight lifting belt? Most of you might have seen a professional wearing one, while others may have never come across this accessory.
So, for those unaware, a weight lifting belt is like a wrap around your waist. It has a four to six inches of width and has a secure metal buckle that keeps the belt in one position while you lift.
Weight lifting belts are made from different materials and have various types and uses. However, each one of them follows a general mechanism and has a common motive to serve.
How Does a Weight Lifting Belt Work?
Your core or torso is pretty flexible and soft. These properties allow you to twist and move conveniently without any hindrance.
However, when squatting, the softness of the core may not benefit you. The core may collapse earlier than you expect. And that is why both beginners and professionals crave cores that are rigid and hard.
So, to get one, bracing a core is an imperative requirement. This typically occurs when you push a substantial weight or lift something heavy.
While you lift or move, you breathe deeply and tighten your core and brace it. This practice keeps the torso tight and enhances the intensity of internal pressure.
The increased force on your core transforms its soft structure into a complex and solid centre. This hardness allows you to lift more without hurting your spine.
A weight lifting belt comes as a support and anchor to achieve all of the above. This fitness accessory facilitates your core muscles and increases the overall tightness.
Besides, it provides a pillar for your torso by maintaining the hardness of your core muscles.
In simple words, this fitness belt gives a cue to the torso and encourages it to contract and increase the rigidity of the core muscles while you lift.
Types of Weight Lifting Belts
Now that you know how this tool works, it is about time we explore different types of weight lifting belts and see what we have available for you.
Powerlifting Belts
Almost all powerlifting belts have a thick and rigid frame. Moreover, unlike the above two belts, powerlifting ones have a uniform width throughout their structure.
These belts provide an immense surface area to your abs and ensure safety while you lift heavy weights. Moreover, most of them come with roller buckles with double prongs to prevent any injuries.
Velcro Belts
These weight lifting belts are crafted using common synthetic materials. While they may not help you experience elevated performances, velcro belts are pretty sufficient when lifting for recreational purposes.
Velcro belts provide limited force and support. As soon as the robust velcro pops, the belt stops serving its purpose. Besides, velcro belts exert minimal intra-abdominal pressure when compared to bodybuilding belts or powerlifting belts.
Dipping Belts
You can easily find dipping belts made of both synthetic materials and leather. They are ideal for pull-ups and chin-ups. Besides, these accessories support your body while you lift to gain a solid back and chest.
Bodybuilding Belts
The bodybuilding belts are usually made of leather. They have a broad back but are pretty narrow from the front.
A bodybuilding belt often comes with a roller buckle made of solid stainless steel to secure its position. Besides, it produces more pressure on your torso than most velcro belts.
The Best Weight Lifting Belts to Buy
Here's hoping that the above information has finally helped you learn about a weight lifting belt in an easy way.
Therefore, if you are satisfied with your knowledge, it's the right time to explore our recommendations.
Below we have reviewed eight belts that deserve a place in your fitness arsenal. You may choose one from this list or consider these options as a great kick start to initiate your belt hunt.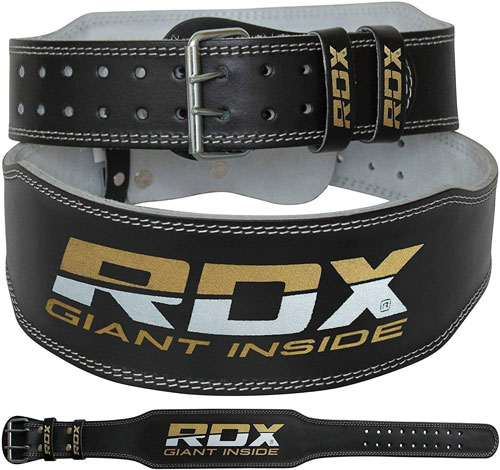 The RDX weight lifting belt is a pretty popular product in and around the UK. Not only does this belt offer a great price, but it also has some user-friendly features to enhance your weight lifting experience.
This gym belt is made of cowhide leather that feels like velvet. The material gives a soft and smooth touch on the belt and is also known to have fantastic durability. While the belt's material may seem stiff and uncomfortable at times, this product is solely designed as a functional tool rather than a fashion accessory and should be considered like one as well.
The RDV weight lifting belt has a design that compliments the curves of your abdominal and back area. Besides, the belt offers a secure fit and adjusts according to your waist.
When it comes to its making, this weight lifting belt doesn't disappoint. The double seams prevent early and quick wear and tear.
Besides, adequate oil-tanning makes the leather water-resistant and pliable. This tool absorbs all the sweat and evaporates it later to prevent your body from getting wet and uncomfortable.
This fantastic invention by RDX has double prongs, quality buckles and rivets that remain secure under extreme pressures. It means that this product offers amazing security regarding the intensity of your lifts. However, double prongs may be hard to handle at times.
Overall, this belt with four inches wide back support is worth your consideration. With so many positives, it has the potential to become your first weight lifting belt.
Pros
Made from solid and long-lasting leather
Adjustable design
Double seams for protection
Water-resistant material
Four-inches back support
Cons
May cause discomfort at times
Double prongs may be a little fussy to handle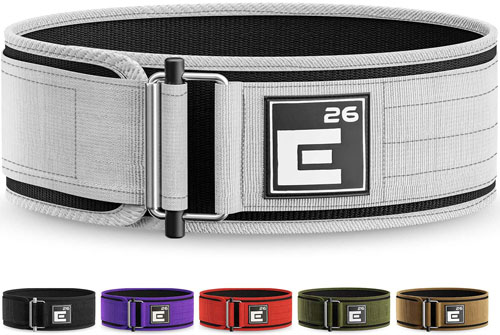 As a decent low-cost product, the Element 26 Self-locking belt is a sturdy and safe option to consider. It is because this fitness tool uses advanced locking technology rather than a cheap velcro strap to fix the belt around your body.
The self-locking mechanism doesn't wear and tear quickly. Besides, it provides an easy way to release the buckle that doesn't slip regardless of your lift's intensity. Belt opening and risking injuries are two major concerns when buying a weight lifting belt, and this product looks after them pretty smartly.
The E26 belt is made of nylon and has a solid metal buckle. There are no unnecessary padding or mesh coverings involved that often harm the distribution of pressure around the belt.
Moreover, this functionally designed product has a uniform four-inch profile and does not support any tapered design. While this structure may work with most people, many users with lower back issues prefer wide belts for their back and thin for their fronts.
However, besides this design flaw, the E26 belt is called one of the most long-lasting products by many customers. Some even think that this product has a competition-level quality and performance.
Pros
Unique self-locking technology
Easy to put on and off
Made of pure nylon
Uniform width
Available in different colours
Cons
May not suit people who prefer back support
No additional padding may cause discomfort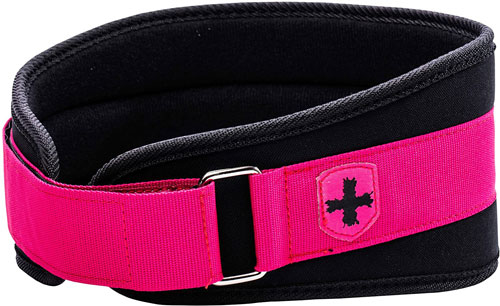 Are you a professional woman weightlifter? If yes, we might have the best weight lifting belt for you in-store.
The Harbinger belt is pretty popular among the masses for several reasons. Firstly, this ergonomic fitness accessory is made up of flexible nylon.
This material is super comfortable, is easy to put on and feels ultralight every time. Besides, nylon is breathable and gives your body enough space to expand and contract.
Secondly, the Harbinger women's lifting belt has a five-inch wide panel to support your back during heavy lifts. This design feature prevents your back from bending unnecessarily and also keeps your spine's natural form.
Coming to more unique features, the weight lifting belt by Harbinger also features a foam core. The soft tricot lining is again a more prominent supporter of your abdominals and saves your back against any irrevocable damage.
This amazing fitness tool comes with a heavy steel buckle that provides an easy and quick fit for your waist. You can customise the tightness level according to your preference and enjoy any degree of lift without caring much.
However, according to some customers, this belt may not fit most ladies with tiny waists. Moreover, this belt only accommodates women with a maximum waist size of 36 inches, leaving many ladies with big waists out of the equation.
Pros
Made of nylon
Lightweight and flexible
Provides five inches of back support
Foam core prevents injuries
Steel buckle
Cons
Not ideal for women with tiny waists
May not suit heavyweight individuals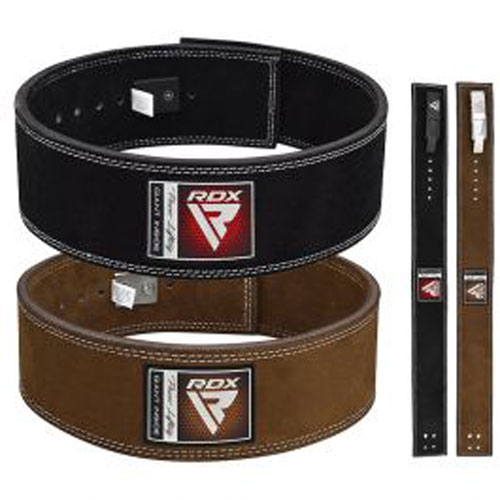 RDX is one of the most popular brands in the UK, and so we couldn't resist including another weight lifting belt from this label. This belt is made of nubuck leather that offers excellent stability and longevity to this product. Besides, the leather used is tanned with oil to maintain its smoothness for a long time and provides immense resilience for strenuous workouts and lifts.
This powerlifting belt features a well-designed lever clasp that ensures the belt's firmness and balance. Moreover, it provides sufficient support for your waist and reduces any kind of discomfort. The other lever clasp complements the chrome buckle ideally and improves the user's accessibility.
The RDX powerlifting belt exhibits a suede lining that helps provide a solid grip throughout your workouts. Besides, the lining acts as a padded cushion for your back and provides maximum relief when working out with heavyweights.
Another thing that this product excels at is its top-quality stitching. The flawless needlework ensures the strength of this belt and gives this product a luxury finish.
Overall, this 10mm thick belt is an all-rounder belt for many reasons. However, there have been some customer complaints that we should mention here and draw a fair picture.
According to some people, the belt's buckle isn't durable enough and should have been made from heavy-duty steel instead. Besides, many consumers think that 10mm thickness doesn't offer much durability and security than 13mm, and so this product may not tick all the right boxes for them.
Pros
Made from durable nubuck leather
Comes with an additional lever clasp
Padding ling for comfort
Top-quality stitching
Great design
Cons
10mm thickness might be insufficient for lifting heavy weights
Buckle breaks easily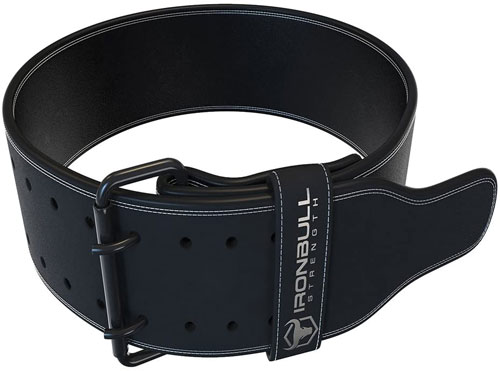 The powerlifting belt by Iron Bull Strength exhibits a great design and user-friendly features. For instance, this fantastic product is made of highly durable suede leather with a 10mm thickness. While the 10mm thickness may be lower than 13, it provides excellent support for your back and is preferred by many professional letters around the globe.
This belt has an anti-slip surface that fits well with your waist without causing any discomfort. Moreover, with a 4-inches of height, the belt provides great relief for your abs, abdominal muscles and your entire core.
The powerlifting belt also features an adjustable double roller prong for additional security. The buckle is made of solid zinc and is plated with steel to offer extra durability and strength.
This product is available in different sizes and colours. To choose the correct size, make sure to measure your waist using a measuring tape and then go through the chart to find a match. Please avoid ordering a belt according to the size of your pants.
Pros
10mm thickness
Made from durable leather
Steel buckle
Available in different colours and sizes
Cons
Maybe a little tall for many users
Double prong is hard to handle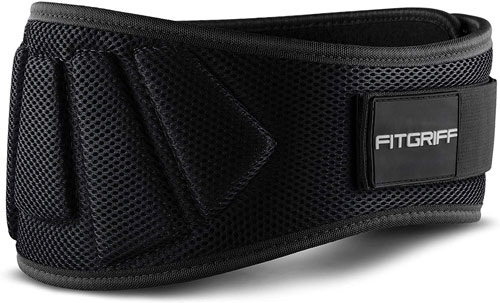 A weight lifting belt that offers an anatomical fit and looks stylish is worth considering for your workouts. While it may be a little more expensive than many other options available, such a belt will last a long time and help you achieve all your lifting goals.
The Fitgriff weight lifting belt possesses similar properties and functionality. In addition, this product offers reliable back support that prevents all kinds of injuries and reduces pain in your lumbar area.
Moreover, this belt is made of top-class neoprene, which may not be durable enough but provides immense comfort to your body. The mesh fabric doesn't wear easily and provides much-needed flexibility.
This ergonomic belt has a wider back and front when compared to its sides. The uneven structure helps protect the abdominal muscles and back from any exterior and unbearable pressures. Moreover, this clever design enables easy movement and doesn't restrict your body from expanding.
Pros
Stylish belt
Customisable fit
Made of breathable neoprene
Uneven structure for back support
Enable easy movement
Cons
Expensive belt
Neoprene material isn't durable enough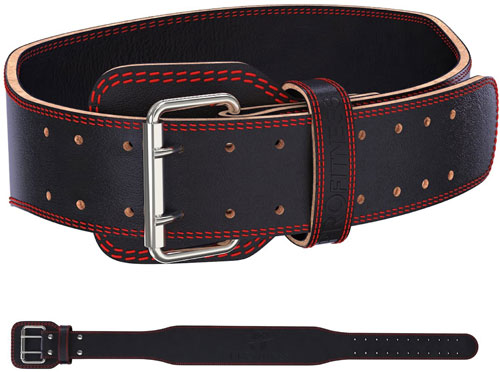 Regardless of your gender, weightlifting is an art that only polishes with consistency, time and effort. However, like any other exercise, it is impossible to ace lifting without some essential accessories such as a well-rounded weight lifting belt.
The ProFitness weight lifting belt is a user-friendly fitness product for both men and women. Made from 100% genuine leather, this accessory features excellent quality and design.
For instance, the belt features suede interior lining to form a secure and comfortable grip. Besides, the double stitching with solid cap rivets offers minimum wear and tear and increases this product's longevity.
This belt also has a double prong buckle system that prevents accidents and keeps the buckle secure on even the heaviest lifts. Besides, the effective distribution of pressure with a four-inch-wide back saves your back and abdominal muscles from experiencing painful strains.
While everything about this belt sounds fantastic, there is one flaw that we can't resist mentioning. While the standard and safe belt thickness is 10mm, the ProFitness weight lifting belt has a 7 mm thickness. Therefore, it is a pretty low thickness value for your lumber and core protection and may not offer adequate results as many other belts on the list do.
Pros
Genuine leather making
Provides secure grip
Interior lining for comfort
Four inches wide back for added support
Does tear easily
Cons
7 mm thickness is too low for many users
Double prong buckles are a hassle at times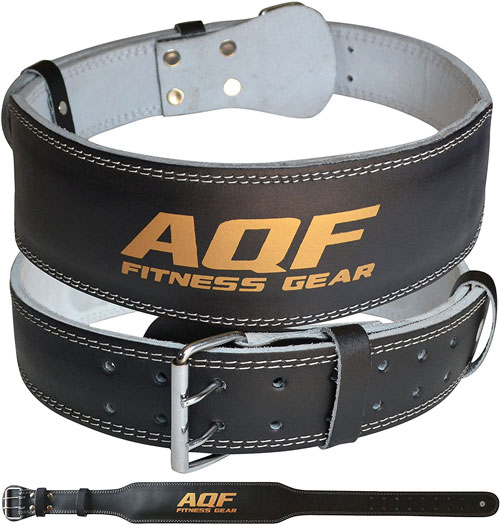 Are you looking for the most affordable weight lifting belts for yourself? If yes, the AFQ leather belt may strike your fancy and can become a top candidate.
Taking the eighth spot on this list, this belt is an ideal accessory for weightlifting, powerlifting, squats and deadlifts. Made from genuine cowhide leather, this product has foam padding to provide immense support for your back and abdominal muscles.
Moreover, the reinforced solid stitching reduces the risk of premature wear and tear.
Also, the double prong increases security and provides snug-fitting for all body types. However, it does create a hassle for many users when it comes to adjusting the buckle.
This weight lifting belt features nine size settings for a customisable fit. Besides, the non-pinch buckle and loop help secure the belt's tab and prevent injuries. According to the manufacturer, this product is super easy to clean and condition. Besides, it doesn't require much maintenance if stored properly.
However, compared to other belts on the list, this product may not look very stylish to most of you. It has a basic design which may be a let-down.
Moreover, according to some customers, the size information by the manufacturer isn't correct and may cause returns or exchanges. To avoid that, always communicate your size requirements clearly and enlighten yourself with all the brand's policies.
Pros
Durable leather belt
Solid double stitching
Offers customisable fit
Super affordable
Easy to maintain
Cons
Very ordinary design
Size details may not be correct
How to Pick the Best Weight Lifting Belt?
Shopping for the best weight lifting belt may seem similar to hunting for the most appropriate running shoe. Unfortunately, it is not very simple, and you will have to consider various variables and simultaneously try different belts to choose the one with perfect fit, functionality and comfort.
The above recommendations may have left you overwhelmed, and we understand your situation.
However, to help you narrow down the choices, here is a list of imperative factors before you select the right belt. Please go through them in detail before matching the considerations with your requirements and your chosen belt's specifications.
Material
You will find weight lifting belts made of nylon and leather. Since all the material options are excellent in their own ways, choosing the right belt comes down to your personal preference.
For instance, most powerlifters that go for powerlifting belts choose leather belts as their ultimate choice. This is because leather belts are pretty durable, have well-constructed designs and are stiffer than many other options. In addition, most of them have cone shapes, cylindrical or contoured structures.
However, nylon belts are pretty soft, don't move too much, are lightweight and are more comfortable than leather. Moreover, the non-slip nature of nylon belts makes them quite an appropriate choice for many lifters worldwide.
You can also find weight lifting belts that use a combination of both leather and nylon. A mix of each material in the overall product creates an ideal material for Olympic-level lifters.
Thickness
Most lifting belts have a thickness of 10mm or 13mm. The proper thickness offers support to your spine by preventing it from being unnecessary. Moreover, a belt with high thickness provides extensive durability, stiffness and stays in one fixed place for a long time.
If you are a first-time buyer, you may struggle between a belt of 10mm thickness and the one with 13mm. While 13mm thickness offers stable support, it may cause discomfort when worn for a limited time. So, a 13mm belt is ideal for lifters who aim to lift extreme weights only.
However, this variable depends on your fitness level and stamina. You can always try a 13mm belt before choosing the right thickness. If the belt gives you a hard time performing your lifts, choose a 10mm belt instead.
Width
Best weight lifting belts are four inches wide. However, many have a width of three or two and a half inches as well.
But for many users, a four-inch width provides a perfect sweet spot between their hip bone and rib cage. So, it is always wise to try a belt and see what width suits you best before purchasing one.
Waist Circumference
The thickness and width of your best are also directly proportional to your waist's circumference. So, to measure this dimension, take a measuring tape and move it around the torso. Also, make sure to follow a firm and honest approach and don't record a 32 inches waist size instead of 34.
Buckle Mechanism
Some weight lifting belts come with single prongs, while others have double prongs. Besides, many belts are secured by a lever.
While there is no one right security feature for everyone, you can always choose the belt that provides you more focus and comfort.
For instance, belts with single prongs are easy to close and open. Besides, they tighten up easily and do not divert your attention. On the other hand, double prongs are fussier and can take much of your time in adjusting the belt properly on your body.
Lever-style belts are pretty handy too. They are easy to put on and adjust conveniently according to your desired tightness. Such belts can also replace single prong belts pretty easily.
Price
Weight lifting belts are not very expensive and may not require a significant investment. However, you will come across many cheap and inefficient belts that may lure you into buying them and saving your pounds. Unfortunately, by doing so, you will make the biggest mistake of your life.
While price is important, you should always prioritise quality over the cost before buying any fitness accessory. For example, an expensive belt that offers excellent quality is always better than a cheap one made from inferior material.
However, it is also wise to not go overboard with your choice and stay within your realistic budget.
Expert Recommendations and Client Feedbacks
To buy a belt that may serve you right, always look for previous customer reviews and experiences to get a fair picture of the product's effectiveness. You can either read articles online or ask people in your friend circle to share their testimonials.
Moreover, expert recommendations, if not sponsored, prove pretty beneficial when making a decision. They are usually words coming out of someone who has used many belts and is the right person to evaluate and compare various manufacturers.
Benefits of Using a Weight Lifting Belt
Here are some ways in which wearing a weight lifting belt can prove to be beneficial for you:
Enhances Pressure On Core Muscles
As discussed earlier, a belt is made to increase a pressure in the intra-abdominal muscles present in your abdomen. This action makes it convenient for any lifter, man or woman, to lift heavy weights and perform strenuous exercises.
Improves Spinal Stability
The above benefit ultimately increases the stability of your spine. The belt strengthens your spine and supports your body to carry out challenging lifts with ease. This assistance prevents the spine from collapsing during continuous weightlifting.
However, it is also crucial to understand that a weight lifting belt doesn't protect against improper lifting technique or poor form.
Restricts Motion for Lumbar Movements
A belt restricts the motion range for lumbar movements. As a result, it prevents excessive arching of your lower back in exercises such as overhead lifts and protects the lifter against any long-lasting injuries.
Enables Improved Squat
Have you ever struggled with your squats? According to experts, a weight lifting belt can ensure perfect biomechanics while deadlifting and squatting. It is because it forces you to lift your body using more of your legs than your back.
This invention works amazingly for you as your legs can easily and quickly adapt to stimulus than most other muscles in your body.
Reduces Stress on Lower Back Muscles
Since a belt increases pressure on the abdomen muscles, the burden on the lower back decreases by a significant amount. This reason makes it essential for lifters with back issues to wear a belt before performing any strenuous exercises.
Maintains the Position of Your Back
A weight lifting belt helps maintain the posture and structure of your back. This fitness tool can improve your body's form and enable you to lift correctly without making mistakes or inviting injuries.
Enhances Muscle Activity
Weightlifting while wearing a belt has a positive impact on your hamstrings and quadriceps muscles. They become more active and contribute towards long-term muscle growth.
Can Be Worn By Many Individuals
From powerlifters to Olympic athletes, a weight lifting belt works wonders for many. However, if you want to wear a belt during a general fitness session, make sure you are a part of maximal fitness training rather than a basic one.
How to Use and Wear a Weight Lifting Belt Correctly?
Before you reap all the benefits of a weight lifting belt, it is vital to understand how to wear and use one correctly.
Wearing the Belt
In an ideal situation, your chosen weight lifting belt should be wrapped around the waist. It should sit slightly above the hip bone to have complete contact with the front, back and sides of your torso.
You might find the belt pinching or hurting you in some areas. These are the signs of the wrong placement of the belt and shouldn't be taken for granted.
Once placed on your waist, inhale and proceed to tighten the belt. Make sure this accessory is pretty tight enough but not too tight that you feel hard to move or breathe. Let there be enough room to accommodate your stomach's expansion.
To make sure your belt is placed correctly and is tight enough, place the index finger below the belt's back. The finger should conveniently stick; otherwise, consider the belt too loose for weight lifting.
Once the belt is conveniently fixed over your body, breathe out deeply before expanding your muscles. Flex your lower back and flex before lifting the bar.
After you have done enough lifting for the day, it is wise to remove the belt as soon as you can. Wearing a lifting belt for an extended period can harm the development of your abdominal muscles. Once removed, stabilise the body's form and move onto other exercises if required.
Cleaning and Care
To make sure your belt lasts for long, keep it clean and take good care of this accessory. For instance, if your belt is made of leather, use oil soap or an appropriate cleanser to wash away any dirt or sweat.
Besides, you can also go for spot-cleaning or machine washing according to the manufacturer's instructions.
Whichever method you choose, make sure to dry the belt properly before putting it on again.
Frequently Asked Questions
Here are a few questions that users like you have asked us before buying a weight lifting belt. You can go through their answers and see if any of them clear your doubts as well.