A suspension trainer may look like a confusing and unexciting gym tool to many of you. Made with just a strap and some handles, why would someone work out with such a basic-looking tool when there are so many fancy fitness units available?
Well, you might get dismissive looking at a suspension trainer for the first time but avoid crafting a conclusion before listening to the whole story.
For those unaware, a suspension trainer is a wonderful tool that aids a fantastic resistance session. It comes with an inherited instability that challenges your core and torso through different fun movements. Besides, this tool can help improve your balance and make you learn so many valuable skills.
So, before you consider a suspension trainer useless, you might want to learn more.
In this article, we have covered all the basics of this equipment, including its benefits and performance. Besides, to convince you further, we have reviewed eight excellent suspension trainers for you.
Dig in and explore!
What Is a Suspension Trainer?
In simple words, a suspension trainer contains a strap and handle mounted on a ceiling or a wall. The trainer suspends above the floor and allows you to hang and perform various exercises.
Have you ever seen a gymnast performing ring routines? If yes, you might get the gist of this flexible equipment.
Benefits of Using a Suspension Trainer
To understand a suspension trainer in a better way, here are a few benefits that can convince you to get this tool right away.
A suspension trainer:
Builds Core Strength
A suspension trainer allows you to leverage gravity and bodyweight to develop strength and muscle stability. This innovative tool will enable you to enjoy a full-body workout and target the core muscles within a short period.
Suspension training displaces the centre of gravity. This activity activates your core which engages itself to find stability. The constant quest to find balance makes the movement challenging and enhances the strength of the core.
Your core is made up of four muscle groups that make a boundary around the lower torso. By building and improving the strength of these muscles, you enable overall stability in your legs, arms, chest and shoulders. In addition, this effort creates a strong foundation for any movements and workouts.
Improves Muscle Endurance
No one likes to experience short-lived strength. So we are always looking for ways to build endurance that lasts throughout our lives.
Using suspension trainers consistently, you can build sustainable muscle endurance in a limited time. In addition, this action allows you to perform many exercises without feeling tired.
As a result, you feel stronger and perform well in other different kinds of workouts too. For instance, if you are a runner, suspension training can improve your strength and muscle endurance that you can apply in your favourite marathon training.
Enhances Flexibility and Mobility
A suspension trainer may look like a primary tool, but using this invention religiously, can help increase your overall flexibility and mobility. Suspension training involves movements with routines that have a mobile nature. By performing these workouts, you can improve your posture, enhance your overall health and give flexibility to your bone structure.
You can also use a suspension trainer to perform various stretching routines. These workouts can increase your blood flow, decrease the intensity of painful post-workout stiffness, and improve your muscle flexibility.
Establishes Balance
Your body's balance is imperative while using this equipment. That is why most beginners will find the workouts intimidating and complicated in the beginning. However, a suspension trainer makes sure you develop your balance quickly and get to avail the advantages of this tool.
Suspension training allows your body to stay under control, thus pushing you to achieve a high level of physical fitness.
Helps You Perform Various Movements
Unlike other machines in your fitness kit, a suspension trainer allows you to implement various movements in your workout. For instance, you can use a suspension trainer to perform planks, squats and lunges. Besides, you can use this tool to push, pull, hinge and rotate.
This fantastic opportunity to perform many moves with a single tool doesn't make you bored, and you look forward to acing every challenging exercise. Besides, with a suspension trainer in your gym space, you may not invest in many other exercise tools.
Requires Small Space
The best suspension trainers do not take much floor space in your home gym. Moreover, you do not have to purchase any expensive equipment with trainers.
This characteristic makes a suspension trainer affordable and valuable for many fitness enthusiasts with a limited area in their homes. Besides, since this equipment doesn't produce any noise when in use, you can safely hang on to a trainer without disturbing the other family members.
Affordable and Portable
A single affordable suspension trainer can provide you with many benefits that even some heavy machines fail to deliver. Moreover, this fitness equipment can be hung anywhere you want and easily carried in a bag. Isn't that what we all look for in a compatible fitness tool?
The Best Suspension Deals
Now that you know how excellent a suspension trainer is and the correct way to use it, let's unpack the list of the eight best suspension trainers together.
From high-end straps to budget-friendly trainers, there is a fitness tool for everyone. Take a look to find out.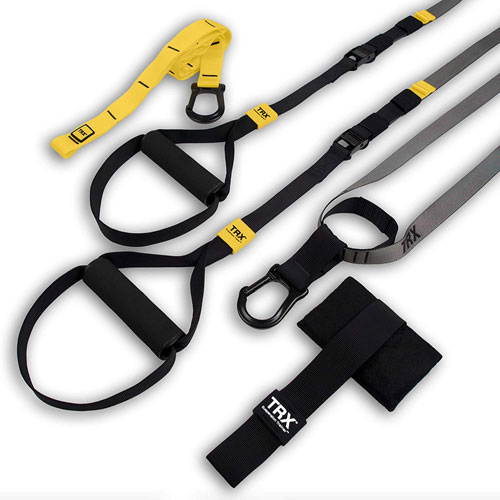 Go is TRX's most lightweight and portable suspension system that comes completely assembled and offers a design for immediate installation. According to the manufacturer, you can set this system within one minute, and that's quite impressive, especially for busy users.
The GO suspension system delivers a premium construction for people with different fitness levels. For instance, the straps come with a locking loop and a single anchor design for your security. Besides, the integrated foot cradles and integrated handles allow you to perform both floor and standing based exercises.
The TRX GO system can be utilised for foundational movements like pull-ups, lunges, squats and rotation. Besides, you can adjust the length of the straps to enjoy different intensities of workouts to achieve your goal faster.
According to the manufacturer, the Go suspension system is a perfect choice for beginners or people looking for lightweight equipment. However, considering the brand's popularity worldwide, you will find this system a little more expensive than most other similar options on the list.
Pros
Install easily
Solid anchor design
Durable straps
Great for beginners
Well-designed foot cradles and handles
Cons
Expensive
Not for professionals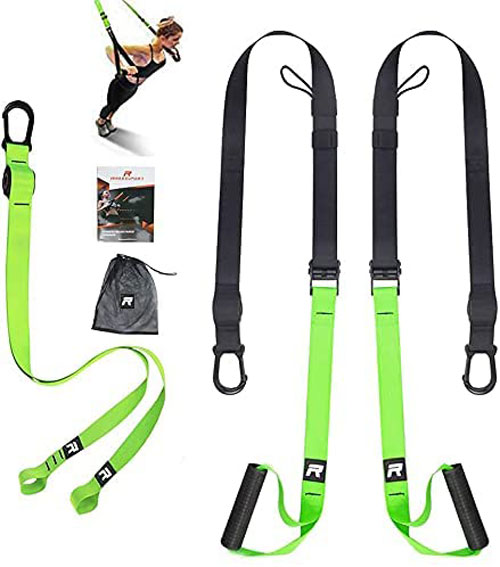 This adjustable suspension trainer set with door anchors is a pretty good product by RhinoSport. From material to performance, there are many positives that we can discuss here to convince you to buy this set.
The RhinoSport Sling trainer set comes with durable and long-lasting training straps made of polyester. Besides, the suspension trainer has anti-slip and comfortable grips to prevent any slippage. Moreover, the adjustable and solid buckle securely attaches the trainer with an anchor point.
This trainer set also contains exercise belts with a pair of suspension trainers to support your weight comfortably. So you can load weight as massive as 500kg at a time and perform exercises like pull-ups without worrying about any injuries.
The RhinoSport trainer set is super easy to set and use. Moreover, you can install this tool on a door, pull-up bars, or even sturdy structures in your home. If you want to enjoy a training session outside, hand the suspensions with a pole or a firm bark.
It has a simple design and super lightweight set to be carried out with you anywhere. The set includes a bag to store the straps and belt in one place. So you can conveniently take this set on a holiday or a work trip and stay fit for long.
However, before you decide to purchase the RhinoSport set, please look at a drawback of using this product. This set is a little more expensive than many other similar options in the market. If you have a tight budget, you may want to consider an inexpensive suspension trainer.
Pros
Polythene straps for flexibility
Adjustable buckles
Anti-slip grips
Comes with an exercise belt
Lightweight and portable
Cons
Expensive
Cannot hold weight more than 500kg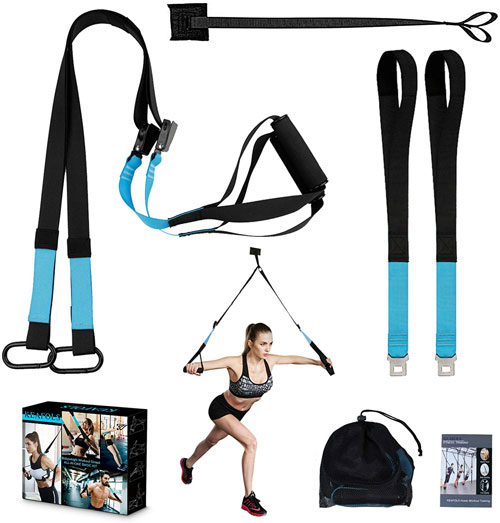 Do you want to build your core muscles but can't afford fitness equipment in your limited space? If yes, you might want to try the KEAFOLS suspension system and get your hands on the best straps ever,
The KEAFOLS training kit contains two fitness straps, two handle straps, one door anchor, two foot cradles, and one mesh back for storage. The high-grade nylon straps are pretty durable and have a comfortable grip. However, many consumers have faced irritation on their palms by holding the nylon straps for too long.
The strap length is adjustable to complement different exercises in your workout routine.
Moreover, the super-strong buckles and heavy-duty carabiner provide you with the security to perform even the most challenging moves with ease. Besides, the sturdy door anchor reduces the risk of accidents by a significant level.
The KEAFOLS suspension system is super quick to set and installed on poles, trees, ceiling or pull-up bars pretty conveniently. Moreover, the system weighs 1.38kg which means it is very lightweight to carry around with your other belongings.
Pros
Solid straps
Anti-slip grips
Sturdy buckles
Lightweight
Cons
Only available in blue
Nylon straps may cause itching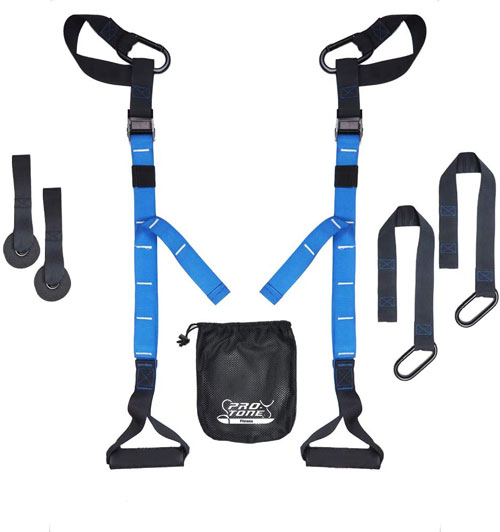 The PROTONE suspension kit includes two suspension straps, two grip handles, two-door jam anchors, two anchor suspensions and one carry bag. While this training system is pretty affordable, you can enjoy immense flexibility and stability using the suspension trainer in your home gym.
Available in only blue colour, the high-quality trainer straps give you a solid grip and help you adjust the length according to your comfort. Besides, the stable anchors can easily be installed on any door frame through a basic procedure mentioned in the sections above.
The PROTONE suspension trainers can be used outdoors by hanging them with a branch or a pole. Besides, you can use this system to perform pull-ups, squats and even mountain climbing without worrying about any injuries.
This complete set weighs 1.12kg only and can be carried around in a small carry bag. Moreover, it has a good weight capacity and can be used by different family members with varying fitness levels.
Pros
Easily installs to a door's frame
Flexible straps
Lightweight system
Portable
Inexpensive
Cons
Only available in blue colour
Door frame may come off when used by heavy users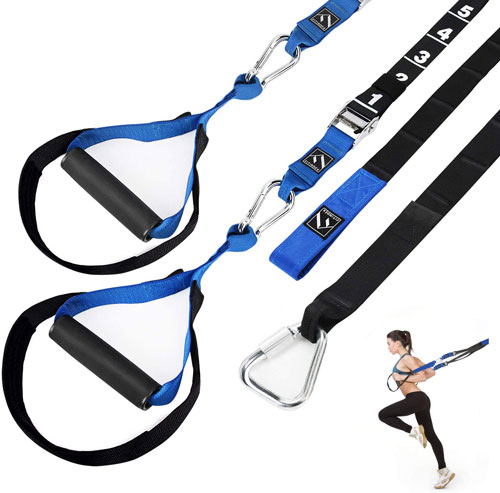 The FITINDEX trainer kit includes home training straps with an extender design and high durability. In addition, the suspension trainer is non-slippery and can easily hang from a tree, pole or door frame. The straps are made of nylon and are connected with a solid triangle buckle for your security.
The straps have two handles with an anti-slip grip for your comfort. Besides, for bonus resistance, this trainer kit also includes loop bands to help you perform your best and achieve great results.
The FITINDEX trainer kit weighs 1.65kg. While this weight is a little heavier than many other kits on the list, you can easily carry the straps in a carry bag wherever you go. Moreover, the suspension straps can conveniently hold a weight of 181kg, making this unit quite useful for many potential users in the market.
Overall, this kit is pretty affordable for many and can help you with your standard home workouts. Moreover, the effortless installation and use can help different family members train on this suspension trainer kit without any assistance.
Pros
Nylon durable straps
Anti-slip handles
Affordable kit
Comes with a carry bag
Loop bands for bonus resistance
Cons
Heavier than other kits
Can hold a weight of only 181kg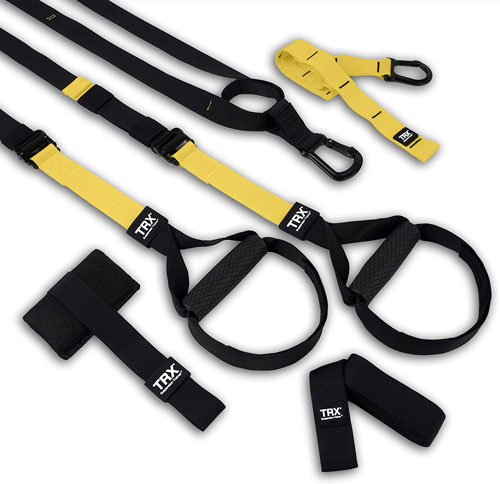 Have you ever struggled with finding the best exercise tools to stretch and improve your flexibility? Living with a rigid and immobile body is a nightmare, and we can understand your concern when it comes to finding the right equipment.
The TRX PRO3 trainer system is quite an advanced kit that can solve all your inflexible body issues quickly. As the original and most reliable suspension system by TRX, this unit comes with adjustable straps, rubber and solid foot cradles, padded handles and premium lock adjusters.
This trainer system features an advanced locking loop and single anchor design to provide you with immense security and stability. Besides, the three valuable anchorage solutions make this system pretty useful around different locations.
The TRX PRO3 trainer system also comes with a workout plan for eight weeks and custom exercises for many users if this wasn't enough. This additional feature is quite a treat for beginners who might have no idea how to incorporate suspension trainers in their regular training routine.
As a budget-friendly product, this system works great for low-impact exercises and can easily be used by even the older members of your family.
Pros
Affordable kit
Comes with three anchorage solutions
Lightweight
Accompanied by workout plans
Solid and durable components
Cons
May not provide enough flexibility for professionals
Low weight capacity than many similar products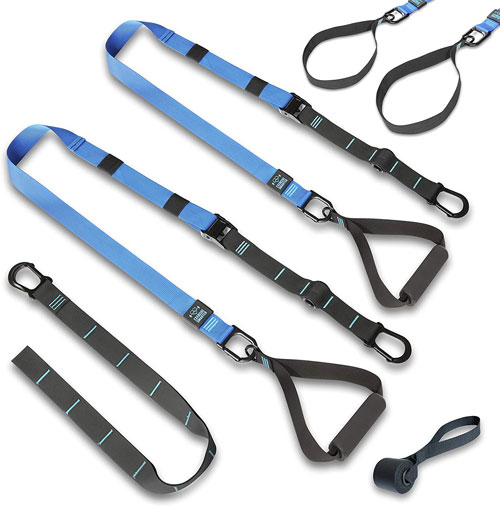 Who doesn't feel like staying fit? We all do, and with the best suspension trainer, our goals become more accessible and fun to achieve. The Exercise Smart suspension trainer kit may not be a new product in the block, but it has all the features that serve advanced users worldwide.
This fantastic kit has straps made from durable nylon. Besides, the two foam handles and feet loops are ideal for holding your weight and helping you to perform both floor and standing based exercises.
You will also find a solid door anchor and an extender strap in the kit. The extender strap can be used to increase the length of your base strap for exercises that may require more motion and intensity.
This trainer kit uses non-rub bucklers, upgraded webbing and solid seams to offer you immense stability and security. Besides, the straps can hold a weight of 181kg at a time. However, if you weigh more, you can easily find a similar option with a high weight limitation in this list.
The Exercise Smarter trainer kit can be installed on solid anchor points, including lamp posts, tree branches, and even your door frames. You can use this tool to perform more than a hundred exercises while staying within your comfort zone.
Overall, this product is pretty impressive in many ways. However, if you take the design of their fitness seriously, the primary blue colour option may disappoint you a bit.
Pros
Nylon straps with high durability
Foam handles and foot loops
Upgraded webbing
Can be installed anywhere
Helps to perform many exercises
Cons
Can't hold a weight above 181kg
Available in only blue colour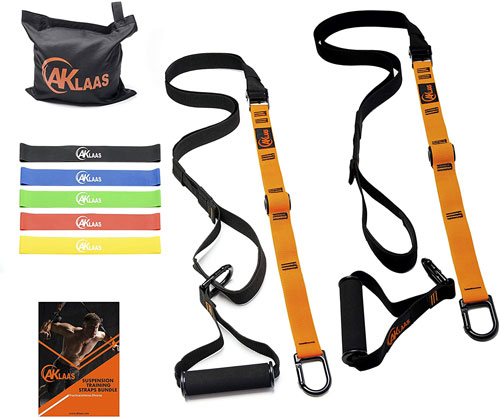 With fitness becoming a trend now, you can't escape from buying the most durable and robust fitness tools to give you the best results.
When it comes to a suspension trainer in the UK, the AKLAAS kit is quite a prominent option to consider. This unit can help you enjoy a full-body workout while staying within your home or in an outdoor location of your choice.
The kit comes with two straps, two comfortable handlebars and foot handles, a carryback and five loop or resistance bands to compliment your strenuous exercise movements. In addition, the handles are easily detachable, making the trainer' design versatile for different exercises.
Moreover, when it comes to straps, this kit makes you really content. The straps are long and adjustable. Besides, they have many loops that can be used for different anchorage options.
You can install the trainer with a door frame, beam, bar or even your ceiling. But be careful with your installation process, as straps can become loose quickly and leave you with injuries.
Overall, the AKLAAS suspension trainer is pretty affordable and is an excellent tool for beginners. However, many heavy users may find the weight capacity lower than what they may require.
Pros
Affordable suspension kit
Comes with comfortable handlebars and foot loops
Detachable handlebars
Free resistance bands
Can be installed on door frames and bars
Cons
Low weight capacity
May not suit the intensity levels of professionals
How to Pick the Best Suspension Trainer in the UK?
Before selecting the best suspension trainer for your home workouts, consider the factors below to make this process super quick and successful.
Construction and Material
Best suspension trainers contain straps made of either nylon or polythene. These materials are pretty effective when it comes to the strap's flexibility and durability.
Moreover, all trainers have handles on their ends, but the best ones are covered with foam padding to provide you with a comfortable and solid grip. Besides, trainers with reliable metal attachments enable strong and secure anchoring to a point.
So, before you select a tool, make sure it has all the above construction and material aspects to avoid any regrets later.
Grip Quality
You need to pay very close attention to your chosen trainer's grip quality. It is because most movements and exercises require you to use solid hand strength.
Low-quality and cheap grips can irritate your palms and can even cause accidents.
Strap Length
The straps of your trainer should have an adjustable length that can accommodate all kinds of exercises. If you plan to use a suspension trainer for a series of activities in your ample gym space, make sure to buy the one with a strap length of eight feet and above.
Mounting Mechanism
The mounting mechanism of your chosen trainer should meet your method of installation. For instance, if you do not want to use screws on walls or doors, select a trainer that fixes on a pull-up bar.
Weight Capacity
Most users apply their whole body weight to their suspension trainers. While it depends entirely on your exercise routine, this is going to happen more than often.
So, make sure to invest in a trainer that can easily support your body weight. Besides, if you want to use additional weights while training, make sure that the weight capacity of the trainer can cover them as well.
Buckles
Most suspension trainers are equipped with a secure buckling system. This sturdy system prevents your body from moving frequently and saves you from injuries. So, if you care about yourself, do prioritise this feature.
Portable and Lightweight
Lightweight suspension trainers are perfect for all types of users. They are easy to install and do not feel heavy while using them for stretching or squats.
Besides, light trainers are easy to carry from one place to another. However, the increased weight of suspension systems reduces portability and may restrict you from enjoying the trainers in your favourite spots.
Most suspension trainers come with free carry bags. If you can get hold of any of these, you will easily get a significant bag to store your kit while travelling.
Other Accessories
You will come across many suspension systems with free accessories included to compliment your workouts. For instance, many kits come with resistance bands, extender straps, and even carry bags.
Such accessories add value to your workouts and work as bonus goodies. If your budget allows, get them within the price of the kit rather than spending extra money for them.
Price
Almost all suspension trainers are budget-friendly and inexpensive. However, since price differs for everyone, make sure to invest in a tool that brings value to your workout and benefits your body in many ways.
Buying cheap trainers may save money, but they won't last for long and may cause many unnecessary accidents.
Customer Reviews and Expert Recommendations
Have you ever thought of reading customer reviews and expert recommendations before buying a fitness tool for yourself? It is one of the best practices that help you make the right and quick choice.
Besides, by reading reviews, you get enlightened by first-hand experiences, saving you lots of pounds from being invested in the wrong product.
What Is the Right Way to Set Up a Suspension Trainer?
Have the above benefits finally persuaded you to take a suspension trainer seriously? We understand your excitement but before you head over to our recommendation, learn to set up this tool and use it properly.
The Set-up Procedure
As mentioned above, a suspension trainer has adjustable straps made from a durable webbing. It also has handles for your hands to grip the suspension firmly.
Under the handles are foot cradles that allow you to stand on the trainer for all kinds of exercises. The carabiner on the strap's top works as a clip and helps to connect an anchor point with a trainer.
You can set up a trainer in different places in your home according to the manufacturer's instructions.
On a Door
If you want to set up a suspension trainer on a door, follow the steps below:
Choose a door that opens opposite to you.
Anchor the trainer on the door's top.
Allow your body to close the door by your weight while you hand.
On Your Ceiling
You can also install your suspension trainer with the ceiling. Here's how you can do that:
Find a solid anchor point like a stud
Adjust the anchor with the point and let the trainer hang freely
The benefit of installing your trainer with the ceiling is that this suspension allows you to enjoy 360 degrees of rotation whenever you feel like it.
Beam Suspension
Do you have beam suspensions in your workout space? If yes, you can wrap the trainer's attachment around the hanging beam and let it hang properly. To achieve a proper height, wrap as many times as you want.
Railing Suspension
If you have a solid railing in your house, you can attach and wrap your trainer around it. However, similar to door mounting, this installation may restrict your movement, and you might bump into a wall quite often.
Using the Suspension Trainer
Once your suspension trainer is successfully and firmly installed, follow the tips below to use this tool correctly:
Decide a Body Position
There are almost six different ways in which you can position your body on a suspension trainer:
Stand straight and face the anchor point
Stand straight but face away from the anchor
Stand sideways from the anchor
Lay with face down
Lay with your face up
Lay on one side
Most movements will require you to hold the handles to form a safe grip. However, for some exercises, you might have to utilise the foot cradles.
Strap Length
You will have to adapt to a particular strap length for an exercise.
If you love doing movements like rows, keep your strap length short by placing the tabs on the strap's top.
For squats, the mid-length position is ideal. Here your tabs should hit the colourful stitching found in the middle of the strap.
Long straps are entirely extended and have tabs positioned at the bottom. This length is perfect for push-ups.
Customising Intensity
You can use a suspension strap to customise your workout intensity. This characteristic allows you to use this tool in many different ways.
You can alter intensity by:
Choosing steeper angles and increasing the challenge and difficulty of workouts.
Moving your legs apart or closer to achieve ease and toughness, respectively.
Stepping away from the anchor point makes your workout more challenging. If you want to make it easy, move towards the point.
Moreover, as a friendly reminder, make sure your straps are not slacking and loose. It is imperative to help you perform your workout effectively.
FAQ
Here are a few questions that potential customers have asked us before buying a suspension trainer for their exercise routines.