Balance boards are a useful piece of equipment that can be beneficial for everyone. Anyone can see the benefits from a balance board – whether you are an athlete training for elite sports, someone looking for an addition to their home gym, or if you have an injury that requires careful rehabilitation.
There are many types and designs of balance boards, and the one that is best for you will depend on your needs and budget. Even with these differences, the design and purpose are generally the same with them all – they provide weight-bearing exercises on an unstable surface. So What are the best ones available?
Types of Balance Boards
There are different types of balance boards on the market, and the one that will be best for you will depend on your fitness level, budget, and personal preference. Highlighted below are the two main types:
Balance Boards. These are usually wide like a skateboard and have a ball or rocker underneath to provide instability. The rocker function can be attached to or separated from the boards themselves. Balance boards like this will generally only move from side to side in a single direction, like a mini seesaw.
Wobble Boards. Also known as rocker boards, these are usually rectangle or square-shaped and have a ball or rocker underneath, allowing for movement in any direction. They can also be round, like a disc, and these provide maximum movement as your feet can sit in different positions.
Both of them are available in different shapes and sizes, depending on what you want to use them for and how much movement you require. Most balance boards have permanent rollers underneath, but some have separate ones that require extra skill and balance to operate.
Balance boards and wobble boards also come in a variety of different materials. The most commonly used material is wood due to its durability and because they involve the full weight of adults to be on them. Some boards are inflatable, and some are made with heavy-duty plastic.
The Best Balance Board Product reviews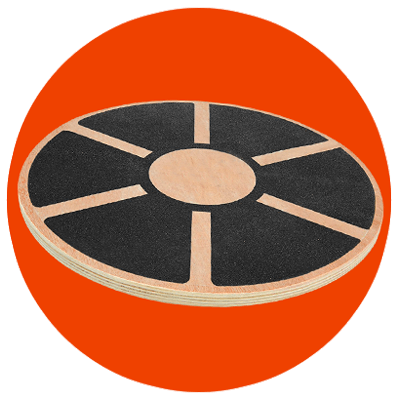 The JLL Wooden Board is an exercise balance board that features a round shape, making it easy to get on and off. The top includes a non-slip texture layer covering the entire board, which supports all types of footwear for maximum stability. You can even use them barefoot or with just socks.
This board is perfect for all ages, and both kids and adults alike can use the JLL board for fitness, rehabilitation, or just to increase balance. The JLL balance board is competitively priced as a mid-range board.
Pros
Made with multiple layers of wood material for durability
Supports 120 kg, which makes it suitable for most adults
Weighs only 1.2 kg for easy portability

Cons
The base is plastic which could result in scratched floors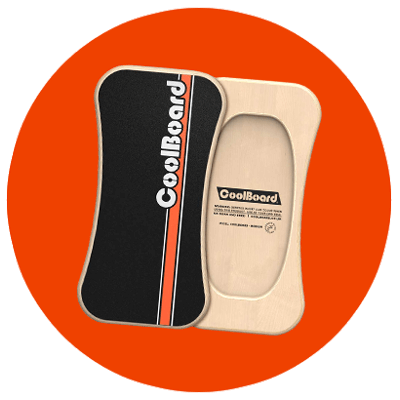 The CoolBoard balance board resembles a small snowboard, and you use it by positioning a small blow-up ball underneath. The movements use similar muscles to surf, build strength and stability in the legs.
Your purchase includes the balance board, small speedball, and workout wall chart. You can purchase extra accessories separately, including different-sized balls as your needs change or your skills go up.
The Coolboard is one of the more expensive balance boards on the market. However, high-quality materials make up for this.
Pros
Adjustable – different-sized balls can be used for different requirements and skills
5-year guarantee and lifetime support
Can be used with feet or hands for targeting specific muscle groups
Cons
Comes in 2 parts, making it harder to store away
Weighs 4kg – heavier than other boards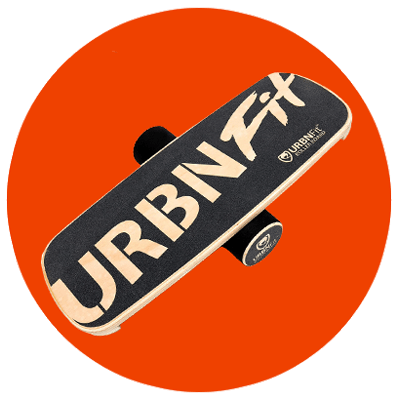 The URBN Fit balance board is designed to be used for a full-body workout and tone arms, legs, and core. The shape is similar to a skateboard, and it has a long tube underneath, which provides the rolling. You can use it for exercise, rehabilitation, or even training if you are an athlete.
The purchase comes with a workout guide with suggestions for different skill levels. The URBN Fit is made from durable pine; the entire board is covered with a grip material for stability.
Pros
Includes a free workout manual, including a mobile app with workout suggestions and how-to guides
The roller that sits underneath has a fabric coating to avoid ruining your floors
Cons
The rolling tube is separate from the board. This makes storage harder and results in it being quite bulky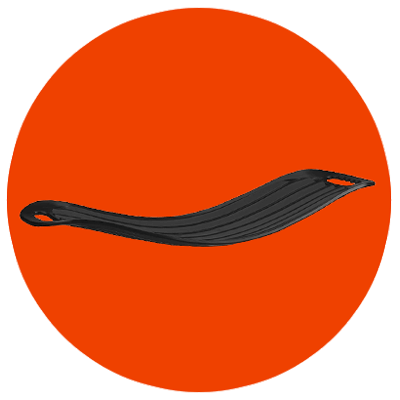 The Relaxdays twist board is perfect for safe and effective exercise at home. The shape is like a small skateboard, but its curved design provides a great workout.
Made with durable plastic, it can take up to 150 kg of weight and is therefore suitable for all fitness levels to use. The Rekaxdays twist board is very reasonably priced and available in black, blue, or pink.
Pros
Lightweight and small for easy storage
You can do many different exercises on it, including with your feet or hands
Cons
Material is not non-grip, meaning you will need to wear non-slip shoes when using them
The base is made from thick plastic, which can damage unprotected floors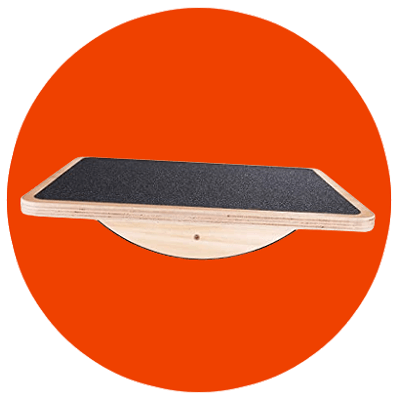 The StrongTek wooden balance board is low-impact and sturdy, making it the perfect accessory for a standing office environment. It is a small rectangle board designed to match your shoulders' width for a perfect fit. It has two half-moon rollers underneath, which provide maximum stability while enabling the user to engage their core and build muscle strength.
Priced in the mid-range, this professional balance board has a high value for money considering the high-quality materials used.
Pros
Made from high-quality lauan hardwood plywood, which is durable and long-lasting
Different width sizes are available, so make sure you measure your shoulders before purchasing for a perfect fit
There are anti-slip pads on the base to protect the floor
Cons
The board is tiny, which is not suitable for heavier people or those with larger feet
There is a very minimal range of motion due to the size of the rollers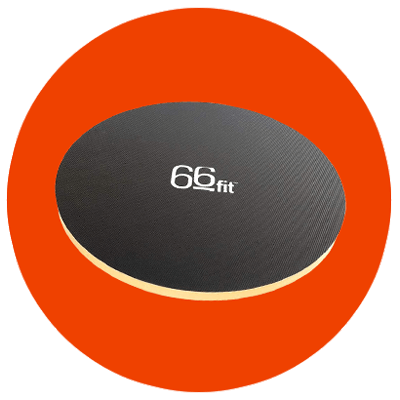 The 66fit wobble balance board is specially designed for rehabilitation and physiotherapy purposes and is only for intermediate and professional use. It is a round wooden board with a small wooden ball underneath, which provides 360-degree movement.
Not designed for beginners or those who are not familiar with balance boards. The round design helps the users regain their balance and also assists with coordination for athletes post-injury. The top of the board is covered with non-slip PVC for extra stability. The price of the board is at the lower end and is excellent value for money.
Pros
The board is only 40 cm wide, so it makes for easy storage and portability
You can use the board in different ways, including with your feet or hands
Purchase includes a training e-book and access to online exercise videos, which are updated frequently
Cons
The size of the board is tiny and therefore not suitable for larger feet or those that are heavier
Not ideal for beginners – high risk of injury if not used properly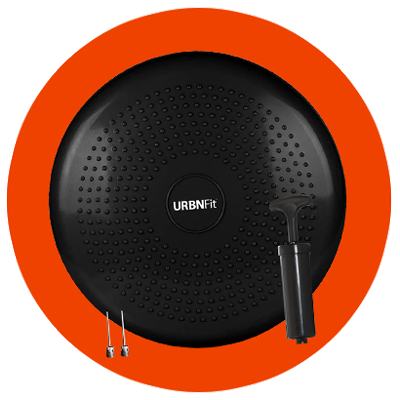 More of a flattened ball than a board, the balance disc stability cushion still has all the functionality that standard balance boards offer, but in a much smaller package.
This balance cushion has multiple uses, and the whole family can use it. Someone may prefer to use it as a balance board to improve balance, and your kids can use it as a wiggle seat.
The top of the balance cushion is inbuilt with raised massage points and a non-slip back. The price is very competitive considering how many uses it has.
Pros
The balance cushion is round, enabling 360-degree movement
You can double it as a lumbar cushion for desks or driving. Very light and portable, it can travel with you easily
Soft plastic material is sturdy yet comfortable and won't ruin your floors
Cons
The balance cushion requires pumping up, and it can deflate over time
The cushion is only 33 cm wide, making it not suitable for larger feet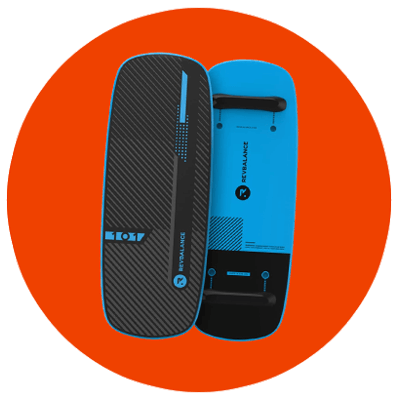 The Revolution balance board trainer is shaped like a skateboard and has a large roller underneath. Perfect for those looking to increase balance or for athletes looking to raise their skills. The board is made from durable wood, and the top is non-slip and soft, perfect for use with or without shoes.
The motion required to use is similar to surfing, and it makes for a great workout while engaging the legs and core.One of the more expensive balance boards on the market due to the premium materials and the fact that it is manufactured in the USA.
Pros
Made in the USA so you know you can trust the workmanship and quality
Includes a digital library with lots of different workout and training ideas
Small enough for kids to use, yet large enough for larger adult feet
Cons
The roller is separate from the board, which makes storage harder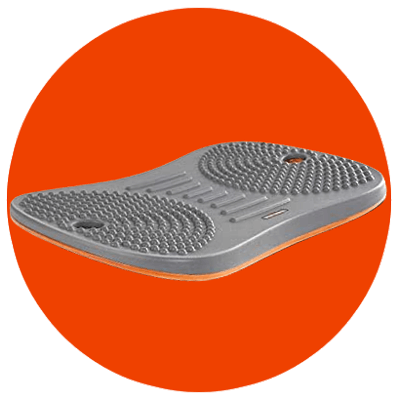 The design of the FEZIBO wooden balance board looks more like a curved footstool than a board, and is more suited to an office environment rather than for exercise.
It has a small tilting angle of only 8.5 degrees, and this makes it perfect for use while standing at a desk or at work. The tilt will keep you moving while you stand but is not enough to be distracting or make you lose balance.
It is more expensive than standard balance boards, but this is due to the ergonomic design and high-quality materials.
Pros
Doubles as an anti-fatigue mat. This makes it perfect for long periods of standing
Small and ergonomically designed for easy storage and portability
Underneath is made from natural rubber, which is non-slip and won't ruin your floors
Cons
Does not offer any exercise benefits
Only wobbles in one direction (side to side)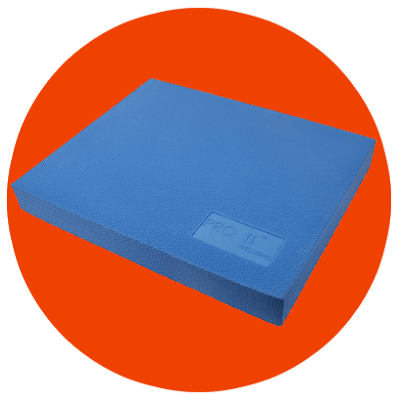 Differently designed to a standard balance board, the PRO 11 balance pad does not work by moving from side to side; rather it is a soft pad that promotes stability and balance while working out.
Designed to be used in conjunction with other gym equipment, this balance pad is made from non-slip, waterproof foam. About the size of a standard sleeping pillow, it's soft enough for you to use barefoot, and it is ideal for use in the rehabilitation of orthopedic issues. Very reasonably priced at the lower end of the scale.
Pros
You can use it at home or in the gym for rehabilitation or for doing home workouts
Soft and flexible, all ages and fitness levels can use it
Cons
Because the main material is foam, it can get dirty and stained easily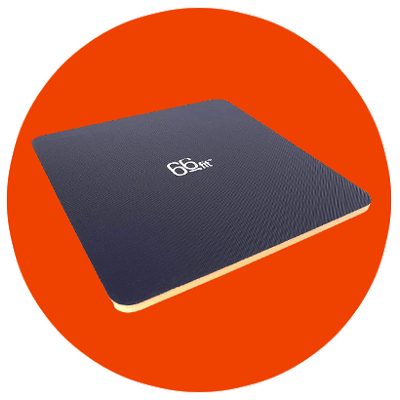 The 66fit wooden rocker board is a useful piece of equipment that you can use at the beginning stages of rehabilitation, or for those who are not experienced with balance boards. Great for athletes who are just starting their therapy, It is a square board with a larger roller underneath.
You can rock it in a single direction, which increases stability and balance. It has a large surface area that is covered with a non-slip PVC for maximum stability. Priced in the mid-range.
Pros
Perfect for beginners or to use at the beginning of rehabilitation
Much larger area than other boards (50 cm wide), which means that it's suitable for those with larger feet
Includes training e-book and access to online exercise videos
Cons
Movement is only one direction (front to back or side to side) which minimises efficacy
The larger size can make it harder to store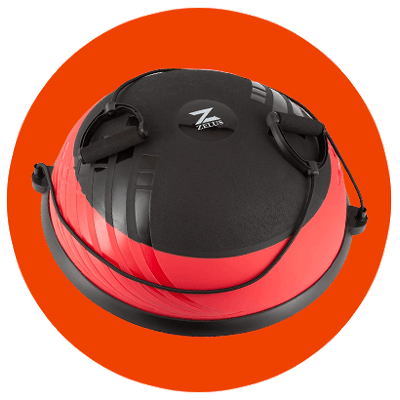 If you want a multifunctional balance ball that you can use for yoga and stretching, then the ZELUS balance ball trainer is perfect. It is quite different in design from other balance trainer, more like half an exercise ball with a solid foundation, and it has removable resistance bands attached to either side.
You can use it simply to increase balance and core strength or yoga and stretching to build fitness and stamina. It includes a foot pump for easy inflation on the go. More expensive than many of the balance boards, this is because it doubles as a yoga and stretching station.
Pros
It has a very high maximum load capacity of 300 kg
The anti-slip base is flat and soft, and will not damage your floors
Cons
Getting onto it can be tricky, and it can be hard to get your balance at the beginning
FAQ About Balance Boards